The biggest reason for investing in a second home in Paris right now is to jump on the property ladder before prices soar in 2018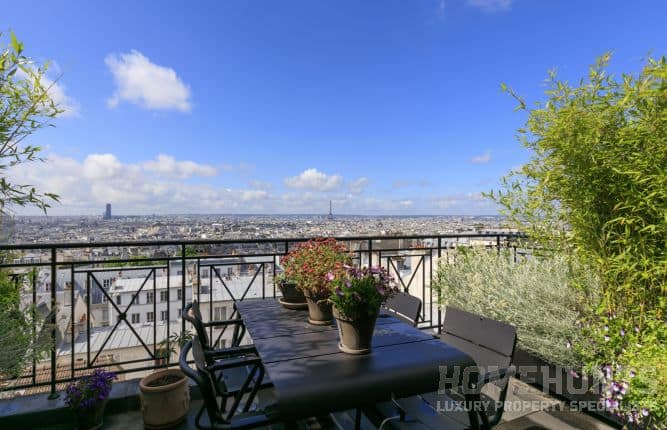 According to Knight Frank's 2018 Global Residential Forecast, Paris property prices should increase by 9% over the next twelve months and is the leading city worldwide for market growth.
Berlin is the next European city at 2%, then Madrid (5%), Geneva (3%) and London (0.5%).
Leading city in the world for market growth
In Paris the "Macron factor" has had a huge influence over the market, his entrepreneurial vision for a "start-up nation" has been so strong that some say it is even nudging London off its pole position as the go-to economy in Europe.
Changes made to wealth tax at the beginning of the year, which is now only applied to equity in property (and not all assets), has encouraged more overseas buyers to invest in Paris again.
"In France we expect prices to rise by 8-10% in big cities such as Paris and Bordeaux, because of the huge amount of interest from local and international buyers – particularly from the US, UK and mainland Europe," says Tim Swannie, Director of Home Hunts.
Popular tourist destination for extra rental revenue
With around 16 million visitors each year, Paris is one of the most visited cities in the world. A city of romance, gastronomy, legendary landmarks, world-class patisserie and exquisite haute couture, tourism levels increase each year, so it's easy to create an additional revenue stream from rentals to help cover property costs.
With Orly airport about 30 minutes south of the heart of Paris, and Roissy Charles de Gaulle airport in the north, the city is well served if you want to fly in and out quickly from almost any destination. Services like Uber, LeCab and Taxify make it fast and inexpensive to get in to town, or there are many prestigious chauffeur companies ready to take you to your destination.
The TGV connects Paris with London in just over two hours at speeds of 300 km/h (186mph). First class comfort is possible all the way, and from Paris the train can whisk you away to Marseille, Milan or Barcelona (230 destinations overall).
A home from home to explore Paris
The feeling of going to a city you love, knowing you will be staying in your own property is unparalleled. It's a level of satisfaction and fulfilment that cannot be met by simply renting a property.
With interiors exactly to your taste, facilities and appliances chosen by you and a knowledge of where everything is makes having a second home in Paris the best way to relax in the city.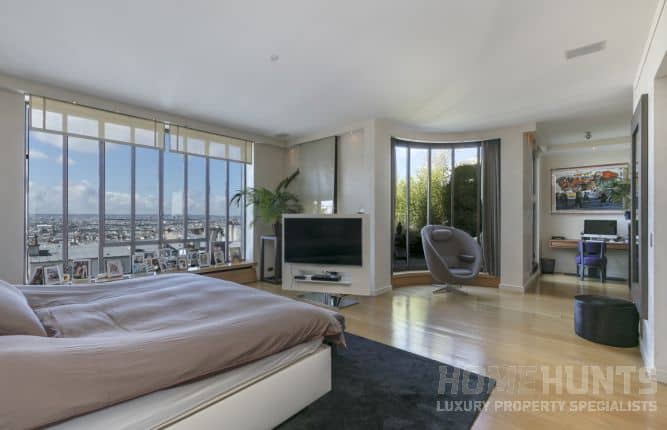 Where you pick for your home from home will depend on what part of Paris you want to spend the most time in. If you want to soak up the charm of Montmarte and enjoy a panoramic view over the city, maybe this luxurious four-bedroom property (HH-11954279) is a contender. It has even got a home cinema and an indoor pool.
Tim says that international buyers' appeal is focused largely on the 6th and 7th arrondissements, from around the Latin Quarter (Boulevard Saint-Germain) to the Eiffel Tower.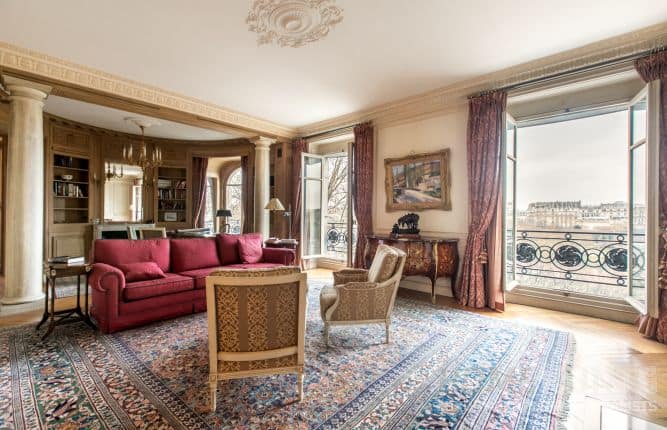 This elegant two-bedroom apartment (HH-12177095) offers beautiful views across to the Eiffel Tower. It is located on the Champ de Mars, in the 7th arrondissement, an area renowned for its green space.
"Most clients fall in love with these locations as visitors as they contain many of the city's top hotels," says Tim. "Typically, buyers want a view of the Eiffel Tower or the Seine and easy reach of the shopping on the Champs-Elysées."
If you are looking to buy a property in Paris, you can continue the search at www.home-hunts.com and view some of the most luxurious property in the city. To speak to a Home Hunts property specialist about the best areas of Paris to invest in and your personal criteria, call +33 (0)970 44 66 43.