Properties at Lake Geneva
Europe has its fair share of stunning landscape vistas, but few can compare to those that look out over Lake Geneva. Deep blue skies, crystal clear water and panoramic views are just some of the reasons why there is such a high demand for luxury property on the shores of Lake Geneva. These six properties at Lake Geneva are just a small selection of the wide range of properties that are available in this area. All have unbelievable views, of course, but that's just the start of what they offer.
20th century villa in Évian-les-Bains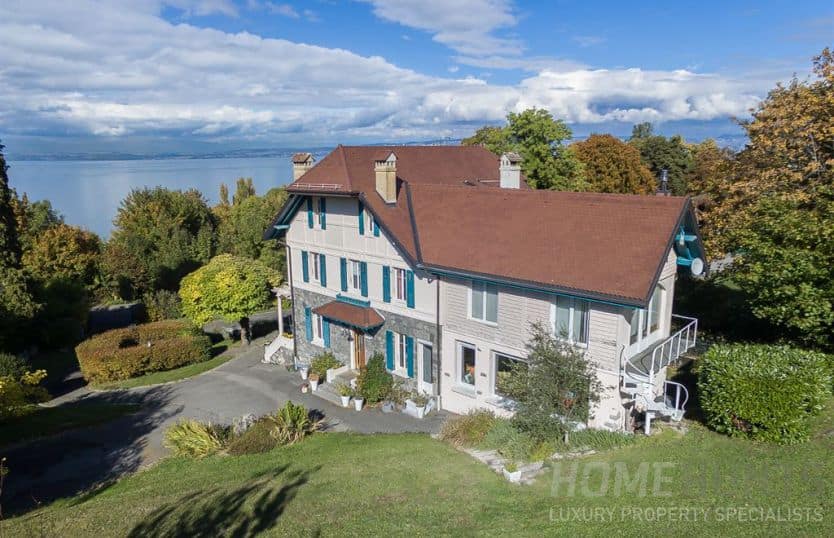 Set in Évian-les-Bains near popular hotels, this early 20th century villa has a lovely terrace and beautiful landscaping. In addition to multiple bedrooms and bathrooms, there's also a games room and an office. The home has been completely renovated with modern, high quality fittings.
Outside, there's a driveway that leads to the house and a double garage. The property also includes a cellar and a workshop. Most impressively, there's barely a room in this house that doesn't have a phenomenal view of the mountains or lake.
Waterfront Tuscan-style home in Chens-sur-Léman
Sitting on the waterfront in Chens-sur-Léman, this sophisticated, Tuscan-style home is close to the centre of Geneva. In addition to its eight bedrooms and panoramic views, the property also comes with a private pontoon. Enjoy the beautiful weather by heading out onto a terrace or relaxing by the infinity pool that has a stunning view of the lake.
Inside, the décor is luxurious without being ostentatious. You can tell that the furnishings and materials are high-end simply by looking at them. Each living space is airy and full of charm, and there's an independent caretaker's house that can be used for visiting guests.
Charming chateau in Excenevex near Lake Geneva
This charming chateau in Excenevex near Lake Geneva offers over one thousand square metres of your own property and comes with multiple outbuildings. While it's not in an entirely secluded area, there is plenty of privacy, plus a long lane that leads to the main house. Adding even more solitude are the ancient oak trees that surround the home.
Four-bedroom villa in Évian-les-Bains
Also located in Évian-les-Bains is this modern, four-bedroom villa outfitted with light neutrals that seem to breathe fresh air into the space. The home has been entirely renovated and redecorated by German architects and designers, offering the utmost in luxury, which is a must for its location in this sought-after section of France.
The fully-equipped kitchen has high quality appliances and the large living room has space for relaxing as well as dining. The home also has four bedrooms and bathrooms, plus a terrace that faces glistening Lake Geneva.
Sweet and charming villa in the French village of Nernier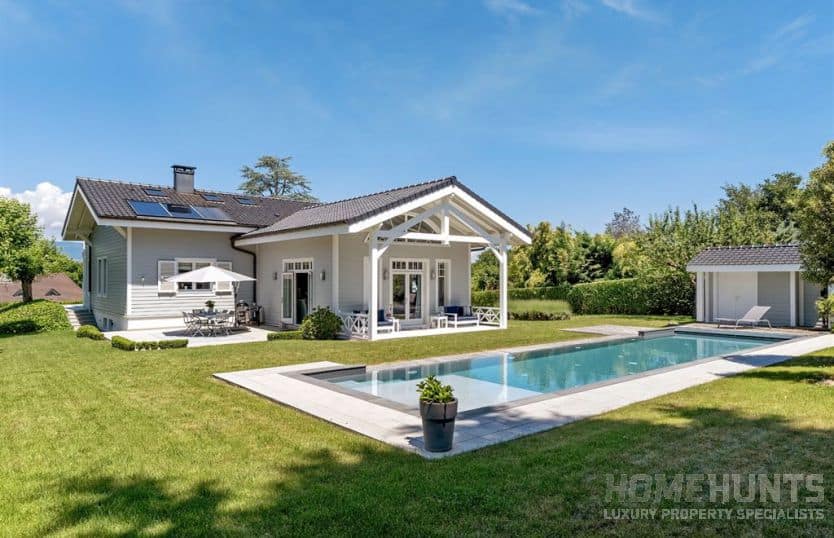 Located in the French village of Nernier, this sweet and charming villa makes the perfect holiday home when you need an escape. Even the entrance hall is lovely thanks to a pretty, sweeping staircase, and right nearby is the luxury kitchen. The lounge and dining area have a cathedral ceiling and exposed beams, and the home also has a playroom and storage space. There are four bedrooms total spread out across three floors and three bathrooms on the main and upper floors.
Luxury House in Chens-sur-Léman with panoramic views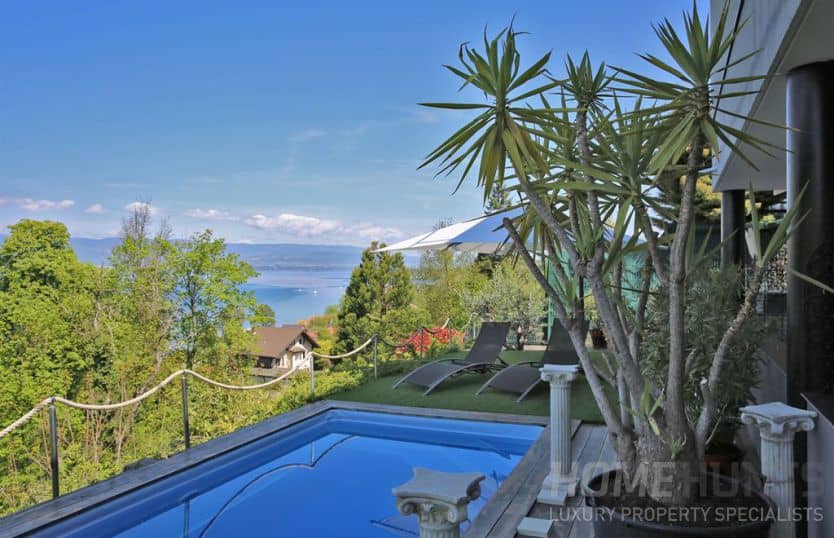 Though located in the French commune of Chens-sur-Léman, this house is a mere 50 metres from the Geneva border and just 35 minutes from the airport. The home has two reception areas, three bedrooms and a veranda with a sauna and Jacuzzi. Outdoors, there are gardens, open and covered terraces, a swimming pool and a two-car garage. There's also exterior insulation via a geothermal heating system.
Looking for your perfect luxury home in the Lake Geneva area? Then HOMEHUNTS property agents are able to select beautiful, high-end luxury property near Lake Geneva based on your specific search criteria. Search our website to find your perfect home. You can also speak directly to one of our consultants by calling +33 (0)970 44 66 43.