Guide to Buying Property in France
France is one of the most popular destinations to buy and invest in property as it offers such a diverse range of property types and locations. Whether you're looking to buy a winter ski chalet in the French Alps, a luxury villa in Cannes, a city apartment in Paris or a country retreat or vineyard business, France offers something for everyone.
Buying any type of property or land in France is strictly regulated, and navigating your way through the property buying process can be somewhat daunting. If you're looking for property for sale in France, whether that's a holiday home or you'll be relocating permanently, it's important that you understand the buying procedure. Consequently, we've put together this definitive guide to buying property in France to help and offer advice through every step of the process.

Chapter 1 - Before You Buy: Finding Your Ideal Home in France

How to Choose a Location to Purchase Property in France
Your reasons for buying property in France and the lifestyle you're after will determine where to search for your new home. Stunning mountain landscapes and world-class skiing in the French Alps. The glistening Mediterranean dotted with yachts in the French Riviera. Sophisticated urban surroundings in Nice or Paris. Countryside property in Provence or your very own vineyard in Bordeaux.
If you'll be renting out your French property part of the time, you'll want to buy in a tourist-friendly location. Certain areas are busier with tourism around specific events (like the Monaco Grand Prix) or seasonally (like the French Alps during the winter). Additionally, if you'll be buying a holiday home or renting the home out while you're not there, you should be close to transportation, particularly airports. That way, whoever is coming and going can get to the property quickly and start their holiday right away.
Think about how much access you want to schools, employment, shopping, happenings in the town center and other conveniences, too. A private Provencal home in the hillside is charming, but if you'll be far from amenities, you may feel too secluded.
Deciding Which Features Your Property in France Needs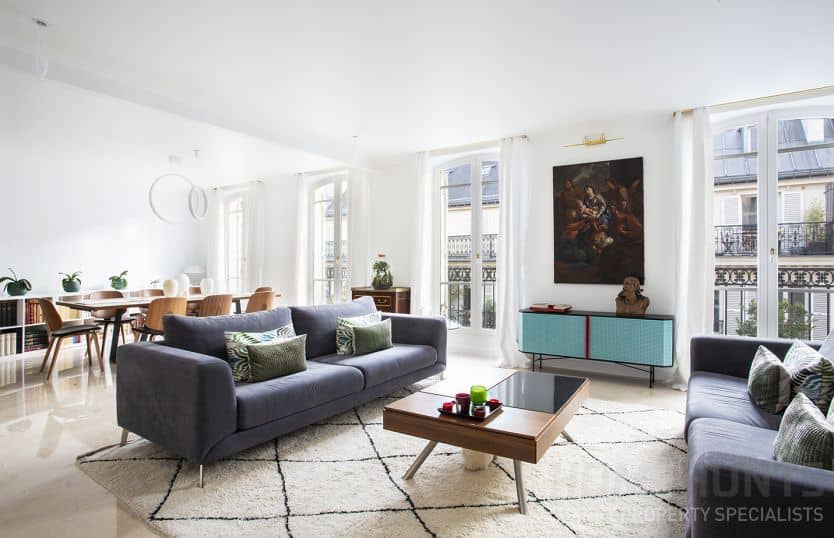 Homes in France come with an assortment of luxury features and useful upgrades:
Architecturally, traditional homes are often renovated using modern, high-quality materials while retaining many of their original features.
New builds are often sleek and contemporary, sometimes created by world-renowned architects and designers.
When it comes to conveniences, there's almost no end to what you can choose from: chef-grade kitchens, sunny terraces, underfloor heating, wine cellars, indoor pools and spa areas, numerous guest rooms, and more.
Outdoor features range from expansive pool areas and summer kitchens to gorgeous landscaping, outbuildings, equestrian centers and tennis courts.
It's helpful to decide the essentials you're looking for (number of bedrooms, for example), as well as the features you'd like to have but don't need. Also, make a list of features you don't want – for example, you may not want a large garden if you don't have a caretaker to look after it.
Consider how much access you want to the local landscape. For example, if you're moving to Saint-Tropez to be close to the sea, you may want a property with private beach access. If you're moving to the mountains to take advantage of winter sports, you can look for a chalet with ski-in/ski-out accommodations. Or, you may be happy somewhat removed from these conveniences while still being close enough to use them when you wish.
Planning Viewing Trips to Your Property in France
Once you have a shortlist of properties you're interested in, plan at least one viewing trip before moving forward with the sale. This is especially important if you've never been to the region of France where you're buying property. You'll want to inspect the properties, of course, but you'll also want to live like a local for a few days to get a feel for what life will be like.
Start planning three weeks in advance so that viewing arrangements can be finalized. If you can stretch your viewing trip to 10 days, that's ideal, but with careful planning, even a shorter viewing trip can be worthwhile (plan to stay a minimum of four days). You should be able to visit at least two properties per day, and if they're close to one another, you may be able to see up to five in one day.
Questions to Ask When Choosing French Property
There are a number of questions to ask when deciding on a property in France:
Which way does the property face? Will your home get enough sunlight or will it be shaded most of the day?
What are the boundaries of the property? Which outbuildings and land are on the property?
What are you required to care for? For example, if the property is connected to a forest, is it your responsibility to maintain it?
What type of water and sewage systems does the property have?
How does the home connect to electricity, heating and Internet?
Where and what are the nearby amenities, including transportation, shops, conveniences and entertainment?
As you tour the properties, you'll likely come up with more questions. Write them down to remember them, and once they've been answered, consider setting up a second viewing, possibly with an architect or contractor if they'll be involved.
Chapter 2 – Overview Of The Property Buying Process

The process of buying property in France is different from other countries. There are a series of steps that the process follows with the entire process taking about 3 months to complete. The steps involved include:
Property search
Once you have decided on the area, you either need to contact all of the agents or perhaps work with a buyers agent to make sure you cover the whole property market and are seeing everything in the area which is suitable.
Offer
Making an offer on a French property is usually done in writing. This written offer is then presented to the owner so that they can study it and respond. Ensure that any offer you sign includes a clause which says "this offer is subject to the signing of an official "compromis de vente", otherwise you could be committing yourself to the purchase too early…
Signing of initial contracts
Once an offer has been accepted both the seller and the buyer sign an initial contract called 'Compromis de Vente'. This is a legally binding document stating the details of the property and sale.
A cooling off period
Once the compromis de vente is signed there is a 10 day cooling off period in which time the buyer has the option of pulling out without any penalties or fear of losing their deposit.
Paying the deposit
A deposit of usually about 5-10% is required. After the cooling off period the buyer will forfeit this deposit should they pull out of the sale.
The conveyancing process
This process takes approximately 10-12 weeks to complete and is carried out by a Notaire.
Final payment and completion
On completion the final payment is made to the Notaire and the deed of sale or 'Acte de Vente' is signed by both buyer and seller.
Chapter 3 - Initial Costs You Need To Consider

Besides the cost of the property itself you also need to factor in other costs that relate to mortgage or professional fees. Here is a run down of the types of fees you need to consider during the property buying process.
Purchase Deposit
On the day you sign the Compromis de Vente (the sales agreement contract) you will be required to pay your deposit, which is usually 5-10% of the purchase price for older properties. It is advisable to pay your deposit cheque to the Notaire or agent who is representing you and not to the vendor.
The deposit is held by the Notaire or the agent until completion.
Mortgage Deposit
The minimum amount you need to provide as your deposit for a mortgage depends on your nationality, the country you live in and where you pay income tax. For tax payers in France it is possible to arrange a 100% mortgage. For non French nationals, you would usually need to provide a deposit of at least 25-30% of the purchase price depending on the lender. You should speak to an independent financial advisor who can help to find you the best deal available for your needs.
Notaire Fees
Be prepared for the cost of legal fees and associated taxes on an existing property to be around 7% of the purchase price approximately. Fees due to the Notaire can only be funded by a mortgage for French tax payers and you will have to fund them yourself if you pay tax abroad. The Notaire fees pay for the land or property registration (stamp duty) and the actual payment to the Notaire for his services. All Notaire fees are calculated on the same basis, so you cannot 'shop around', although you are free to choose your own Notaire.
Agency Fees
An agent's selling fee is around 5-7%. It is usually built into the sales price and paid by the vendor from the proceeds of the sale, but there is no hard or fast rule. The important thing is to make sure that the price stated by the agent is the price you pay.
Chapter 4 - The Professionals Involved

During the property buying process there are a number of professionals involved so it is important that you understand those involved and what their role in. Each will have their own area of expertise and responsibility.
The Estate Agent
Estate agents (agents immobiliers) usually work locally and therefore only have properties for sale within a certain area. The agent earns commission from the sale of the property and will try to obtain the best possible price for it, but will know what price the vendor will accept.
Buyer's Agent
Buyer's agents will search the entire market for properties that match your requirements and price range. Many offer a personal service and take you to view the properties they have shortlisted for you. Some will charge a fee, others will take a percentage commission from the immobiler instead so it doesn't cost you anything extra at all.
The Notaire
The Notaire is a public official and given the title of Maitre. The Notaire is highly qualified in the French legal system and is able to advise about property, family and succession, and corporate laws. The state confers powers on the Notaire to legalise property purchase transactions that cannot be enforced by any other means. A Notaire is deemed to be a public official, provides security to the contracts he supervises and is liable for his professional acts. A Notaire is responsible for the conveyance, preparing the various documents and confirming the seller's title to the property, such as checking that there are no other mortgages on the property. The Notaire also has indemnity insurance, which provides a financial guarantee to the client.
The purchaser is free to choose their own Notaire, but can use the same Notaire as the vendor. As the fees are fixed, using two different notaires will not increase the total fee as it will be split between the two notaires.
If you are located in another country if is advisable to use a multilingual notaires.
Mortgage Brokers
A mortgage broker acts as an intermediary between you and a French bank or mortgage provider and understands how they react to certain cases and circumstances. Legislation requires mortgage brokers or advisers to have their own professional indemnity insurance and be registered with each bank and mortgage provider they represent.
With all the banks and lenders having different lending criteria and products, your mortgage broker should save you time when finding a lender that is suitable to your particular needs.
They should be able to advise you on the various different mortgage products, and offer you quotations from the lenders, life insurance forms and guidance on which documents to provide. A good broker will liaise directly with the lender, foresee and prevent some of the problems that can occur and guide you through the French mortgage procedure.
Mortgage brokers receive their commission direct from the bank or the lender they introduce business to. Most of those who are registered in France will not charge you fees for their services, but it is advisable to check beforehand.
Architects / Surveyors
An architect or surveyor should be consulted if you are considering the purchase of an older property or a renovation project. They will have experience of planning and obtaining the necessary permissions and certificates, and be able to give an estimation of the costs involved. They should also know of reputable registered builders who have their own insurances to cover their work, which is essential if you are using mortgage funds for renovation or improvement works. You can find out more information about the different statutory surveys that may been needed here.
Tax Planning Specialists
It is often advisable to speak with a tax specialist when considering an overseas property purchase. All countries have different tax laws and France is no exception. Speaking to a professional tax planner will ensure that the correct decisions are made regarding capital gains tax, wealth tax and other issues.
Chapter 5 - Working Out What You Can Afford

If you need a mortgage to buy your property, you should first establish your price range and consider whether you have enough funds for the deposit and legal fees.
Very strict rules are imposed by the Banque de France on all the French banks and mortgage providers. These rules govern the amount a person can spend each month on a mortgage.
Only one third of your monthly income can be used to service any existing mortgage or rent, other loans, maintenance payments (if applicable) and credit card repayments. What is left from your third of monthly income can be used to service a mortgage and must also include the cost of life insurance. If you are not in the French system already, for this calculation use your gross monthly income, if you are then deduct the social charges, but not the tax.
You should now be seeking professional advice about the basic lending criteria and the various mortgage products available to you. There are two main routes:
Speak directly with French banks and mortgage providers – each has its own lending criteria, so how much you can borrow, the length of the mortgage term and the costs involved will vary. A potential problem is that not all providers have English speaking staff, so it could be best to check this in advance if you do not speak French.
Use the services of an established mortgage broker – a broker will know what lenders to approach on your behalf, offer advice on how much you can borrow and suggest the mortgage products most suited to your circumstances. They can save you a considerable amount of time and will provide you with quotations from the most suitable lenders. Throughout the mortgage procedure your mortgage broker will liaise between you and the lender, which is very useful if you are still working on your French language skills.
Should you need currency exchange services your property agent should be able to recommend the services of an FX expert who specialises with helping clients buy and sell property aboard based on their currency exchange requirements. Speaking with an FX expert can save you time and money, and having a dedicated broker on your side means they know when you need to settle on your property and can talk to you about a range of contracts which best suit your currency needs.
Chapter 6 - Finding Your Ideal Property

Information on French property is abundant in magazines and websites so it is very easy to get an idea of the type of properties available and their prices before you actually start your search. Having a clear idea of the type of property you are looking for and its location within France will help make the property hunt a lot easier. Things you need to consider include:
Location and Property Type
Think carefully about the location and type of property that will be most suitable for you. Take into consideration whether it will be your main residence, holiday home, rental property or an investment for the future.
Identify what you want from your ideal property
Make a list of the most important elements: location, purchase price, overall size and number of rooms. Ask yourself what you really want out of your property. Do you want a cave (cellar)? Is a garage important? Would you prefer a garden, terrace or balcony? Do you want to live in a lively town or the countryside? These considerations will keep you on the right track to finding your ideal property.
Condition of Property
The condition of a property is also an important consideration. There are certain types of properties that are not acceptable for mortgage – property should be classed as habitable, meaning structurally sound.
The property should also have electricity, mains water and sewerage systems that conform to the current regulations. It will be very difficult, if not impossible, to raise mortgage finance on buildings constructed of wood, stone cabanons (hut), derelict barns and properties with agricultural land. In addition, some lenders will not accept properties that have been registered for commercial use, such as gîtes and chambres d'hôtes (self-catering holiday accommodation and bed & breakfast businesses).
New Build or Renovation?
Buying to renovate or build a new property demands careful pre-planning. Certain French building regulations are very different from other countries and permission has to be granted from the local mairie (town hall). Detailed applications must be completed for the certificat d'urbanisme (certificate of town planning and urban development) as well as other documents, which state what developments are permitted on the property and its land.
You will need the advice of an expert, such as an architect or surveyor, and if you are relying on mortgage finance for renovation work then this will have to be completed by a registered artisan (tradesperson). Correct insurances that cover the work are the essential guarantees required by the bank or lender.
Chapter 7 - Making Offers

Once you have found your ideal property, the next stage of the buying process is to make an offer to the seller. The process of doing so can vary slightly but your agent will be there to guide you through the process and to advise you on the level of your offer etc.
Generally speaking, you are required to sign a written offer (offre d'achat) which is presented to the owner so that they can consider the proposal. Occasionally, offers can be made verbally but they always need to be followed by a written offer to formalise things.
The "offre d'achat" includes information about the property, the buyer and the seller and it also includes information about how the purchase would be structured as well as the price you offer of course.
You should always ensure that this letter includes a clause that says that the offer is subject to the signing of an official "compromis de vente". Doing so means that the offer is not legally binding for the buyer until the compromis de vente has been signed.
Chapter 8 - Compromis De Vente

Once you have found a property that is suitable and your offer has been accepted by the vendor, you will be required to sign a sales contract, the Compromis de Vente (sometimes called the promesse de vente).
The notaire or agent can draft the Compromis de Vente, which will be written in French, but may also have an English translation. Whoever is named as the purchaser in this contract must also be named on the mortgage application. The Compromis de Vente is a legal contract; you should read it carefully and consult your notaire before signing to ensure that all the details and conditions are correct. Areas to pay particular attention to include:
Details and identities of the vendor and the purchaser (you).
A full description of the property.
The surface area of the property and land.
The purchase price, the breakdown of fees and those responsible for payment.
Details of the notaire and sales agent.
Details of any fixtures and fittings included in the sale.
Results of report on energy consumption (DPE), asbestos, electricity, lead, and termites.
Natural risks – report on avalanche risk, earthquake, flooding and landslides, provided by the commune.
Details of your mortgage, including the dates for when you should have your mortgage and when you should complete.
Any let-out clauses (clauses suspensives) and the penalties that will be incurred by you or the vendor if completion doesn't take place.
For you, the purchaser, the clauses suspensives protect the deposit you gave to the notaire or agent as part of your agreement to purchase the property.
The most common is a clause stating that your agreement to purchase is subject to you obtaining mortgage finance.
Other clauses can be inserted, such as the vendor having to carry out necessary repairs or the dimensions of the property corresponding to what is detailed in the Compromis de Vente. Expert legal advice is useful in the negotiation of these clauses.
On the day of signing the Compromis de Vente you will be required to pay your deposit to the notaire or agent. Once you have signed the clock starts ticking. There is now a set date by when you should complete on the purchase and a ten day cooling off period begins.
Even though you may have a clause suspensive in the Compromis de Vente stating your agreement to buy is subject to mortgage finance, if you do not make reasonable efforts to obtain mortgage finance in time then you could lose your deposit.
Chapter 9 - Day Of Completion

Once the mortgage offer is received, and the notaire has carried out the legal aspects of the sale, we can arrange a time and date for completion to take place. It is your responsibility to instruct the notaire to request the mortgage funds from the lender. If you are using a property agent they may be able to deal with your broker for you to help you make sure that this happens.
Once you know when you will be completing on your property purchase you will need to ensure your French bank account is up and running so funds can be transferred and cleared in time for the completion date. Proof of building insurance must be provided on the day of completion.
The final deed of sale, which is signed on completion, is known as the Acte de Vente. It will contain much of the same information as the original Compromis de Vente along with the date you may move into the property, but check it through carefully. Usually a translator will be requested for you if you have problems reading and speaking French. You will be asked to produce your birth certificate and passport together with a marriage certificate or divorce decree, if applicable.
If you are unable to attend the meeting to sign the Acte de Vente, you can give a trusted person a Mandat (power of attorney), which authorises them to act on your behalf.
The Acte de Vente is signed by you, the vendor and a notaire – if both you and the vendor have a notaire, only one needs to witness the Acte de Vente.
Once the Acte de Vente has been signed and witnessed, the notaire has to pay the taxes, settle the accounts of the purchase and sale, and register the deeds and mortgage. A few months later you will receive a certificate informing you that the title has been registered. The original title deed is kept by the notaire, but he is able to make authorised copies.
Chapter 10 - Property Taxes & Insurances

Taxation is a very specialised area and if you need some in-depth tax advice and information, you should seek advice from a specialist financial advisor. Your property agent should be able to recommend a suitable specialist in this area.
There are two taxes on all residential property in France which are collected by the state for the local authorities. These taxes are assessed at individual rates according to location and can vary substantially. It is advisable to ask your estate agent for these details when you are looking at properties to buy.
Taxe Fonciere (Land Tax)
Whoever occupies a property on the 1st of January is responsible for paying the tax fonciere for the entire year, which is usually paid around October. Once a property has been sold, the buyer must re-imburse the seller pro-rata for the amount paid on the day of the sale act, and the seller remains liable for paying the full year.
Taxe D'habitation (Local Tax)
The occupant of a property on 1st January is liable for the payment of taxe d'habitation, and has no right to be re-imbursed by the buyer, as for taxe fonciere. If the property is only used occasionally, if it is furnished and supplied with water and electricity then the tax must be paid. The amount will vary from one region to another and depend on the size of the property. (If you rent your property to someone else and they are living there on the first day of January for the year, they are liable for this tax.)
Charges De Copropriete (Communal Charges)
If you own a property such as an apartment within a complex there will be maintenance and service charges, charges de copropriété, to pay. You should consider these costs carefully before signing the Compromis de Vente. The charges will depend on the size and quality of the complex, such as whether there are lifts, a pool, gardens, tennis courts and other facilities.
French Succession Laws (Inheritance)
French succession laws apply to properties in France, even if the owners are not French nationals. Under French law you are not able to leave your assets to anyone you please. Blood relatives come first, while your partner is treated very differently. You should take advice from your notaire before signing the Acte de Vente as it is difficult to make changes once it has been registered and can cause serious consequences.
SCI – Societe Civile Immobilere
An SCI, Société Civile Immobilière, is a property company. Although it can be used to minimise succession tax by gifting shares to your children during your lifetime, they are usually used by a group of unrelated people to purchase a property as co-owners. An SCI is meant to be non-trading, therefore it is not the right solution if you are planning to run gîtes or chambres d'hôtes. From a UK tax perspective, a director of an SCI – and having free use of a property in France for holidays – can mean you become liable for income tax on the assessed benefits in kind.
Taking professional advice is essential.
Capital Gains Tax
Capital gains tax only applies if you are selling a secondary residence. There is no capital gains tax incurred if you sell your main home to buy another. Calculating any tax due on the resale of a property is complicated and professional advice should be sought. The tax is applied to the difference between the sale price and that of the original purchase price plus the transaction costs
– in other words: the gain.
Wealth Tax
Those who are resident in France on 1st January and non-residents who have assets in France are taxed on the basis of their assets as at 1st January each year. Wealth tax only affects those with assets over a certain figure and is calculated in bands.
Life Insurance
It is a requirement that all mortgages in France are covered by life insurance. Many of the French lenders insist that you use their policies and that it covers all the terms of your mortgage. Some lenders have different policies and insist that full disability cover is included as well as life cover.
Life insurance policies are medically underwritten and with a good medical record the premiums will be at standard rates. If the medical history is not good, then the premiums may be rated higher.
There could be further problems if the premium is increased to a level where the cost of the mortgage and the life cover exceed the third of income ruling.
IMPORTANT NOTE: France is a large country and although rules and regulations are largely the same throughout the country, they tend to be open to local interpretation. We cannot recommend strongly enough that you check any facts and figures with an official and reliable source before making major decisions. Although the authors, researchers and HOMEHUNTS have taken all reasonable care in preparing this guide, we make no warranty about the accuracy and completeness of its content. Any reliance on any information in this guide shall be at the reader's own risk.
Chapter 11 - Useful Resources

Chapter 11 – Useful Resources
It is vitally important that you do as much research as you can on your desired property and location before committing to the buying process. There are plenty of communities and websites out there that can offer much needed help, advice and useful tips but we would always recommend that you seek the help and advice of a professional before committing to anything.
Below are a selection of interesting articles and information sites that you may find helpful.