Many people who are looking to buy property in Provence ask us 'where are the best places to live in the Luberon'. In this guide we'll take a closer look at this beautiful location and offer some useful advice that will help you make an informed decision.
The Luberon is a striking area of Provence, featuring dramatic landscapes that are made up of picturesque rolling hills and rugged canyons. Provence is known for its near-perfect weather, laid back lifestyle, beautiful villages and winemaking, and many consider Luberon to be at the heart of the region. While it's often referred to as the Golden Triangle, which includes Bonnieux, Gordes and Ménerbes, the true Luberon extends beyond that to cover many more villages.
The ancient villages and medieval hilltop hamlets of the Luberon overlook lovely valleys, and you'll often be surrounded by cherry groves, cypress trees and lavender fields. You'll have both the countryside and the mountains as your backdrop, too, and you can get a glass or bottle of local Syrah or Viognier whenever you wish.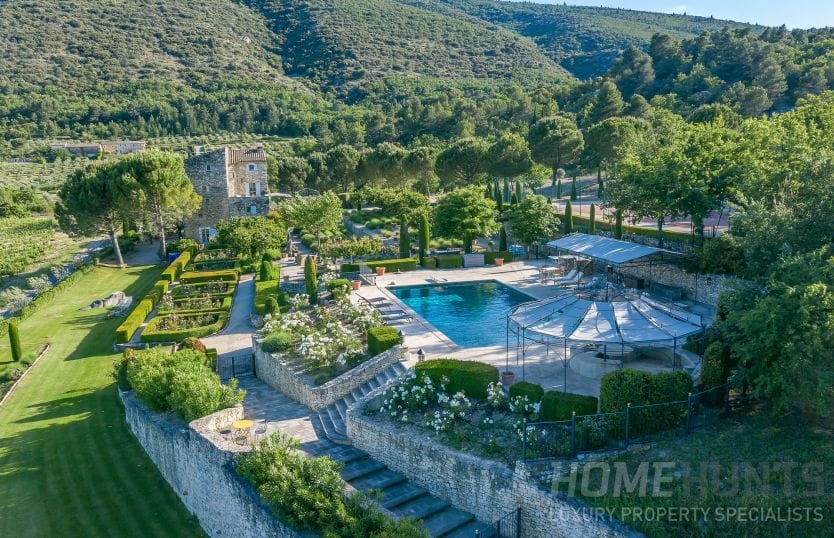 The Climate
Like other Mediterranean areas, the weather in Provence and the Luberon is mild to warm year-round, with limited rainfall and plenty of sunshine. Lows don't get much below 60 degrees Fahrenheit (15 degrees Celsius) during the winter, and they reach around 85 degrees Fahrenheit (30 Celsius) in the summer. While snowfall is rare – and very light when it does occur – you'll have access to the high-altitude ski resorts of the Alpes-Maritimes if you want to ski or snowboard. Otherwise, there are only about 60 rainy days per year, and most of them occur in the autumn and winter months.
The Lifestyle
Private and tranquil, life in the Luberon is enjoyably slow. The area seems to have a bit of everything: History and tradition mixed with modern comforts and amenities, plus cultural activities as well as nature and adventure-oriented ones. Peruse antique shops, galleries or museums; dine on regional fare, which ranges from simple to gourmet; or spend an afternoon hiking, mountain biking, canoeing or kayaking. There are also plenty of wineries and festivals to keep you happily occupied all year long.
The area's markets are especially appealing to foodies, as you can find all sorts of locally harvested produce in vibrant colours. Provence also produces both whites and reds, so wine-lovers will have a ball tasting their way around the region (or producing their own).
Types of Homes Available
There are all sorts of properties to buy in the Luberon, including elegant stone farmhouses and village properties, historic manor houses and renovated mills. You may be able to find an 18th or 19th century farmhouse that's an ideal renovation project or an expansive, turnkey estate with all of the modern luxuries you could want, like a fully equipped kitchen and a heated swimming pool.
It's also common to find property in the Luberon with multiple buildings in addition to the main house, offering you your own little hamlet. You may find a home with horse stables, guest accommodation or other outbuildings that you can convert into whatever you like, such as extra living, workspaces or storage. The Luberon is also home to a lot of vineyard properties too, many wine estates have dedicated spaces to make and store wine, plus all of the equipment you'll need to produce as a hobby or even commercially.
5 of the Best Locations to Live in the Luberon
Provence as a whole is stunningly beautiful, but if you're considering buying property in the Luberon, we suggest these five prime locations.
1. Bonnieux
The church tower is the focal point of Bonnieux, one of the Luberon's many charming villages. Several of the homes here are earth-toned to perfectly fit in with the natural colors of the hillside that they're set on.
This chateau's grounds take advantage of the beautiful surrounding landscape by having its own Italian garden, orchards and olive trees, not to mention a tennis court and pool. For an area that boasts a bread museum, you won't be surprised to hear that there are plenty of cafes and restaurants to choose from, too, many with terraces for al fresco dining.
2. Goult
Goult is an ideal setting for property buyers who love both history and nature. There are lots of old buildings to appreciate and explore throughout Goult, and there are several large squares with shade courtesy of century-old trees. If you want an especially calm way of life and the relaxing surroundings that Provence is best known for, Goult should be at the top of your list. You won't be removed from must-have amenities, either.
This 10-bedroom house is quite close to the village's shops and restaurants, and with multiple bedroom suites and living rooms, you'll have easy access to anything and everything you could need.
3. Menérbes
The perched village of Menérbes has all the makings of a storybook hometown, like a weekly market, an ice cream parlor and a café with a fantastic view. The narrow, winding streets have plenty of restaurants and shops to frequent, and the peaceful square, set at the top of the village, will transport you back in time. There are annual events held here, too, like movie festivals during the summer and Christmas markets in the winter.
If you want to stay home for the day, a villa like this one will have all the conveniences you could want, like a summer kitchen, pizza oven, outdoor dining and a master suite complete with an office, dressing room and en-suite bathroom.
4. Oppède
Oppède has a dramatic and even traumatic past, but today, its history makes it a rich, exquisite and interesting place to live. You won't be able to resist the 10-minute walk up the stone path to the Notre-Dame-d'Alydo castle and church or the locale's remains of ancient workshops. Also, many of the homes here have been restored and date back to the 15th and 16th centuries.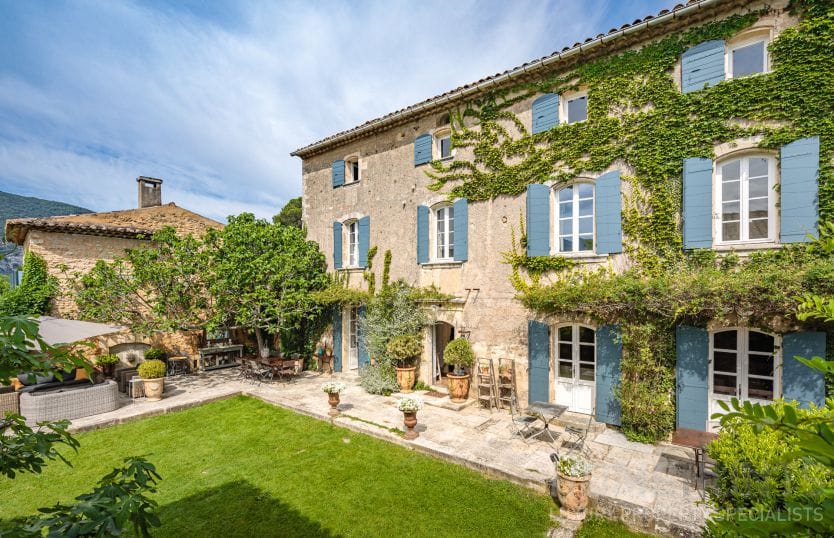 This estate has not one but three main buildings, as well as outbuildings, a swimming pool, tennis courts, vineyards and a garden. While the home has been restored, it's retained its traditional country style. It's the perfect place to host guests, thanks to its many independent apartments and bedrooms.
5. Roussillon
Roussillon is renowned for its red cliffs, the result of the area's large ochre deposits. Set against the deep greens of pine trees and the bold blue sky, they give the village a magical aura. The homes and buildings here have facades in the same orange-red color to mimic the cliffs, too. After walking through the famous clock tower, you'll be in the old town, and you can make your way to Castrum for a panoramic view of the mountains and woods.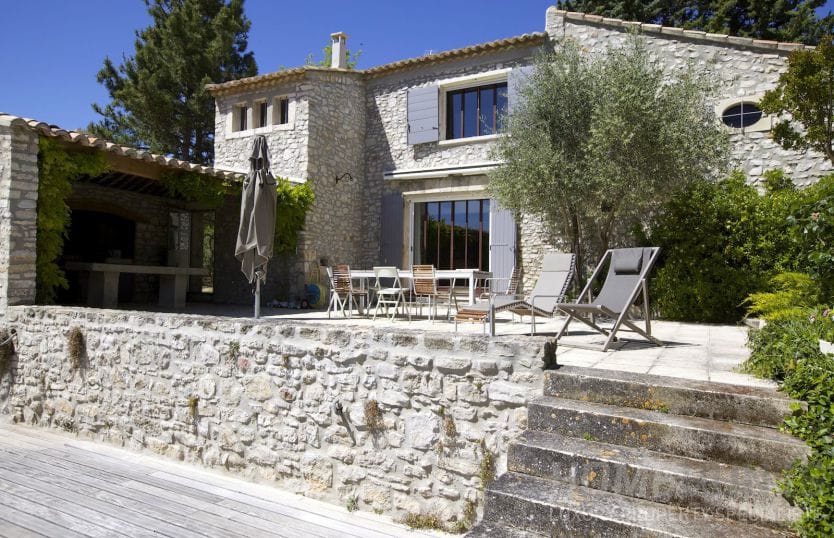 If you fall in love with the area, you can find a property like this four-bedroom hamlet house, which has a wine cellar, swimming pool and a covered terrace.
Home Hunts are able to find beautiful, luxury properties in the Luberon based on your specific search criteria. Whether you want to live in the middle of a bustling town or in a more tranquil setting, there is Luberon property for you.
If you're interested in finding out more about the best places to live in the Luberon, or throughout France, the Home Hunts team are ready to help. If you would like to speak to one of the team to discuss your needs or just to have a chat about the market, you can call us on +33 970 44 66 43 or send us a mail to info@home-hunts.com.
If you just want to browse through thousands of beautiful homes, visit our website at www.home-hunts.com , read our latest news or follow us on Facebook or Instagram.