THE LUXURY PROPERTY SEARCH SPECIALISTS

AWARD-WINNING BUYER'S AGENTS, WE SEARCH THE ENTIRE MARKET FOR YOU
Showcasing 3315 Properties
FRANCE – MONACO – SPAIN – SWITZERLAND
LUXURY FRENCH RIVIERA PROPERTY FOR SALE
Are you looking for the best French Riviera property for sale?
HOMEHUNTS the award winning luxury property specialists are bringing opportunities for buyers to live in some of the most stunning and prestigious locations in the world. Our portfolio includes some of the most exclusive examples of luxury French Riviera Property on the market. If you are looking at purchasing a property on the French Riviera, we will almost certainly have a suitable home for you or be able to source your exact property requirements for you.
Life on the French Riviera
The French Riviera is a beautiful and infatuating stretch of coastline in the southern part of the country, close to the Italian border, which runs past some of the most glamorous and beautiful towns you can imagine. Chic and glitzy, the region has attracted a who's-who list of names for decades. Plus, it sees around 300 days of sunshine each year, which is about as close to perfect weather as you can get. There's also a strong expat community here, with a lot of English and American buyers moving in.
Pedestrian walkways along the Med pass by iconic buildings and breathtaking views, and they're perfect for cycling, jogging or taking a stroll. Sunbathing is also a favorite pastime in the French Riviera, with blue and white umbrellas dotting the beaches. When you're ready for a break, head straight from the sandy beach into a nearby bar, cafe or restaurant. As if that weren't enough, the French Riviera is also known for its numerous cultural events year-round, from concerts and film festivals to literary fairs and yachting races.
Where Is the Best Place to Live on the French Riviera?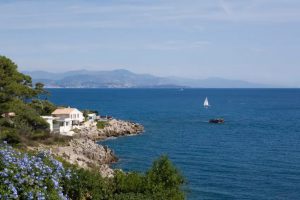 You don't have to sacrifice your prime setting when you live in this region, because you have both the mountains and the sea around you. While most of your time will be spent by the warm seaside, you're never too far from snowy mountains when you want a wintertime excursion. Here are our top choices for where to live on the French Riviera.
Antibes
Dating back to the 16th century, Antibes has a labyrinth-like feel and is known for its spectacular golden light. (The light in the French Riviera is why so many artists have loved the area through the years.) Stunning villas can be found in the forested Cap d'Antibes, and the marina is home to extravagant yachts. In town, art galleries, historic sites and shopping will keep you busy, as will a calendar that always has a cultural or sporting event coming up.
Cannes
While the designer shops and the annual film festival (not to mention other events throughout the year) are places to see and be seen, living in Cannes also means you're close to the Lérins Islands and its hidden coves. The beaches in Cannes are also some of the loveliest around, and the old town will charm you with its bistros and cobblestone streets.
Nice
One of France's largest cities and the best location for nightlife on the French Riviera, Nice also has boutiques, cafes and museums. Plus, La Promenade des Anglais, which runs for more than 4 miles, has plenty of beaches for you to try out until you find your favorite. If you like the idea of city living with the sea as your backdrop, Nice is an excellent option because it's so central – you can easily visit other French Riviera towns to the east and west.
Saint-Jean-Cap-Ferrat
This super-small peninsula boasts some of the French Riviera's most prestigious properties. Consider living here if you prefer a more tranquil setting. It's not secluded, though – there are still plenty of eateries for a cocktail, glass of wine or gourmet meal. And the relaxed setting includes what you desire most for your days off: beaches with fantastic views.
Saint-Tropez
This part of the French Riviera is known for two things: beaches and clubs. If that's how you prefer to spend your days and nights, you'll want to consider buying property in Saint-Tropez. You'll be just minutes from the coolest nightlife at all times. It doesn't hurt that you'll also find world-class art and restaurants here as well.
Types of Property Available
There are properties on the French Riviera to suit any style and space preference, from traditional to modern and petite to enormous. Hilltop chateaux offer the utmost privacy and seclusion, while waterfront villas often provide private beach access. Opt for a luxury apartment to visit on the weekends and over holidays or purchase a generous property with various outbuildings to host guests. And decide how close you want to be to the buzz of it all – a walk away from nightlife or far enough to call home your peaceful oasis? Anywhere you choose, you'll be treated to indulgent amenities, like sunny terraces, heated pools, private parking and even caretakers for when you're off on an adventure or if this is a second home. Make sure you opt for a home with plenty of outdoor space, too – you'll want to take advantage of the sunny weather as much as possible.
Next Steps: The Buying Process
Our Guide to Buying Property in France goes over each step of the process, but we'll outline it here for you as well. Searching for property in France is best with an property buyers agent who knows the area and understands the French property buying process. Once you've found a home you love, you'll make an offer in writing, which will be presented to the owner, who will respond. Assuming the offer is accepted, both you and the seller will sign the Compromis de Vente, which is the initial contract that states the details of the property and the sale. It's possible that the details laid out in this contract will change, especially during the conveyancing process. Next, there's a 10-day cooling-off period during which you can change your mind about buying the property without penalty – i.e., you can get back the 5-10% deposit you put down if you decide not to buy the home. Once that cooling-off period ends and you move forward with the purchase, the conveyancing process will begin, lasting up to 12 weeks. During this time, various assessments of the home will be carried out, overseen by the notaire. When that's finished and you've addressed any questions or concerns, you'll make a final payment to the notaire, and both you and the seller will sign the Act de Vente, which is the deed. That means the home is officially yours and you can begin living a dream lifestyle on the French Riviera! HOMEHUNTS have partnerships with immobilier in the French Riviera so our property consultants can hand pick a selection of properties for sale in the French Riviera. Please use our property search facility above to view our selection of luxury French Riviera property for sale.
Popular Locations in the French Riviera: Antibes, Cannes, Grasse, Grimaud & Port Grimaud, Menton & Cap Martin, Mougins, Nice, St Jean Cap Ferrat, St. Paul, St Maxime, St Raphael & Frejus, St Tropez, Valbonne and Villefranche Sur Mer