When you think of the classic French lifestyle, you most likely picture a place just like Valbonne. This 16th-century village in the Cote d'Azur is full of charm and has two distinctly different vantage points: The French Alps and the Mediterranean Sea. With mild temperatures and frequent sunny days, you'll want to spend most of your time outside – and the homes in Valbonne cater to that, with wonderful outdoor space for swimming, entertaining and relaxing. It is also a perfect location to invest in property, which is why luxurious properties in Valbonne are very popular with overseas buyers.
Where is Valbonne?
Set in the Alpes-Maritimes department in the South East of the Provence region, Valbonne is a few miles inland from Antibes and Cannes. This quaint French Riviera town is in a valley that's teeming with Mediterranean greenery. Valbonne has grown along with the nearby Sophia Antipolis technology park, and many of the engineers and researchers who work there live locally in the area.
The Climate
Summers in Valbonne last through to September and beyond, with the weather being consistently dry, warm and clear. Wintertime is on the colder side (though still mild), with occasional cloud covering, however the area boasts around 300 days of sushine each year.
The Lifestyle
The streets of Valbonne are well-maintained, with pastel facades and stone houses, some of which have been converted into boutiques. The square, called the Place des Arcades, is where you'll find some lovely cafes with outdoor seating and shops with antiques, clothing and interior décor.
The commune has architectural features here and there to admire, such as ancient doorways, fountains and sundials, as well as an abbey and chapels to tour. There are weekly and monthly markets, plus annual festivals to celebrate everything from the arts and the local grapes for winemaking to the area's architectural heritage and the holidays.
Valbonne also has several golf courses nearby, including the nine-hole Victoria Golf Club and the 18-hole Opio Valbonne golf resort. At La Brague Park and Parc de la Valmasque, you'll find nature trails and paths for hiking, horse riding, running and walking.
Types of Luxurious Properties in Valbonne
Valbonne is one of the more spacious and rural parts of the French Riviera, and that's reflected in the size of properties for sale. Many homes here have additional outbuildings, along with pools, jacuzzis, summer kitchens, cinemas, fitness rooms, wine cellars and more. Closer to the village are smaller townhouses, which may lose a bit of size but don't lose the charm that homes in Valbonne are known for. Let's take a look at five amazing properties for sale in Valbonne.
Featured Properties in Valbonne
Home Hunts offer a broad selection of luxury properties in Valbonne for you to consider. Here's a selection of the types of homes we can find for you based on your preferences.
Authentic Stone Mill in Valbonne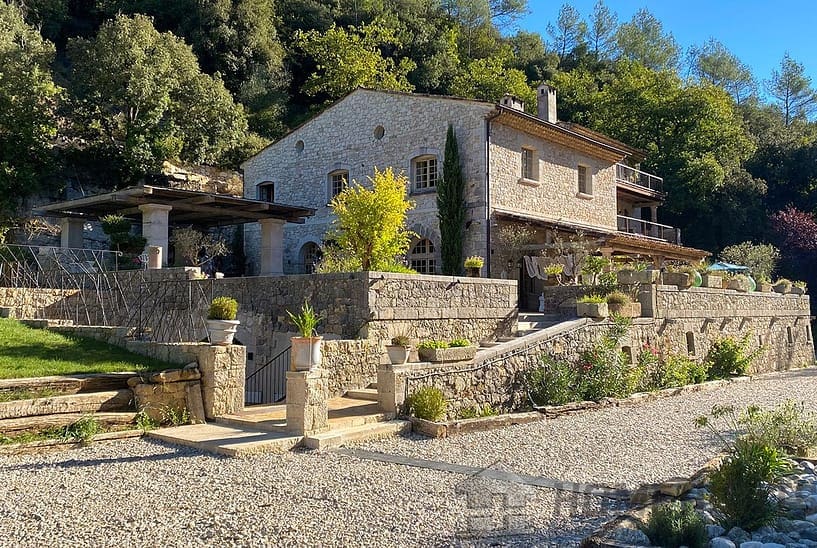 This property for sale in Valbonne has a natural swimming and sunbathing quarry pool that perfectly blends with the natural surroundings, and there's also a second outdoor spa pool to luxuriate in. Outdoor entertaining can take place on the patio and in the al fresco dining areas, which are next to the summer kitchen.
The main house has been partially renovated and includes five bedrooms, along with two stone bar areas and a wine cellar. There's also an apartment on the property with three double bedrooms and a balcony.
The authentic stone mill property is set on an estate that dates back to 1609, and you can take a relaxing 20-minute stroll along the river to reach the village of Valbonne.
Stunning Provencal Villa in Landscaped Gardens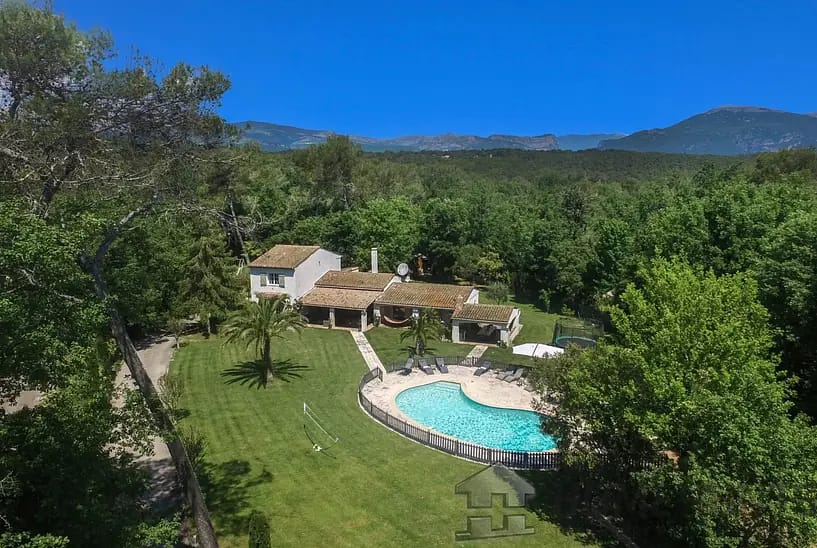 This Provencal villa in Valbonne has a private swimming pool and pool house, a covered outdoor dining area with a bar, and a large yard that's perfect for kids to play in. There's also a boules court, two horse boxes, and two garages on the property.
The five-bedroom, four-bathroom home is set in a quiet and prestigious gated area that's an easy walk to the village. It's also close to international schools and major airports.
The cozy main residence has a fireplace in the living room, and there's an independent one-bedroom apartment on the property as well. Since the property is south-facing, it gets plenty of sunshine year-round, and it has a lovely view of the park and the vibrant green landscape.
Hilltop Villa with Stunning Views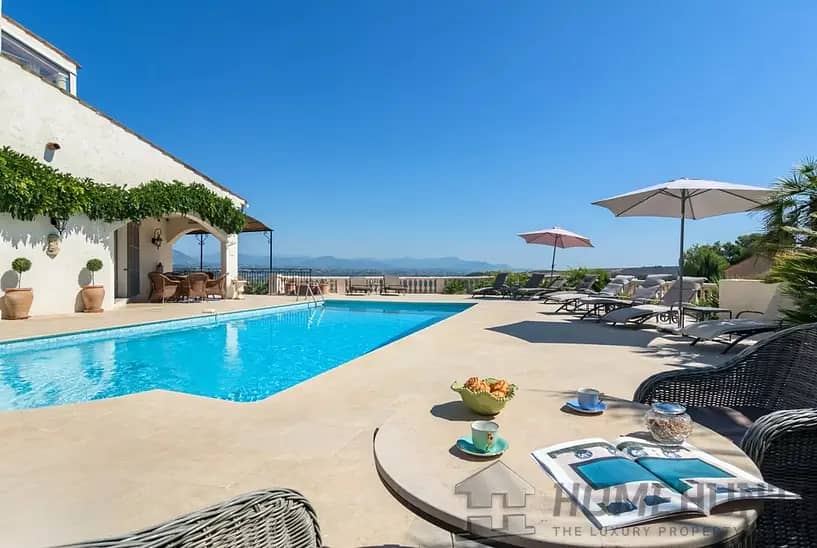 This stunning Valbonne property has plenty of outdoor living, entertaining, and relaxing space, but indoors, the atmosphere remains light and airy, too. Set on a hilltop with panoramic views of Cap d'Antibes and the French Alps, the villa has several relaxation areas, including a saltwater swimming pool.
The ground floor of the house has living and dining areas, plus direct access to terraces and the pool. There's a fully equipped kitchen that opens to a covered dining area, and the primary bedroom has its own jacuzzi. On the garden level, there's an apartment with its own kitchen, lounge, bedrooms, and bathroom.
Modern Villa in Peaceful Setting
This Valbonne villa is beloved for its peaceful setting, which is within walking distance to shops and just a few minutes by car to Valbonne village.
The five-bedroom home's ground level gets tons of light and has an open-plan kitchen, plus a dining room, living room, and wine cellar. The rest of the home includes a study, a games room, a fitness area with a jacuzzi, and a laundry room.
There's also an independent apartment with a bedroom, living room, kitchen, and bathroom. Additionally, the property has a cellar, garage, swimming pool, and workshop.
Superb Provencal South-Facing Villa
Located in a calm residential area near Valbonne, this serene south-facing villa has desirable features and amenities. The large entrance hall leads into a bright, inviting living room complete with a fireplace. The luxurious kitchen has its own dining area, and the home also has five en-suite bedrooms, including an expansive primary suite.
Moreover, the home has its own cinema room, and outside is a park that's been planted with olive trees, plus a swimming pool and pool house. The double garage has room for two cars.
Next Steps: The Buying Process
Once you've found your dream Provencal home in beautiful Valbonne, it's time to make an offer. You'll put your offer in writing, and it will be presented to the homeowner. If the owner accepts your offer, you can both move on to the next step in the buying process.
You and the owner will sign the Compromis de Vente, which is the initial contract. This document contains property and sale details, and they may change before the final deed is written and signed. You'll also put a deposit down at this time.
Once the initial contract is signed, there's a mandatory 10-day cooling-off period that you'll wait through. During that time period, you can change your mind about buying the property and still get your full deposit back. Note that even if you're positive you want to move forward with the purchase, you still must wait out the 10-day period.
When the cooling-off period is over, the conveyancing period begins and lasts approximately two to three weeks. During this time, various surveys will be carried out, and the entire process is overseen by the notaire. The surveys may give you the opportunity to discuss any concerns you have and finalise details for the deed.
After you and the seller have addressed questions about the property, you'll make your final property payment to the notaire. Then, both you and the seller will sign the Acte de Vente, which is the deed.
This means that you're the official owner of your new Valbonne property!
HOMEHUNTS property agents are able to search the market for you and find a beautiful selection of luxury Valbonne properties based on your specific search criteria. Search our website and browse our selection of luxury homes. Alternatively, you can speak directly to one of our expert property consultants by calling +33 (0)970 44 66 43.