Catalonia, Spain, is a historic region that takes up a triangular area of the country's northeast corner. To the north of Catalonia are Andorra and France, and the Mediterranean Sea is on the east. The Pyrenees separate the region from France, offering residents stunning views of both the sea and the mountains – similar to what you find when living in the French Riviera.
Catalonia is a popular holiday destination due to its proximity to the coast, beaches and coves. The picture-perfect coastline only scratches the surface of what the region has to offer, though. There's rich history and strong cultural influences here, plus world-renowned gastronomy, high-end shopping and vibrant nightlife. From walking trails along the seafront to monasteries that date back to the 10th century and a bevy of cafes, restaurants and nightclubs, it's no wonder why many are on the lookout for the perfect villa for sale in the Catalonia region of Spain.
Homes here almost always have stunning views, along with high-end features, like cutting-edge tech for everything from security to heating and cooling. Modern multi-level homes often have lift access, while older restored homes have retained their regional charm. Here are five luxury villas for sale in Catalonia, Spain, if you're looking for a new home or a place to escape to on holiday.
1. Six-bedroom Catalan house in Castell-Platja d'Aro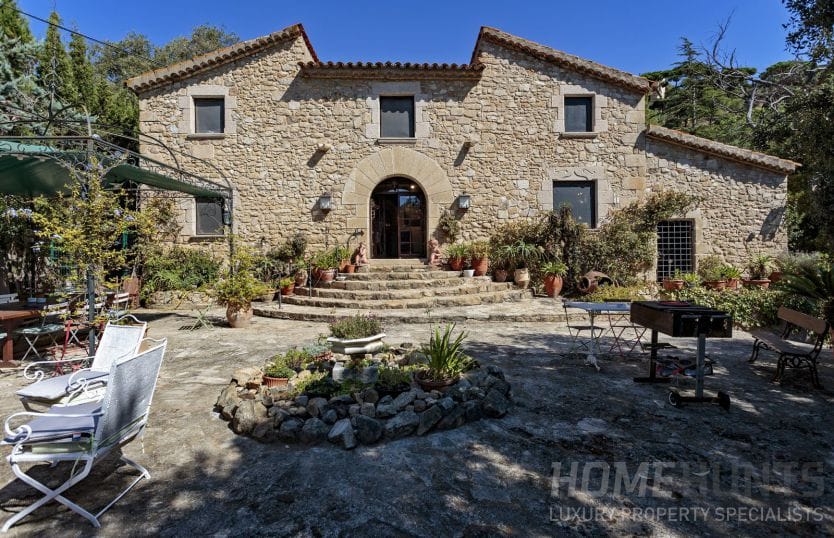 This six-bedroom ancient Catalan house in Castell-Platja d'Aro was restored in the late 1960s and early 70s, then reformed again in the mid-80s. Today, the home still has its authentic feel and traditional spirit, reflected in everything from the stone craftsmanship to the beams in the ceiling.
The combination dining and living room has a fireplace, as well as access to both the billiard room and the garden. There's also another, small living room with a fireplace, plus a study that has access to the garden and kitchen. There are different relaxation areas in the garden, including several gazebos and a barbecue area, plus a pool.
The property also has a wine-tasting salon, parking for six or more cars and its own well for watering the garden and filling the pool. A small outbuilding on the property is perfect for storing tools and summer furniture when they're not in use.
2. Three-bedroom house in Sant Feliu de Guixols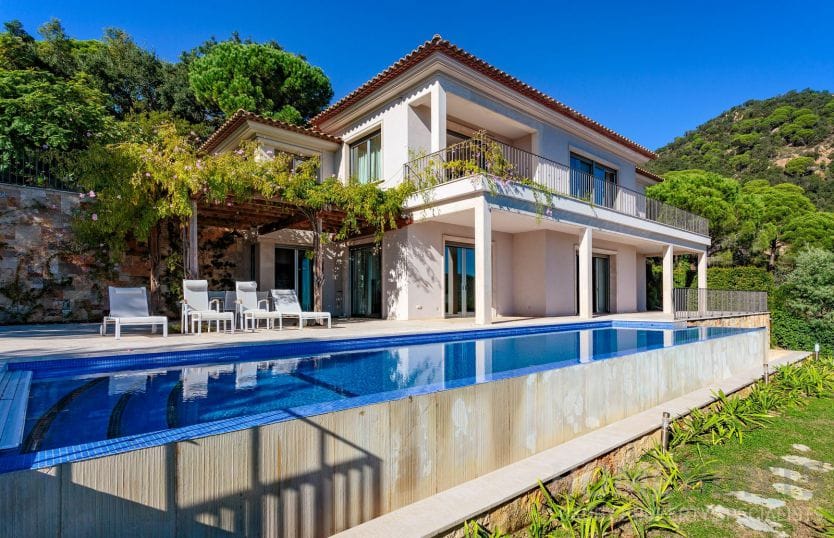 Set in Sant Feliu de Guixols, this three-bedroom and three-level house boasts lift access, panoramic views that overlook the forest and terraces with views of the sea. Other features include a heated swimming pool, a spa with a sauna and a solid stone fireplace. The orchard is home to pomegranate, mandarin, fig, lemon, peach, strawberry and almond trees, among others, and 130 plant species from all over the world were used in the landscape design.
3. Four-Bedroom Home in Playa d'Aro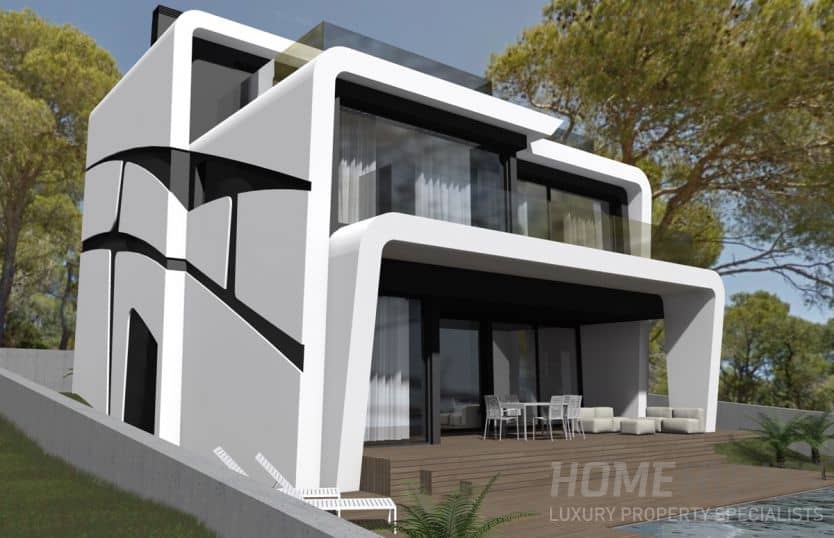 This Playa d'Aro home's four bedrooms, three floors and an lift for convenient access are only the start of what make it so special. The master bedroom has its own dressing room, the study has a private terrace and the ceramic floors have radiant heating. There's also a swimming pool and a garden with automatic irrigation. Overall, the entire home, both inside and out, is spacious and bright. This sleek, sophisticated property has clean lines and neutral surroundings so that modern living and the area's gorgeous light take centre stage.
4. Unique Six-Bedroom House in Sant Feliu de Guixols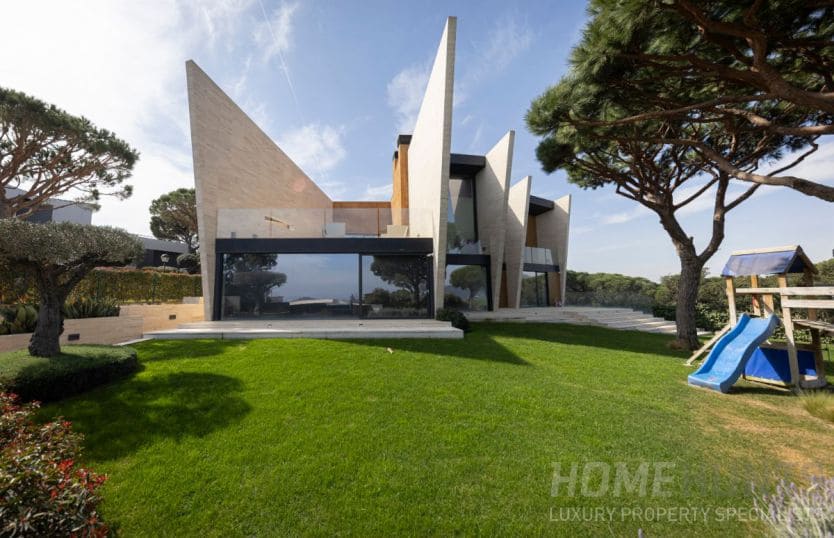 The exterior of this Sant Feliu de Guixols is a show-stopper, but the home is just as unique and interesting on the inside, too. There are six bedrooms, a home cinema and a chef-quality kitchen that shares an open space with the dining room, plus a lift and a high-tech alarm system to offer the utmost safety and protection. Set in a natural setting that's surrounded by trees and offers views of both the mountains and the sea, the property also has terraces and a private pool, as well as an outdoor children's play area. Your biggest decision every day will be if you want to spend your time inside or outside.
5. Six-Bedroom Home in Playa d'Aro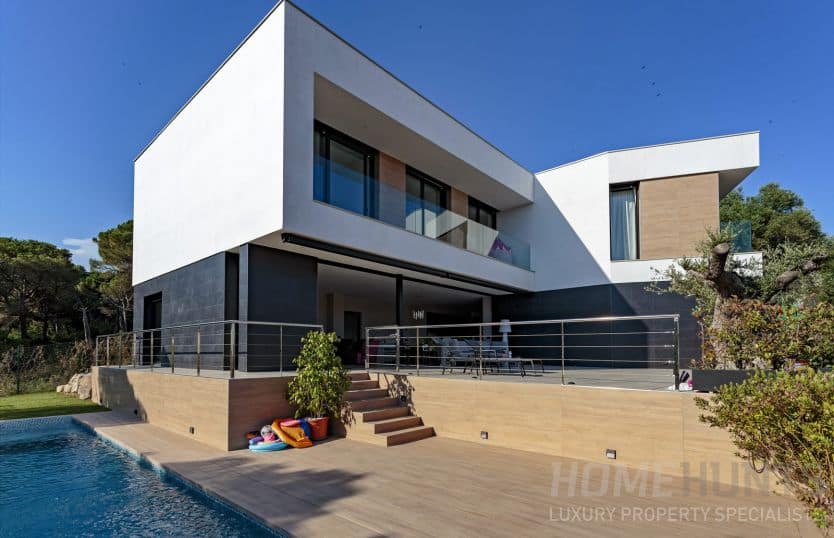 This Platja d'Aro home is surrounded by pine forest, and the living room has panoramic sliding windows that let you blend the indoor space with an airy terrace. There are also six bedrooms, a designer kitchen and a luxury hammam, not to mention a sports and yoga room and a saltwater pool with hydromassage. Also, the garden has olive trees that are a thousand years old! The central AC unit has independent controls in each room, and there's also a solar panel-powered heating system, along with calcium-cleaning and double osmosis water filters.
HOMEHUNTS property agents are able to select beautiful, luxury villas in Catalonia based on your specific search criteria. Search our website and browse the wide range of luxury homes currently on the market. You can also speak directly to one of our property consultants by calling +33 (0)970 44 66 43.