Before you consider starting your search for property in Paris you need to learn as much as you can about the city. In this property buyers guide to Paris you will discover which area of the city is most likely to offer you the lifestyle you are looking for.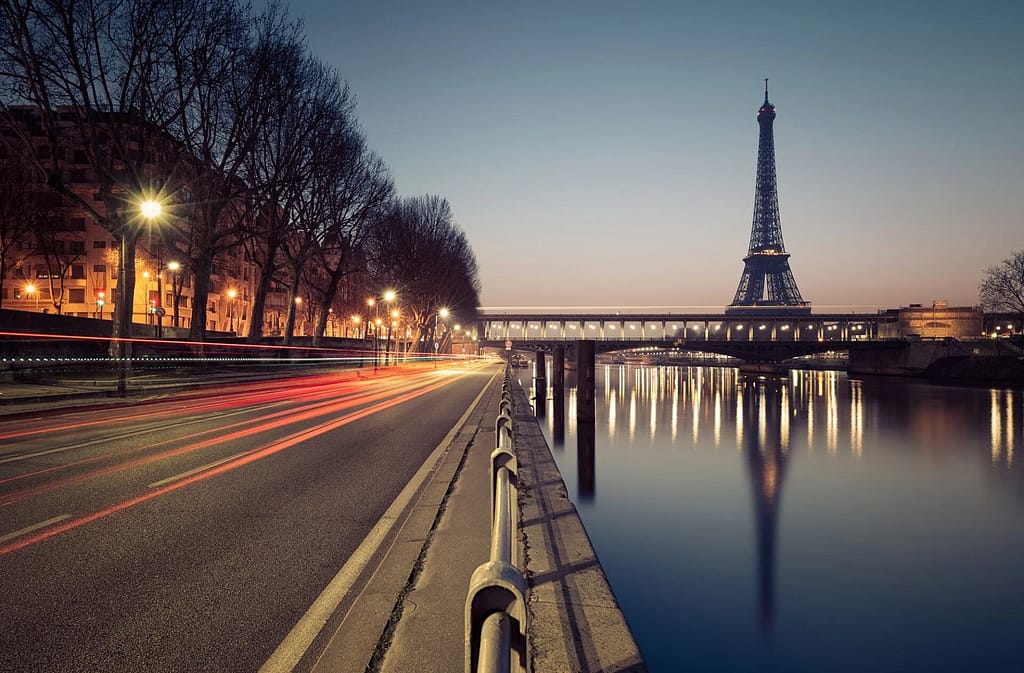 Paris, the capital of France is situated in Northern France on the river Seine and has a population of just over two million. It has been dubbed one of the most romantic cities in the World and is certainly one of the most popular tourist destinations with over 45 million people visiting it every year.
There are 20 areas, or arrondissements in the city so if you're looking to buy property in Paris you will need to decide what you want from your ideal Paris property as this will influence which arrondissement you need to focus your search in.
For instance, Les Halles, in the 1st arrondissement, was formerly Paris' central meat and produce market, and, since the late 1970s houses a major shopping centre around an important metro connection station. Paris property in this area has a inner city feel but prices are cheaper.
Meanwhile, Avenue Montaigne in the 8th arrondissement is next to the Champs-Elysees and is home to luxury shopping brand labels such as Chanel, Louis Vitton and Dior so as you would expect Paris property in this area is very luxurious and comes with a hefty price tag. The theme here is if you have to ask, you can't afford it!
If you are looking for something a bit lively then the 5th and 6th arrondissements might be for you as the latin quarter is known for its lively atmosphere and many bistros. In this area you will also find various higher education establishments which makes the 5th and 6th arrondissements a popular rental area due to the high concentration of students.
This property buyers guide to Paris will outline each arrondissement in turn and will highlight the things that make Paris such a great choice for property investment.
Guide to the Paris arrondissements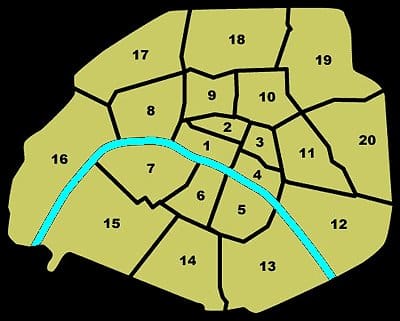 1st Arrondissement – Louvre
The 1st arrondissement is home to some of Paris' historic sights, including Louvre museum, and the Palais Royal. Walking through this stunning neighbourhood, down the rue Saint Honoré with its trendy restaurants and cafés, is a luxury experience. The 1st arrondissement is also one of the most expensive in the city.
2nd Arrondissement – Bourse
The 2nd arrondissement is one of the most prestigious addresses in Paris due to it's diverse range of sights, shops, and restaurants. The northern edge of the 2nd arrondissement contains the La Bourse, Paris' stock exchange. Great vintage shopping, wine bars, and beautiful cobblestone streets.
3rd Arrondissement – Temple
The 3rd arrondissement is an eclectic neighbourhood with plenty to see and do. "Temple" is a trendy corner of Paris with lots of bars, good-value restaurants and art galleries. Head over to the east of the border of the 3rd and 11th arrondissements to find more up-and-coming restaurants.
4th Arrondissement – Hôtel-de-Ville
The 4th arrondissement one of the few areas in Paris where you can still find evidence of the renaissance through to 18th century architecture. The Île Saint Louis, which defines this arrondissement's southern edge, is the oldest part of Paris, where the city first began.
5th Arrondissement – Panthéon
The historic latin quarter has been home to scholars for centuries. Known for its bustling nightlife and student-filled streets, it is historically the least expensive of the central left bank arrondissements. The 5th arrondissement has popular with young buyers in the past few years.
6th Arrondissement – Luxembourg
The streets to the north towards the Seine are home to prestigious art galleries, antique shops and French School of Fine Arts. Property prices in the 6th arrondissement are also the highest in Paris, with riverfront properties in the 6th and 7th arrondissement being amongst the most expensive. If you can afford it, this is ideal property investment in Paris.
7th Arrondissement – Palais-Bourbon
The areas near Champs de Mars and bordering the 6th tend to be more highly prized, while the area near the 15th can feel very residential and quiet. The 7th arrondissement is also home to many government offices, ministries and the Assemblée Nationale, seat of the French parliament. It's central location to parks and real estate in the 7th make it the second most expensive area in Paris, right behind the 6th.
8th Arrondissement – Élysée
Plenty of 5-star hotels and Michelin restaurants can be found in the 8th arrondissement. The area around Parc Monceau is sought-after as it is a calm, residential area, and consists of many beautiful buildings.
9th Arrondissement – Opéra
The 9th arrondissement has a good selection of fresh markets, street shopping, theatre's, and is a highly sought after area to live. Saint Georges and the area around the Rue des Martyrs is one of the most charming, areas in Paris. Properties here command a high price.
10th Arrondissement – Enclos-St-Laurent
The 10th arrondissement has two of the major train stations in Paris, Gare du Nord and Gare de l'Est. This area is one of the most sought-after areas in Paris in terms of real estate investment because the affordably-priced property.
11th Arrondissement – Popincourt
The 11th was a working class neighbourhood, it has working class feel as it continues to attract more and more of Paris businesses, particularly in the streets around the Rue Oberkampf. Along the Rue Richard Lenoir heading north from the Bastille is one of Paris' best outdoor food markets, every Thursday and Sunday.
12th Arrondissement – Reuilly
The 12th arrondissement is an affordable option, and many Parisians call it home. Prices have seen a steep rise there over the past few years. Parisians from throughout the city travel to the outskirts of the 12th to visit the Bois de Vincennes, a huge public park.
13th Arrondissement – Gobelins
13th is historic, a preserved hilltop village called La Butte aux Cailles. Cobblestone streets, house charming apartment buildings and single family homes and family-owned restaurants. The 13th is home to Paris's largest Chinese population and is considered Paris' Chinatown.
14th Arrondissement – Observatoire
The 14th arrondissement, is surrounded by cobblestone streets lined with single-family homes, a rarity in Paris. The area continues to attract buyers, young families, looking for urban comforts with a calmer residential life.
15th Arrondissement – Vaugirard
The northern areas around La Motte-Picquet and Avenue de Suffren, along the border of the 7th near Les Invalides boast the highest prices in the arrondissement, and also some of the loveliest buildings. Apartments in this area tend to sell quickly to families seeking schools in Paris.
16th Arrondissement – Passy
The 16th arrondissement spans the entire west side of Paris and contains mostly residential neighbourhoods. The areas closest to the Arc de Triomphe, Trocadero, and the Place Victor Hugo are the most expensive areas for property.
17th Arrondissement – Batignolles-Monceau
The 17th arrondissement is home to a wealth of quaint, neighbourhood restaurants. The areas to the north, near the 18th arrondissement and the congested Place de Clichy tend to be the least desirable.
18th Arrondissement – Butte-Montmartre
The 18th arrondissement of Paris is best known for Sacré Coeur, the highest point in Paris in Montmartre. The streets of Montmartre bustle with sketch artists and tourists, keeping it lively. The rare hôtels particuliers sell quickly and often by word-of-mouth when they come on the market.
19th Arrondissement – Buttes-Chaumont
The 19th is one of the largest arrondissements in Paris. The neighbourhoods around the park occupy some of the best addresses in the 19th, with top quality apartments on the west side and streets of single-family villas in the small streets to the east.
20th Arrondissement – Ménilmontant
Considered the socially diverse arrondissement in Paris, the 20th has more affordable prices. Converted factories are popular homes and offices for young architects, artists and craftsmen.
Transport
People travelling to Paris from other countries usually tend to arrive by air to either Charles de Gaulle or Orly airports. Charles de Gaulle is north of Paris and you can catch a train from here to Gare du Nord. Meanwhile, Orly is located south of France and has a train service running to Gare d'Austerlitz.
Gare du Nord is very close to the bohemian area of Montmartre. Gare d'Austerlitz is close to Notre-Dame, the latin quarter and the southern part of the river Seine. These are the two main train stations, however for holidaymakers and tourists travelling in from other areas of France there are a number of other train stations.
These stations are all linked into the Metro, which covers most of central Paris. However if you are thinking of purchasing a property outside of the city then you will need to consider available travel in that area.
Gare de Lyon has a line that follows the River Seine southwards and also travels through Vincennes. Lines from Gare St Lazare travel out to Nanterre and the university as well as to St-Germain-En-Laye. Gare Montparnasse has services out to the famous Versailles including the parc and chateau. Finally lines from Gare de l'Est takes in Bobigny and Montreuil.
For central Paris, the Metro is operated by RAPT who also run the busses so many ticket are interchangeable. Single tickets are sold either individually or in packs of 10, called a 'carnet'.
The underground and bus services are great but tourists need to be aware that there is a lot of walking involved.
Parks and Green Spaces
Paris is a large, sprawling, heavily inhabited city. However, amongst the high buildings there are a number of parks and green spaces. If you are attracted to Paris for the cosmopolitan, busy lifestyle but are concerned you may forget what the colour green is, then you might want to consider looking for property located near one of the cities many parks.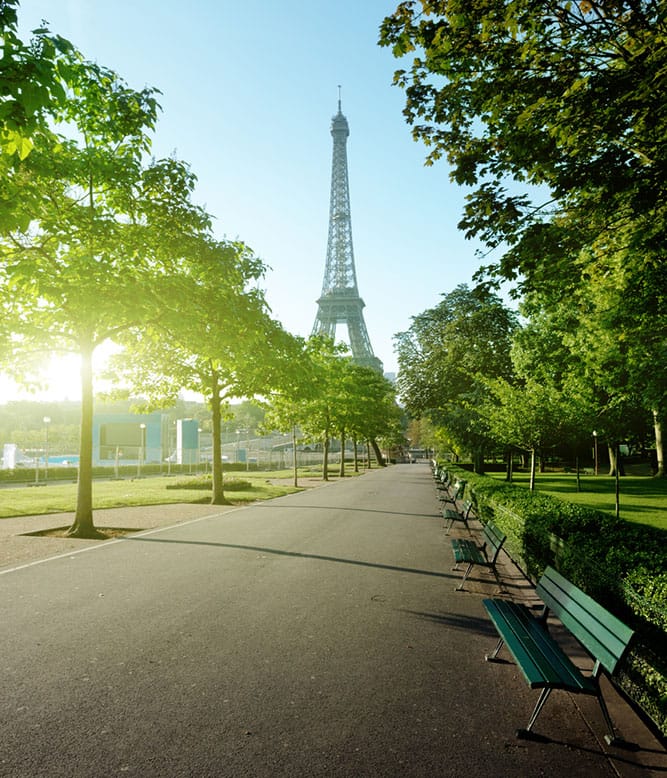 Arrondissements 1 to 4 make up the inner city close to the River Seine. Arrondissement 1, known as Louvre, has four parks, Jardin des Halles, Jardin du Palais Royal, Square du Vert-Galant and Jardin des Tuileries.
During the second empire, Jardin des Halles was formed from an old outdoor market. Honeysuckle, jasmin, kiwi vines, wisteria, clematis and, countless other plants climb the old structures and there are added attractions such as a tropical rainforest, a waterfall and a forbidden city.
Moving north away from the Seine are arrondissements 8 to 11 and 17 to 20. Jardin Atlantique, Parc de Belleville, Parc de la Terlure, Parc de la Villette and Parc des Buttes-Chaumont all exist in this arrondissement.
In the right bank district is Parc de Belleville, ideal if you are searching for a Paris property location bursting with culture. There are numerous chinese, vietnamese, and thai restaurants, as well as a sephartic jewish community plus 11 acres of gardens and paths on a hill that commands spectacular views of Paris.
If you love Montmatre but are worried you might want to escape, look no further than Parc de la Terlure. On a sunny day residents in the area can be found in this park, a tranquil hideaway on rue de la Bonne, north of Sacré-Coeur.
Of the 25 parks in Paris, 17 are south of the river Seine in arrondissements 5 to 7 and 12 to 16. Le Bois de Boulogne, Le Bois de Vincennes, Jardin du Bassin de l'Arsenal, Jardin des Champs-Elysées, Jardin des Plantes, are among them.
Le Bois de Boulogne is Paris's most legendary and largest park, landscaped by the cities architect Baron Haussmann using London's Hyde Park as his model. Le Bois de Vincennes is home to four separate lakes and boating is popular so a Paris property near this park would be ideal for those who like water sports.
So yes, Paris is a bustling, non-stop, cultural capital but that's the attraction. If you just want a bit of peace and quiet you will find it in one of the many parks.
Paris Architecture
Victor Hugo said in 1881 "All that can be found anywhere can be found in Paris". What a fantastic complement for a city that comprises of so much architectural variety. If it is choice you are looking for in your ideal Paris property then this city gives it to you by the Chanel bag load.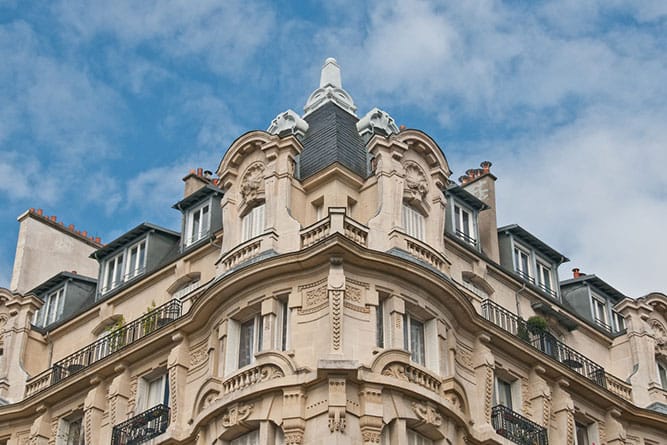 Paris is a walled city dating back to 52BC. Traces of architecture from as far back as Roman times can still be found in places such as the Rue Saint-Jacques roman road and the gothic Notre Dame cathedral. Napoleon III had his Baron Haussmann redesign the entire city in the mid nineteenth century to the now instantly recognisable geometrical boulevards lined with rows of grey bourgeois residences that are the hallmark of Paris.
Monumental architecture forms a backdrop to parisian street life, the most notable being the Arc de Triomphe, Louvre and Eiffel Tower. However there has been a trend of breaking the architectural moulds in Paris with the later addition of such buildings as the Pompidou Centre and La Defense.
One of the most original uses of modern architecture and design is in the Metro system. The underground train network that connects the city was designed by Hector Guimard in 1900. The Art Nouveau entrances are iconic symbols of Paris, and 83 survive. The Art Nouveau style can still be found in may buildings in the city if this is what you are looking for from your Paris Property.
Most streets in Paris consist of a range of buildings from various centuries and architectural styles. Older buildings, such as palaces, have been modernised allowing them to be redeveloped into apartments and offices. If you're looking for functionality twinned with traditional features then property in Paris is most likely going to be for you.
Events and Festivals in Paris
Paris is host to many popular events and festivals throughout the year but two of the most popular spectacles take place in the summer. These are world famous the Tour de France cycle race and the Chopin Festival.
The Tour de France is one of the most iconic sporting events in the world. Millions of spectators gather to watch the riders as they take to the many stages around France through idyllic countryside to its famous mountain ranges.
After 3,600 kilometres the event comes to a close on Paris' famous Champs Elysees. Following the race there is a ceremony to celebrate the winner and thousands flock to the city for the spectacle.
Taking place in June and July is the annual Chopin festival. Parisians love their music and the numerous jazz clubs, street performers and rock festivals quench their thirst year round. However, the one type of music that matches the feel and architecture of the city the most is classical.
Chopin, who spent much of his adult life living in Paris, has an annual festival dedicated to this great composer with a number of concerts around the city.
Events and festivals such as these give the city a brilliant buzzing atmosphere and offer a great opportunity to rent out your Paris apartment at a premium.
Let Home Hunts find your perfect Paris property
We hope you have found this buyers guide to Paris informative. If you would like any further help or guidance in locating your perfect Paris property then contact HomeHunts today or visit the Paris property section of our website. To discuss your property requirements in more detail, you can speak with one of the Home Hunts' consultants directly by calling +33 (0)970 44 66 43.