What's most interesting about Cap d'Antibes is that it manages to be laid back and relaxing in a high-luxury way that only this part of France can pull off. Case in point: It's one of the globe's top yachting destinations, and yet you can feel completely at ease leading a low-key lifestyle of understated elegance. Spend your days on a pristine beach or exploring the area's many cultural happenings, then have a romantic evening dining on fresh seafood at a seaside table. In this overseas property guide to Cap d'Antibes, we'll outline the key facts about living in this beautiful area of the South of France.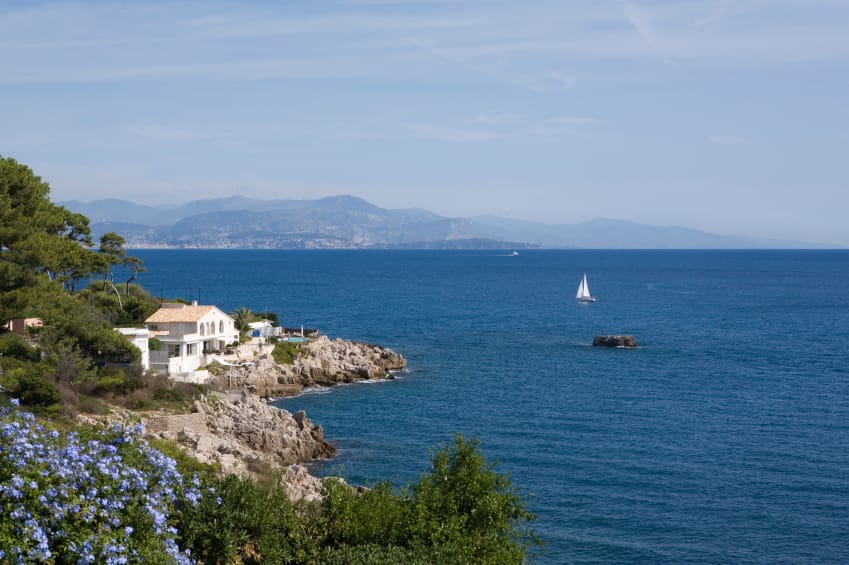 Where is Cap d'Antibes?
Cap d'Antibes was discovered toward the end of the 19th century, during the Belle Epoque period, and has been attracting the ultra-wealthy (and famous) ever since. It's set in the town of Antibes' southern peninsula, which is in the south of France, specifically the Alpes-Maritimes department. It's situated between Cannes and Nice, putting you in a prime position to visit either of those renowned cities – and practically anywhere else you want to go in the Côte d'Azur, too.
Its location means that homes here enjoy views of both the sea and the mountains, which is why so many properties have expansive and enjoyable outdoor areas. You can do laps in your private pool or lounge in the sun right beside it, roam around your garden every morning, and stroll down to the beach when you want to be even closer to the sea.
The Climate
The weather in Cap d'Antibes is enjoyable year-round, even considering the wetter months (April and September through December) each year. Despite a higher chance of precipitation, September and October often experience pleasant weather and temperatures, as do May and June. July and August are the warmest, sunniest months, but even during January, temperatures don't tend to drop below 13 degrees Celsius (which is 55 degrees Fahrenheit).
The Lifestyle
The resort area of Juan-les-Pins is close to Cap d'Antibes, which means you have easy access to the historic town's buzzing culture and nightlife. And while there are plenty of art, culture and jazz events to keep you busy year-round, there are also natural settings where you can take in the great outdoors. Bike or hike on the area's many scenic hills and trails, or go scuba diving any time from May to October. At the end of a long day, stop by a market in Old Downtown to shop for gourmet ingredients for a well-deserved meal at home.
Getting There
To get to Cap d'Antibes, you'll fly into the Nice Côte d'Azur Airport, which is a mere 20-minute drive from Antibes. Or, you can hop on the train in Nice and reach Antibes in even less time: 12 minutes. If you're coming from London or Paris, the city's high-speed train will take you to Antibes, and there are also buses that run from the airport, getting you to Antibes in under 40 minutes.
5 of the Finest Properties Currently For Sale in Cap d'Antibes
Luxury 10-bedroom villa with stunning views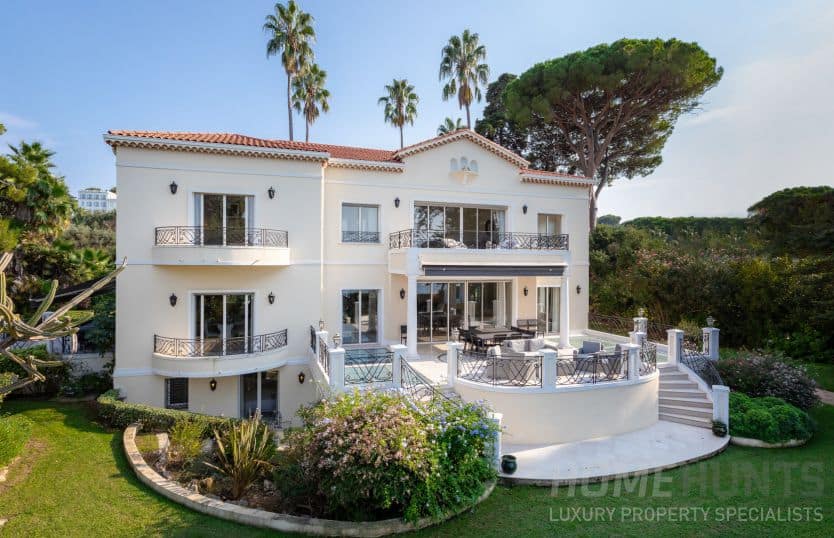 This 10-bedroom villa will make you feel like you're on a permanent holiday. With a private garden and terraces, you're never far from the stunning views of the Juan-les-Pins bay, the Esterel mountains and the Lerins Islands that are right outside. While the house dates back to the 1930s, it's been renovated and outfitted with modern conveniences, like air conditioning and a fully-equipped kitchen. The property also includes a heated swimming pool, a tennis court and three garages.
Stunning eight-bedroom waterfront home
Set on the waterfront, this eight-bedroom home doesn't just have its own heated swimming pool and jacuzzi, but also a private beach area, not to mention a wine cellar. The picturesque garden is home to exotic plants, Mediterranean flora and ornamental sculptures, and the roof terrace has its own bio garden, too. When you'd rather stay put inside, pass the time in the home's gym or cinema. The property also includes a separate caretaker's apartment for visiting guests or rental opportunities.
Elegant and modern six bedroom villa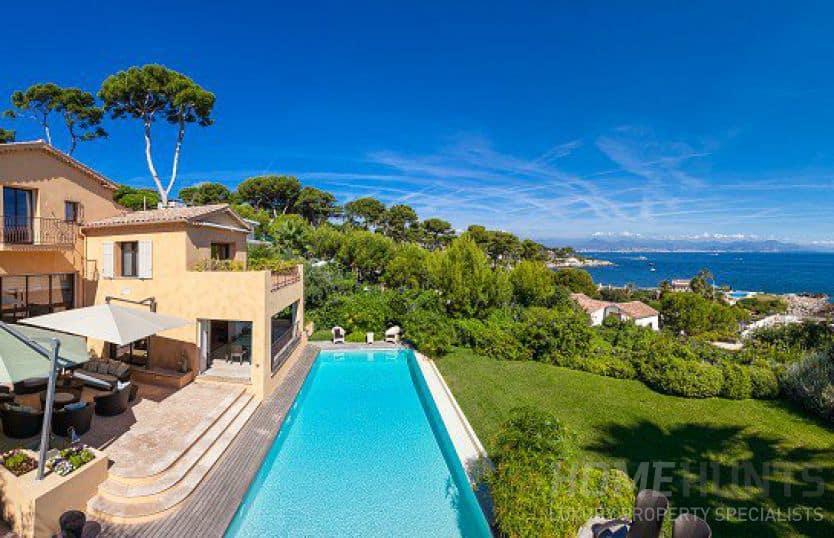 In addition to six bedrooms with en suite bathrooms or showers, this exceptional and warm home has a double-height lounge and dining area. There's a slim, open loft-like area that overlooks the main sitting room, giving the home an exceptionally airy feel. Head outside to cool off in the infinity pool or to walk down to the beach – you're just a few minutes from lounging on the sand, after all, and you don't even have to hop in a car to get there.
Beautiful modern villa with swimming pool and beautiful sea views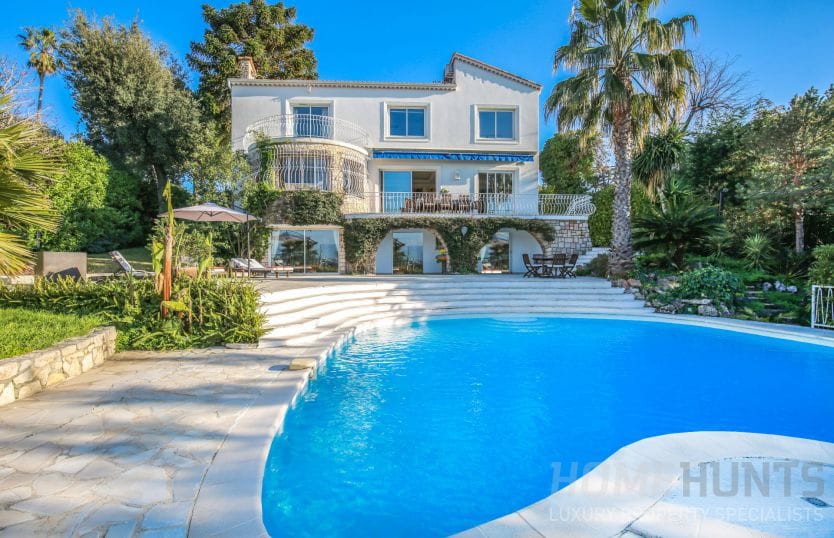 Where many homes in Cap d'Antibes are elaborately embellished and traditionally decorated, this one is modern and sleek – but without being icy or impersonal. In addition to the master bathroom (which has an en suite bathroom and its own balcony) and the other three main bedrooms, there's a studio bedroom on the lower ground floor, complete with its own bathroom and living room. Furthermore, there's a separate studio apartment for visitors who need even more privacy.
Magnificent six bedroom villa with panoramic sea views
This six-bedroom villa for sale in Cap d'Antibes has a stunning, pristine pool that overlooks the sea (and its superyachts) with an unbeatable panoramic view. The bright and sunny yellow-hued kitchen is a delight to cook in, and your guests can dine al fresco under the covered patio. In addition to the four main bedrooms, there's also a private guest house with an additional two bedrooms, plus a living room and a shower. The property also features a gym, sauna and tennis court.
HomeHunts is here to help you to find your dream overseas property, and we can guide you through the entire buying process. If you would like to speak to one of our team members to discuss your needs or have a chat about the market, you can call us at +33 970 44 66 43 or send us an email to info@home-hunts.com. You can also browse through thousands of beautiful French homes by visiting our website or following us on Facebook or Instagram.