THE LUXURY PROPERTY SEARCH SPECIALISTS

AWARD-WINNING BUYER'S AGENTS, WE SEARCH THE ENTIRE MARKET FOR YOU
Showcasing 3265 Properties
FRANCE – MONACO – SPAIN – SWITZERLAND
LUXURY PROPERTY FOR SALE IN POITOU CHARENTES
Are you looking for a Luxury Property For Sale in Poitou Charentes?
HOMEHUNTS the award winning luxury property specialists are bringing opportunities for buyers to live in some of the most stunning and prestigious locations in the world. Our portfolio includes some of the most exclusive examples of luxury property for sale in Poitou Charentes. If you are looking at purchasing a property in Poitou Charentes, we will almost certainly have a suitable home for you or be able to source your exact property requirements for you.
With its appealing climate, outdoor lifestyle and celebrated food and wine, Poitou-Charentes is one of the top areas to invest in luxury property. The temperature stays mild year-round here, giving the French Riviera some competition. However, though the sunshine and sights are akin to those in the south of France, Poitou-Charentes is a bit overlooked in comparison – and that's not a bad thing. While it attracts tourism, visitors come and go quickly, leaving the charming, picturesque towns and landscapes mostly for residents.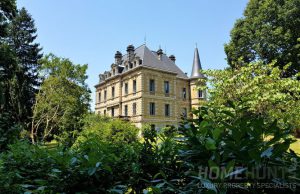 On the Poitou-Charentes coast, you'll find long, sandy beaches and nearby restaurants that feature fresh oysters. La Rochelle, set on the Atlantic, has water sports that will get your adrenaline pumping. Poitiers is the region's largest city, with historic architecture, a university and an airport, plus a strong expat community. The further you get from the coast, the calmer your surroundings are, with departments like Charente being pretty, quiet and pleasantly subdued. Properties in Poitou-Charentes are a mix of 19th-century villas from the Belle Époque period to cutting-edge, modern architecture.
Where is Poitou-Charentes?
Poitou-Charentes encompasses Vienne, Charente, Charente-Maritime, and Deux-Sèvres in western France. In 2016, the region joined Aquitaine and Limousin to form the new Nouvelle-Aquitaine, which spans the country's west and southwest areas. Poitiers is the former capital of the region and its chief city. In the northern part of the region, the departments of Deux-Sèvres and Vienne make up historic Poitou. The southern part of Poitou-Charentes is made up of the departments of Charente and Charente-Maritime.
What Makes Poitou-Charentes Popular With Property Buyers?
The coastal area of Poitou-Charentes enjoys the most hours of sunshine outside the French Mediterranean coast. La Rochelle, Rochefort and Royan, among other seaside towns, are popular for tourism, with kilometres of sandy beaches and family-friendly waters. You'll also discover the island of Ile de Ré, the Parisian holiday destination of choice thanks to its stunning beaches, relaxed pace of life (most people take to their bikes when they arrive) and unspoiled maritime environment. The island also has two villages that have been awarded the most beautiful in France.
Poitou-Charentes has extensive vineyards that provide the grapes used in the production of its world-famous Cognac and the local apéritif wine, Pineau. And if you'd rather visit the beach once in a while than live close to it, rustic towns and sleepy villages have plenty to offer, like sunflower fields, heritage sites and unusual buildings to explore. Living in a non-coastal property may give you more land to spread out on, too.
Types of Property for Sale in Poitou-Charentes
French chateaux and castles from the 1800s can accommodate large families and all of your visitors, or they can be turned into commercial property for rental opportunities. Even after renovations are made to older buildings, many of the original features are retained so they can be appreciated, while modern amenities assure you can live in comfort and style. It's not unlikely that you'll have a game, movie or music room, as well as upgrades like underfloor heating.
Inland properties can be set on several hectares of land with views of the countryside, and outbuildings are common, including barns, stables and storage areas. Your home may also have a greenhouse, landscaped garden, swimming pool, pond or other facets that let you admire the natural setting.
If what you're after is a smaller or newer home right near the beach, there are luxury apartments and modern villas in Poitou-Charentes, too. New residences have bright rooms, sunny terraces and open kitchens, plus private parking and easy access to the sea, golfing and the town centre.
How to Buy Property in Poitou-Charentes
Working with a property agent makes it much easier to find and purchase property for sale in Poitou-Charentes. Property agents have listings that are not available to the public, and they also have expert-level knowledge of the area where you're searching, not to mention the French property buying process.
Once you've settled on a home you'd like to buy, you'll make an offer in writing to be presented to the seller. If the seller accepts the offer, both of you will sign the initial contract, called the Compromis de Vente. While this contract isn't yet finalised, it does include current information about both the property and the sale.
After signing, you'll wait out a 10-day cooling-off period. This is a mandatory part of purchasing French property, and it gives you the opportunity to pull out of the purchase without paying any penalties. Once this period has passed, the conveyancing process begins. Over approximately 12 weeks, various home assessments will be carried out. This gives you the chance to handle any issues with the seller before the final contract is written.
Once you and the owner have reached an agreement about the sale, the deed, called the Acte de Vente, will be written. Both you and the seller will sign it, and you'll also make the final payment. At this point, the property is yours!
For more information about the French property buying process, visit our complete guide to buying property in France.
​​HOMEHUNTS property agents are able to select beautiful, luxury property for sale in Poitou-Charentes based on your specific search criteria. Whether you are looking to live in a bustling city or in a more tranquil rural location, there is going to be a Poitou-Charentes property that fits your search criteria. Search the HOMEHUNTS website and browse our selection of luxury homes. You can also speak directly to one of our property consultants by calling +33 (0)970 44 66 43.