THE LUXURY PROPERTY SEARCH SPECIALISTS

AWARD-WINNING BUYER'S AGENTS, WE SEARCH THE ENTIRE MARKET FOR YOU
Showcasing 3331 Properties
FRANCE – MONACO – SPAIN – SWITZERLAND
LUXURY PROPERTY FOR SALE IN TARN, FRANCE
Are you looking for a property for sal in Tarn (Albi/Castres) region, South West France?
HOMEHUNTS the award winning luxury property specialists are bringing opportunities for buyers to live in some of the most stunning and prestigious locations in the world. Our portfolio includes some of the most exclusive examples of luxury property on the market in The Tarn. If you are looking at purchasing a property for sale in Tarn, we will almost certainly have a suitable home for you or be able to source your exact property requirements for you.
Tarn is one of France's best-kept secrets, an unspoiled part of the country with a low population density and a fantastic climate all year long. A wholly rural part of France, Tarn is known for green valleys and hills of limestone and sandstone. The department seems to have a bit of everything, too — medieval bastides and natural parkland, valleys and mountains, and cultural sites as well as adventurous outdoor sports. There are endearing old quarters, gardens and parks (even in the city), Romanesque art and regional culinary experiences that focus on traditional meals.
Where is Tarn in France?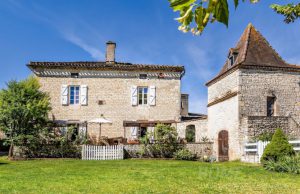 The Tarn department in southern France is in the Occitanie region. Nestled around the Tarn river, the area is famous for its vineyards as well as its historic, medieval hilltop villages, which were the fortress strongholds of the Cathars. While it's rural, Tarn has convenient access to transportation. It's only one hour from the Toulouse-Blagnac Airport, making international travel possible, whether you're buying a holiday home or like to welcome visitors often. There's also a major motorway, so coming and going is simple.
What Makes Tarn Popular With Property Buyers?
Despite the fact that it's not one of France's most well-known places, it still has everything, either right within Tarn or very close nearby. You can make a day of a trip to the beach, as Tarn isn't far from the coast – you'll want to head to Béziers, Narbonne or Perpignan. And during the winter, you have the same convenient proximity to the Pyrénées if you want to ski, snowboard or just partake in the aprés-ski scene. Interested in experience Spanish culture? The border is right on the other side of Perpignan.
Albi is the largest town in the department, with obvious nods to its medieval past, such as the Gothic Cathédrale Sainte-Cécile d'Albi, as well as the orange brick used in the local buildings. It's also known as the birthplace of artist Henri de Toulouse-Lautrec, and you can see an enormous collection of his paintings by visiting the Musée Toulouse-Lautrec.
Along with the nearby Toulouse, Tarn has indulgent cuisine focused on rich dishes like duck confit, cassoulet (beans and sausage) and civet de sanglier (wild boar stew). You'll also note the distinct flavors of the area, particularly pink garlic and black truffles. Furthermore, the world-renowned wine region of Gaillac produces dry, fruity whites and full-bodied reds.
Types of Property for Sale in Tarn
In Tarn, you'll see a lot of Renaissance-style architecture with exposed beams, stonework, stained-glass windows and spiral staircases. It's also common to have several fireplaces throughout the home, including in the master bedroom. Terraces with 180-degree views over the valley below are common as well, as are covered patios for dining outside and heated pools with sun-drenched lounge areas.
Most farmhouses in Tarn have been converted for modern times, and you'll also find a lot of stone houses in the department's villages, each filled with plenty of personality. Properties here often have additional buildings, too, like two- and three-bedroom gites for guests. Maison de maitres, which are mansion-style homes, generally come with a lot of land and outbuildings.
If you're in the market for a more contemporary home, don't be fooled by authentic exteriors – some house fully modern interiors that have been renovated with luxury in mind. Adding a sauna, solar heating, an artist's studio or a rain shower to your must-have list, for example, isn't beyond the scope of what you can find.
Have you dreamt of opening a boutique European hotel? In Tarn, you can find hotel property for sale with 10-plus bedrooms and so much authentic charm you'll create a once-in-a-lifetime experience for your guests. You can have part of the property function as your private residence while you rent the rest out to travelers, too.
How to Buy Property in Tarn, France
The process of finding and buying a property for sale in Tarn is made easier when you work with a property agent. In addition to understanding the French buying process and knowing the area well, property agents will have listings that aren't available to the public.
After finding a home you'd like to buy, you'll make an offer in writing to the owner. If the owner accepts the offer, you'll both sign the Compromis de Vente, which is the initial (not finalised) contract.
There's then a mandatory 10-day cooling-off period during which you can change your mind about the purchase and still get your deposit back. Once that period has passed, the conveyancing process begins. Over approximately 12 weeks, several home surveys will take place.
Once the specifics of the sale have been agreed upon, you and the seller will sign the Acte de Vente, which is the deed. You'll then make your final payment, and you'll be able to call the property your own.
For more information about this process, read our complete guide to buying property in France.
​​HOMEHUNTS property agents are able to select beautiful, luxury property for sale in Tarn based on your specific search criteria. Whether you want to live in the city or somewhere more tranquil, there is Tarn property to fit your needs. Search our website and browse through our selection of luxury homes. You can also speak directly to one of our property consultants by calling +33 (0)970 44 66 43.