THE LUXURY PROPERTY SEARCH SPECIALISTS

AWARD-WINNING BUYER'S AGENTS, WE SEARCH THE ENTIRE MARKET FOR YOU
Showcasing 3263 Properties
FRANCE – MONACO – SPAIN – SWITZERLAND
LUXURY TARN-ET-GARONNE PROPERTY FOR SALE
Are you looking for a luxury Tarn-et-Garonne property for sale, South West France?
HOMEHUNTS the award winning luxury property specialists are bringing opportunities for buyers to live in some of the most stunning and prestigious locations in the world. Our portfolio includes some of the most exclusive examples of luxury Tarn-et-Garonne property for sale (Montauban).
Created in 1808 by Napoleon, Tarn-et-Garonne may be a low-profile department in southwest France, but that's simply part of its appeal. Taking its name from the rivers that flow through it, the area has a diverse collection of landscapes, ranging from forests and rocky gorges to vineyards that produce reds and fruity rosé. Known for its historic architecture, charming villages and sunny climate, Tarn-et-Garonne feels like a world of its own. Yet, you're never far from the water, and you can easily travel to Paris' other hotspots for a weekend away.
Where is Tarn-et-Garonne?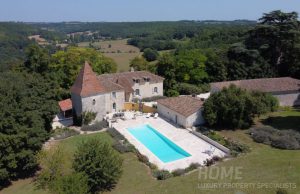 Set in southwest France, just above Toulouse, is the department of Tarn-et-Garonne, part of the Occitanie region. Notably, there are three Plus Beaux Villages de France (The Most Beautiful Villages of France) in Tarn-et-Garonne. Lauzerte is a quaint bastide town with a charming main square, along with both medieval houses and modern sculpture.
Bruniquel is known for its castles and architecture that dates back as far as the 12th century. There's also Auvillar, a picturesque village overlooking the Garonne river. As one of the stops along the Camino de Santiago, you may meet pilgrims along their trek.
Getting to Tarn-et-Garonne is easy, as the Toulouse-Blagnac Airport is just 30 minutes south of the capital, Montauban. There's also the Agen La Garenne Airport, which is slightly further away, but still only one hour east. For traveling throughout France, take the TGV high-speed train, which makes multiple daily trips between Paris and Montauban — you can be in the City of Light in under five hours, making for a perfect overnight getaway.
What Makes Tarn-et-Garonne Popular With Property Buyers?
Between the history of the region and the outdoor sights, it's no wonder why Tarn-et-Garonne is sought-after by property buyers. The capital of Montauban is 50 kilometres north of Toulouse, built on the river bank. The 17th-century Place Nationale, home to Saint Jacques Church, is the city's oldest building. While this fortified town hails from the 13th century, Tarn-et-Garonne has an overall Mediterranean feel, with fresh produce, thriving vineyards and a keen interest in outdoor living.
Go boating or fishing on Tarn-et-Garonne's 4,000 kilometres of waterways, or take your bike to cycle past the region's many lakes. One of the most relaxing and easygoing rides you'll find is along the Canal des Deux Mers. And where the Tarn and Garonne rivers meet, you can spot dozens of bird species, so be sure to bring your binoculars. You can also head to the Gorges de l'Aveyron, a natural environment with canoeing, kayaking, sunbathing and swimming. While there, you can also hike or cycle along the clifftops for the best views around.
Types of Property for Sale in Tarn-et-Garonne
Many properties (and even whole towns) in Tarn-et-Garonne are perked on rocky peaks, and you're bound to see elaborate mansions of pink stone, a nod to the local pastel trade. Everyone from single inhabitants to couples and families make their home here, and you can find villas that are move-in ready as well as renovation projects.
Property for sale in Tarn-et-Garonne ranges from rustic farm dwellings to elegant chateaux. There's also an especially strong rental market for apartments in Montauban if you're interested in city living — it's the best place to be if you want to explore the rest of the country by train. Nearby Montbartier and Orgueil are also sought-after locales.
There's a range of property styles in Caussade and Bruniquel, so you're not pigeonholed into just one type of home if you opt to move there. To be near the water, consider Montaigu-de-Quercy, which has a lakeside beach and townhouses in the historic centre. For a countryside, rural property, start your search in Roquecor or Escazeaux.
If you opt for a countryside home, you may find several buildings on your property, from the main house to a one- or two-bedroom gite and barns that can be outfitted in whatever way you like. Villas built in the classic style have spacious reception rooms, orangeries, beautiful gardens and surrounding woodlands. Private homes guarded by century-old trees maintain stunning panoramic views, and swimming pools, bay windows and terraces let you enjoy the fresh air day and night.
How to Buy Property in Tarn-et-Garonne
It's always a good idea to work with an property agent when looking for property for sale in Tarn-et-Garonne. As well as being familiar with the area and knowing the French property buying process, property agents also have listings that aren't made public, giving you a broader selection of homes to consider.
Once you've decided on the home you're interested in buying, you'll make an offer in writing, which will be presented to the owner. When the offer is accepted, both you and the seller will sign the initial contract (Compromis de Vente).
Next, there's a 10-day cooling-off period. During this time, you can change your mind about buying the property without any penalty. After that, there's a 12-week conveyancing process during which several home assessments will be carried out.
Finally, you and the owner will finalise the specifics of the agreement, and a deed (Acte de Vente) will be written. After both parties sign the deed and you make the final payment, the home is yours!
We have more information about this process in our complete guide to buying property in France.
​​HOMEHUNTS property agents are able to select beautiful, luxury property for sale in Tarn-et-Garonne based on your specific search criteria. Whether you want to live in the middle of a busy town or city, or in a more tranquil setting, there is Tarn-et-Garonne property for you. Search our website and browse our selection of luxury homes. You can also speak directly to one of our property consultants by calling +33 (0)970 44 66 43.