The Cote d'Azur, once an unassuming coastline along the Mediterranean, is now one of the world's most beautiful, vibrant and sought-after locations for buying a luxury property. Iconic towns and cities like Cannes, Nice and Saint-Tropez embody the area's elite lifestyle with their unbeatable nightlife, designer shopping and world-renowned restaurants, not to mention stunningly beautiful beaches.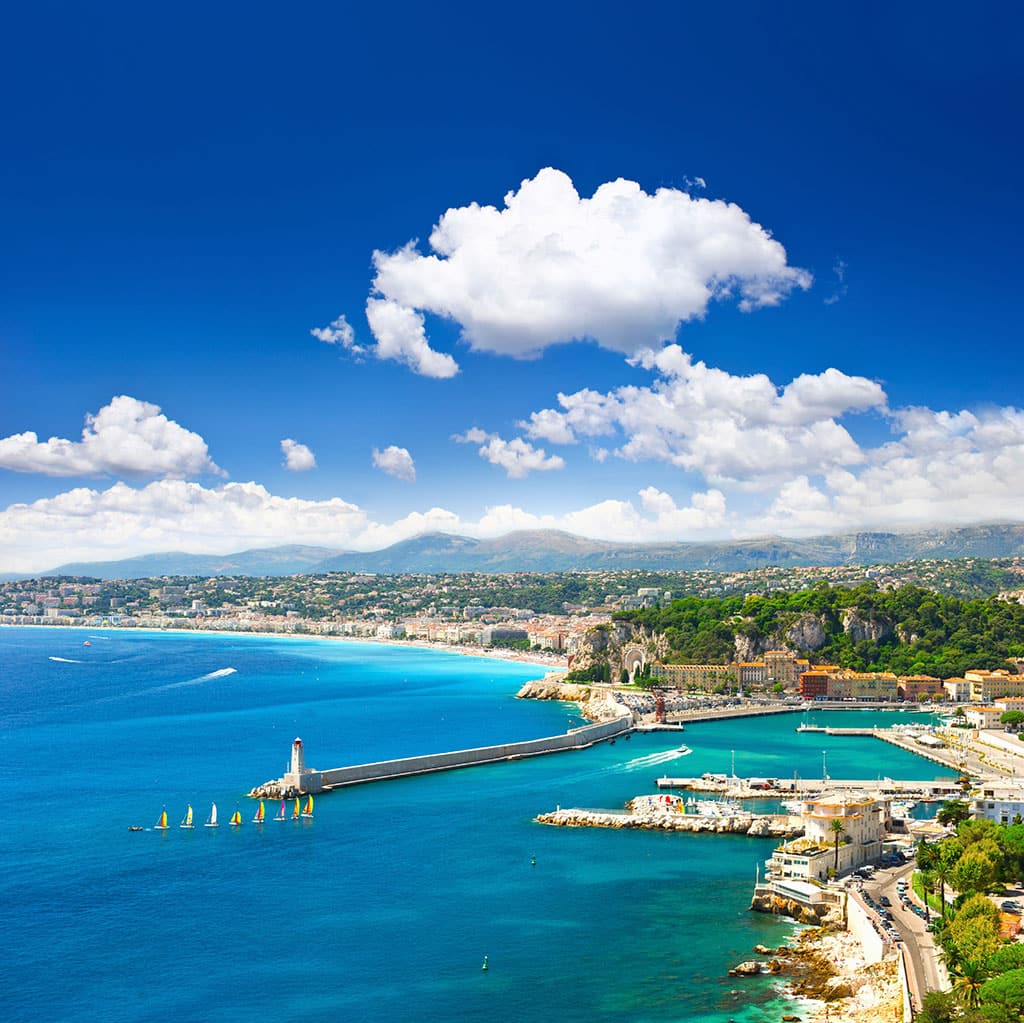 Also called the French Riviera, the Cote d'Azur is in the southeast corner of France, extending along the sea all the way to the Italian border. The area sees around 300 days of sunshine each year, which is why practically every luxury home here has a vast outdoor area and sometimes even private beach access. The winter season can be relatively mild, too – unless you head into the nearby French Alps for a weekend of snowboarding or skiing, of course. The region is also known for its healthy gourmet meals with a focus on fresh seafood, as well as delicious wine that's made right in Provence.
Whether you plan to live in the Cote d'Azur year-round or you want a second home to escape to now and then, you're in for a leisurely and pleasure-filled experience. While the area is known for being first-rate in everything from dining and shopping to real estate and yachting, the only pressure you should feel is to bask in the good life. Spend your days soaking up the sun poolside or seaside, the scent of perfume in the air and boats going by on the Med. Once the night falls, you can head to a casino, nightclub or rooftop terrace and stay until dawn if you'd like.
The Finest Properties For Sale on the Côte d'Azur
Whether you're in the market for a permanent home or a holiday retreat, the Cote d'Azur has some of France's most remarkable properties for sale. Depending on how much space you need, you can choose from a waterfront apartment or a sprawling villa large enough for the entire family. Consider these five Cote d'Azur properties and explore many more on our website.
11 Bedroom new-build property in La Croix-Valmer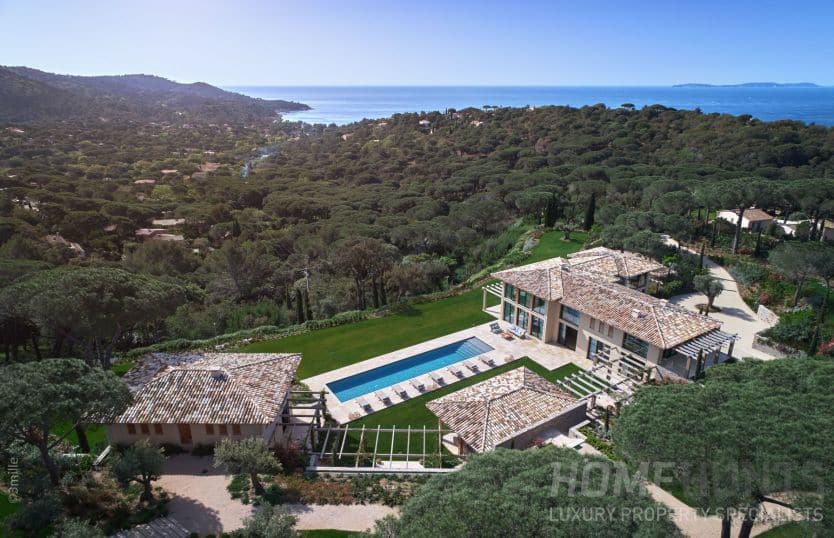 With a total of 11 bedrooms, this new-build property in La Croix-Valmer is more like having a resort to call your own. In addition to the three-level main villa, there's a guest house with four bedrooms and a caretaker's house with two bedrooms.
Panoramic views take in both the hills and the bay, and you'll be surrounded by more than 3 hectares of parkland with olive and pine trees. The 20-metre, heated swimming pool is set amongst a pool house and summer kitchen. The property also has a wine cave, fitness room, sauna, hammam, massage room and helipad.
8 Bedroom villa in Èze,
Set in a gated community in Èze, this eight-bedroom, eight-bathroom villa is just a 10-minute drive to exciting Monaco. The upper floor has a long terrace that overlooks the heated infinity pool, and there are also independent staff apartments, plus a high-end security system that can be controlled from the caretaker's home. There are two owner's bedrooms, each with a private jacuzzi on the terrace, and the property also has two kitchens, multiple lifts and a wine cellar.
8 Bedroom Waterfront House in Cap d'Antibes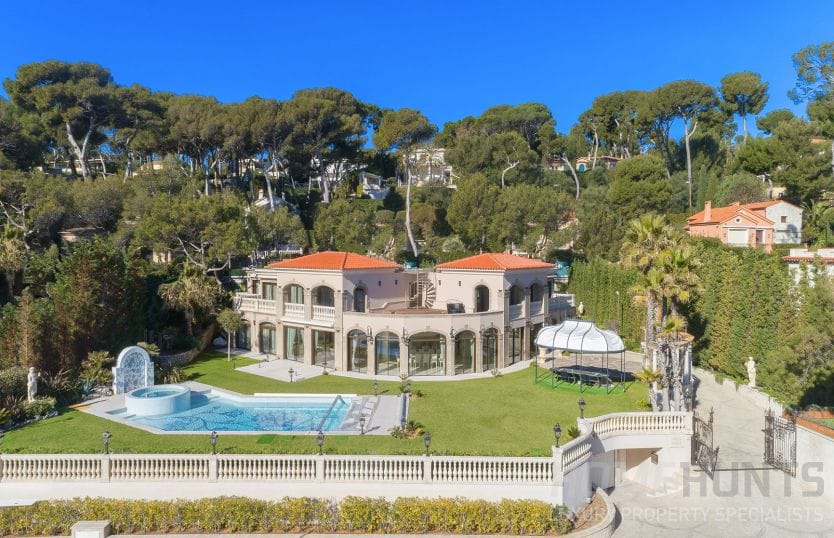 While you have practically everything you need with this Cap d'Antibes property, you're just a short, five-minute walk from the beach and restaurants if you want to venture out. Otherwise, enjoy the waterfront setting and the heated swimming pool that looks directly out on the sea. There's a private beach area, too, so you don't have to worry about the crowds during the summer.
Regal and ornate, this estate has eight bedrooms that are spread across two homes. The main house has seven bedrooms with en suite bathrooms, and there's also a separate one-bedroom caretaker's apartment. Furthermore, the property has a cinema room, wine cellar, roof terrace with a bio garden, gym, two kitchens and a security system with video surveillance. To pamper yourself, lounge in the spa area, complete with a sauna, steam room and aroma and chromotherapy shower.
6 Bedroom Villa in Ramatuelle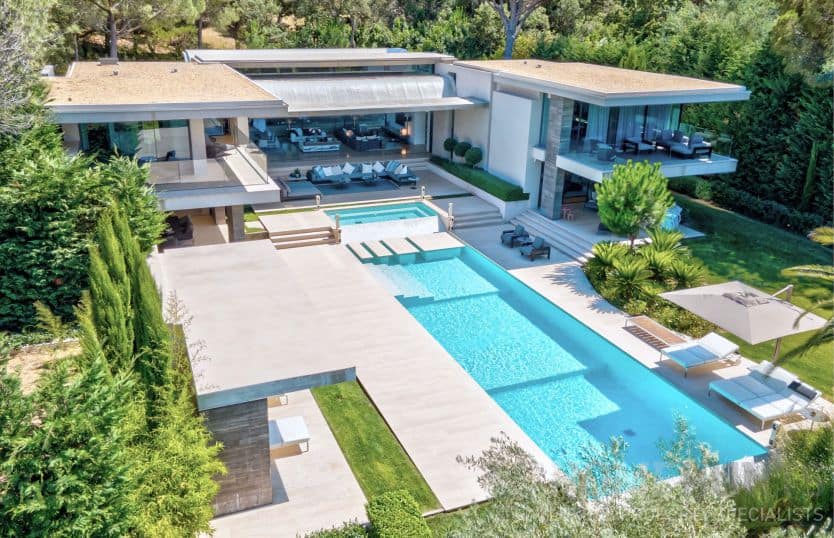 This six-bedroom villa is made for hosting parties or entertaining guests, with extensive space both indoors and outdoors to dine, relax, mix and mingle, swim and generally lap up the French Riviera lifestyle. Located in Ramatuelle, you'll be near Saint-Tropez and Pampelonne Beach – and when you feel like staying home, there's a large, heated swimming pool to keep you cool.
Spread across three levels, much of the ground floor opens onto covered terraces, and there's also an outdoor bar. The owner's suite has its own terrace, and the property also includes a gym, bedrooms with en-suite bathrooms, new-generation CCTV and a gym.
9 Bedroom Provencal-style property in Cap d'Antibes
This Provencal-style property in Cap d'Antibes has multiple bedrooms spread across two houses, as well as a landscaped park that will feel like your personal oasis. The main villa has a ground-floor terrace that opens onto the pool area, complete with a pool house and a lovely summer kitchen. There's also a separate guest house that includes a caretaker's apartment, gym and three bedrooms.
HOMEHUNTS property agents are able to select beautiful, luxury Cote d'Azur property based on your specific search criteria. Search our website and browse the selection of luxury homes currently for sale. Alternatively, you can also speak directly to one of our property consultants by calling +33 (0)970 44 66 43.