Best places to buy property in Paris
Property prices in Paris reached record highs in 2018. With the market expected to continue to increase in value, international buyers are snapping up properties for short- and long-term investments. Read on to find out the best places to buy property in Paris in 2019.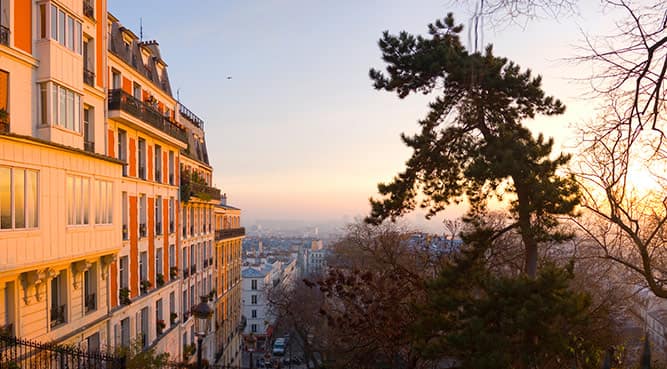 The real estate market in Paris is booming, with prices reaching a record high in 2018. Increasing demand and a shortage of new properties means that the value of existing properties is rising both in the suburbs and in the city centre.
Where to find the best places to buy property in Paris with the highest and lowest prices
There is, of course, a price difference between the two markets. The Chamber of Notaries of Greater Paris reports that while apartments in the Île-de-France region is around €5,970 per square metre, prices in the centre of Paris are soaring at €9,570 per square metre, on average, with prices expected to rise throughout the rest of 2019.
For those still looking for property in an up-and-coming area, the 18th arrondissement is offering the most reasonably-priced real estate. Property in La Chapelle is averaging €7,460 per square metre (an 11.3% increase from last year) and in La Goutte-d'Or it is around the €7,510 per square metre mark.
The most coveted locations in Paris
When Home Hunts analysed its data and insights from 2018, four locations consistently peaked as the most sought after. They are the Golden Triangle (in the 8th and 16th arrondissement); the Left Bank in the 6th and 7th arrondissements; the 18th and 17th arrondissements near Monceau Park; and Le Marais in the 4th.
"The Golden Triangle is a prime location, close to famous monuments and museums, parks shops and restaurants," says Tim Swannie, director of Home Hunts.
The fashionable Left Bank is revered for its excellent restaurants, the lifestyle and shopping that it offers. "Plus, it is secure, which is a top priority for many of our clients," adds Tim.
Excellent short- and long-term investments are particularly sought after near Monceau park. North of the Arc de Triomphe, between the 8th and 17th arrondissements, properties with views over the park are the most coveted.
"A residential area, it often attracts families because of the excellent international schools and friendly upmarket community," says Tim.
The Marais, positioned between the Bastille memorial and the Pompidou Centre, is consistently attractive to Home Hunts' international buyers.
"This is a young and fashionable area with excellent shopping, chic bars and restaurants and a lively arts scene," says Tim. "Properties here are a savvy investment and prices are due to rise here again throughout 2019."
The hottest properties
So what type of properties are Home Hunts' clients buying in Paris?
"The demand for Haussmannian-type building apartments is very high, which makes them difficult to find," explains Tim. "Many apartments displayed by local agents are actually already sold making the search even more difficult."
He adds: "When we handle a search for a client we cover the whole market, but clients must be prepared to move quickly when a good opportunity arises."
Another trend Home Hunts has observed is the search for spacious apartments to renovate in the 5th, 6th, 7th, 8th and 16th districts. "Clients are looking to add value to properties and take advantage of the rising house prices," says Tim.
If you are looking to find the best places to buy property in Paris you can search here at www.home-hunts.com, but to find out about off-market properties or speak to a consultant then please contact Home Hunts directly on +33 (0)970 44 66 43.