The French Riviera is consistently so desirable to overseas buyers because real estate here either holds its value, or adds to it. If you are looking for the best places to live in France and to invest in luxury French property, here are some recommended locations – and property ideas – to explore
Luxury property
Golden beaches, beautiful villages, sun-filled days and a particularly magical ambiance that cannot be matched anywhere else in the world – the French Riviera never ceases to be one of the most desirable places to own property in the world.
"People buy here because of the climate, the sea, the stunning scenery, magnificent food and accessibility," says Tim Swannie, Director of Home Hunts. "There are superb beaches and the Alps are just behind, so it is a real year-round destination."
Cannes
One of the most popular resorts in the world during the summer, Cannes is also a delightful winter destination. Although it is quieter at this time of year than in the hotter months, events are still running, shops are open and restaurants are always cooking up gastronomic treats for local crowds.
Inland, buzzy villages like medieval Mougins and Grasse, with its thriving perfume industry, add to the vitality of the area. The strong conference market also enhances the lively atmosphere and creates a prime location for buyers looking to bring in a year-round income.
In terms of where to buy, La Croisette – and properties under a twenty-minute walk from the Palais des Festivals – are best for rental income. Super Cannes is another recommended location for ultra-luxurious properties and new renovations which are expected to increase in value during 2018.
Californie, known for its gardens and views over the bay, is often a good choice for high-class residences, which offer facilities such as a swimming pool, gym and gardens, and luxurious villas with breath-taking sea views.
This extraordinary five-bedroom contemporary property (HH-7573050) is a rare gem neatly positioned in the heart of the Californie area, overlooking the bay of Cannes and the rocky red coastal range of the Esterel mountains.
Recently renovated by a renowned architect, it has been immaculately designed inside and out, with spacious, stylish rooms opening up onto vast terraces and exceptional views.
The infinity pool and large sunbathing area around is one of the property's most luxurious features, but other highlights include a gym, sauna, Jacuzzi and massage room.
Grasse
One of Home Hunts' recommended locations for finding luxury real estate investment opportunities on the Riviera, this inland haven offers better value houses than other more touristy locations on the Côte d'Azur.
Attracting more than two million tourists each year who come from far and wide to visit the perfumeries, at just 30 minutes from Nice Airport and the golden beaches of Cannes, it is in an excellent location for year-round holidays.
The jasmine-fragranced air and the Mediterranean micro-climate make Grasse stand out from other inland towns in the area, and the array of properties with stunning views means that there is usually something for everyone here.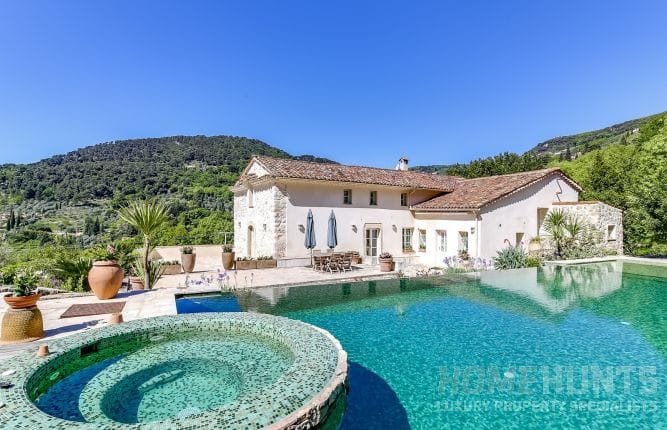 In one of the most sought-after residential areas in Grasse, this exceptional six-bedroom 18th century mill (HH-11820065) is a beautifully-designed bastide that oozes character in every room.
A unique property that has been expertly renovated, many of its original features have been carefully restored while tasteful modern interiors and conveniences have been spread throughout.
Exposed beams, wide-arched entrances, private balconies, spacious suites and glamorous dressings areas make an elegant and stylish home.
Outdoors couldn't be more ideal. With an expansive, breath-takingly beautiful infinity swimming pool and Jacuzzi area, which glistens in the sunshine, along with exotic landscaped gardens, this sensational property has to be seen to be believed.
Cap d'Antibes
A legendary location, considered a paradise to many, Cap d'Antibes has long been one of the most desirable places to live on the Riviera.
Home to Roman Abramovich, who owns the impressive Château de la Croë, this peninsula has attracted a long list of royalty celebrities and literati, and has offered a strong market for real estate owners for over a hundred years.
Guy de Maupassant, Ernest Hemingway, F Scott Fitzgerald and the Duke and Duchess of Windsor are just a few famous names among the many who have lived here in the past. Today walk into the Eden-Roc restaurant and its likely you will see any number of famous faces – it is a place renowned wining and dining superstars.
In the sought-after West side of Cap d'Antibes, this glamorous five-bedroom Belle Epoque property (HH-10374270) has been positioned to offer sensational views of the bay of Juan les Pins and the Lerins islands. Modern interiors that combine classic touches with minimal design are spacious and sophisticated that offer an ultra-luxurious standard of living.
A dream property with staff accommodation, a heated swimming pool, exotic gardens and sun terraces, if you were the owner you wouldn't want to spend summer anywhere else.
If you are looking to buy prime property on the Riviera, search Home Hunts' online portfolio of French homes for sale at www.home-hunts.com. But to discuss your personal requirements with a consultant or to find out more about these particular properties, call +33 (0)970 44 66 43.