House Hunting in France? Have you looked at Fayence yet?
The Canton of Fayence is growing in popularity with international buyers as it offers cheaper house prices and a slower pace of life compared with neighbouring Riviera and Provencal hot spots
Callian, Mons, Tourrettes, Tanneron, Montauroux, Saint-Paul-en-Forêt, Seillans et Bagnols en Forêt, these are the eight villages that make up the Canton of Fayence in the Var department of Provence. If you are house hunting in France, particularly in the South, this should be an area to consider.
An area that has become loved for its tranquility and slower pace of life in comparison to the neighbouring Riviera resorts and hotspots in Provence, here you're just an hour from the sea between the Mediterranean coastline and the wild beauty of the Prealps. Colourful blooms, olive groves and cobblestone streets are part of daily life in this charming corner of Provence.
Who is buying in Fayence?
The Fayence area is very popular with the British, Dutch, Belgians and also Scandinavians who are house hunting in France. "We have also seen quite a lot of interest from Germany and a little from the US in recent years too," says Tim Swannie, Director of Home Hunts.
Those looking for an authentic Provençal lifestyle are particularly attracted to this area. The community was mostly French, but has gradually become more international over the past ten years.
"The Terre Blanche hotel, spa and golf resort has a lot to answer for that," says Tim. "When opened around ten years ago, it was a Four Seasons resort which brought a lot of international clientele to a previously, fairly unknown area."
The big five
Each village has its own distinct personality, but five – Fayence, Montauroux, Callian, Tourrettes and Seillans – are particularly appealing to buyers.
"All five are perched villages on the top of hills, so they are all seen from afar and are even more captivating once you arrive," says Tim, adding that most people fall in love with the area as a whole rather than one particular village.
Most of Home Hunts' clients buy properties outside of the villages themselves rather than village properties. Better value for money in this area means more spacious houses and grounds, bigger swimming pools and quieter surroundings.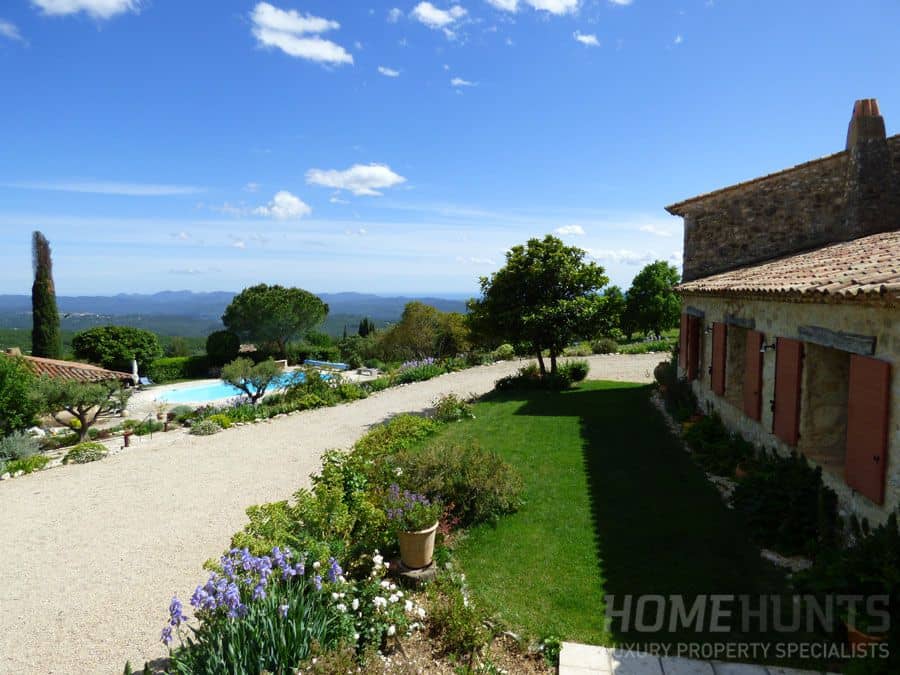 Meet the villages
If you are house hunting in France and you're interested in buying property in this area, this is a quick whistle-stop tour of the five villages.
Fayence is the largest of the villages and the one with the most restaurants, shops and facilities. "It also has a weekly market, which draws people from miles around," says Tim. "It's a very pretty village to walk around and soak up the atmosphere."
Montauroux, another attractive medieval hilltop village is the first one you meet after leaving the motorway when travelling from the Riviera. "A quieter village than Fayence, but really charming with several shops and restaurants built around a central square, Montauroux is home to the famous Château de la Colle Noire, which was the home of Christian Dior."
This is also closest to the much-loved Saint-Cassien Lake, a vast 430 hectares of lapping water perfect for water sports, such as windsurfing and rowing, swimming and fishing.
Callian is a hilltop village built around an impressive 16th century castle that you can see from miles around. "Callian is a quiet village with only a few little shops and restaurants," says Tim.
Tim's favourite village in the area is Seillans. "Seillans has a wonderful feel," he says. "It is relatively small and feels more 'off the beaten track' than the others, which I think adds to its exclusive feel."
Often missed by passing tourists, it can be quieter here than some of the other villages, even in high season. "The village is beautiful, built inside fortified walls and is home to several very well thought out restaurants and a couple of high-end hotels," he adds.
Get more for your money
You've got the Riviera and the heart of Provence on your doorstep, but at a fraction of the price. This is one reason why so many who are house hunting in France are starting to purchase properties in this corner of the Var.
"Prices in and around the Fayence area would be at least 20% cheaper than neighbouring villages on the Riviera such as Grasse and Valbonne," says Tim.
"The main reason is that you're in the department of the Var (83) here, rather than the Alpes Maritimes (06) so you don't get that all important (to some) Riviera postcode," he explains. "The second reason is that this area simply isn't as well known as some other areas on the Riviera."
Offering the feeling of living in Provence yet with the Riviera and coast a short drive away, this area can offer the best of both worlds to those looking for a countryside home that is close to amenities and some of the most glamorous locations in the world.
If you would like to know a little more about house hunting in France, or just wish to speak about the market, you can call us on +33 970 44 66 43 or send us a mail to info@home-hunts.com. If you just want to browse through thousands of beautiful French homes, visit our website at www.home-hunts.com or follow us on Facebook or Instagram.