Buying a second home in the French Alps, where you can spend your days in a luxurious, high-end chalet near a premier ski resort, is a no-brainer if you love winter sports or charming towns fit for the festive season. With enquiries and sales surging, ski property in the French Alps is now in even higher demand than before.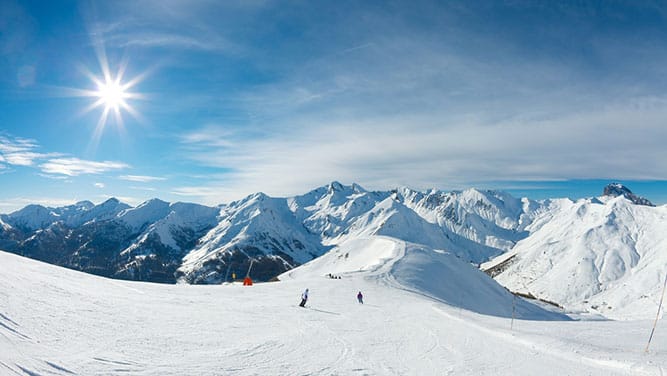 Choosing the Right Property in the French Alps
Finding a home in the Alps may sound like a romantic dream come true, but it can also be a practical and sound investment, so long as you take certain factors into consideration.
Snow Reliability and Ski Area Size
Ski resorts in the Alps range from low-lying village resorts to high-altitude, purpose-built resorts. Overall, the larger the ski area, the better. Where there's more terrain, there's also more insurance that the property will be appealing to all types of skiers and snowboarders, including experts as well as families with young children. Since some researchers expect France's snow cover rates to drop in the future, cutting down on the ski season, altitude is also something to consider when deciding which ski property would make a solid investment. Properties in higher altitudes and with more ski area are less prone to limited snow reliability.
Year-Round Allure
In order to get the most you can from a ski property in the French Alps, the resort should be lively even outside of the winter season. Luckily, summertime in the French Alps is gorgeous and far from boring. There's plenty to do once the snow has melted, including biking, canoeing, climbing, fishing, golfing, hiking and whitewater rafting. An entire day can be spent with a camera in hand, capturing the area's vibrant flora and searching for stealthy wildlife.
Types of Properties and Rental Value
The best rental properties in the Alps tend to be in-resort apartments and ski-in/ski-out luxury chalets, especially if you're hoping to rent out your home for the season. On the other hand, some buyers would rather have a larger, more extravagant property further from a resort area and fore go the high rental opportunities. Keep in mind that higher value properties can have lower rental ability dependent on altitude and proximity to ski areas.
If you are hoping to rent your property for part of the year, showcase quality photos of both the exterior and interior. Stage your home to create inviting scenes, like a roaring fire in the family room or hearty food set out for dinner. Also, research other homes for rent in the area so that you're familiar with up-to-date pricing.
4 Sought-After Locations in the French Alps
1. Morzine
Morzine and the Avoriaz ski resort are located in the Portes du Soleil area of the Alps. What was originally a French mining town is now a world class resort known for its modern ski facilities. Lively and charming, the town of Morzine has preserved its character thanks to traditional chalets made from wood, stone and slate.
2. Tignes
The energetic and sporty Tignes resort area has high snow reliability and plenty of ski-in/ski-out properties. The area's high altitude means you can engage in year-round winter sports and the terrain park has been home to the Winter X Games in the past. Snowboarders are especially fond of the Tignes mountains and the Swatch Snowpack is ideal for daredevils.
3. Samoens
Located in the Grand Massif, the old, charming ski town of Samoens is low-lying and picturesque. This huge ski area has a sprawling 165 miles of pistes, but in order to get to the popular Samoens 1600 ski domain, you'll need take a ride on a gondola. The historical village has plenty of year-round appeal, too, with weekly markets and summertime activities.
4. Chamonix-Mont-Blanc
Chamonix-Mont-Blanc, which is considered by some to be the capital of the French Alps, is the quintessential destination for adventure lovers. This area of the Alps is known for being thrilling and diverse, which is why so many people head there for limit-pushing sports like extreme skiing and alpine mountaineering.
If you are looking to invest in your own property in the French Alps, visit Home Hunts' impressive portfolio at www.home-hunts.com. To speak with a Home Hunts consultant directly about your specific real estate requirements call +33 (0)970 44 66 43.