From area outlines to buyer's guides, Home Hunts has a vast amount of information available to help their clients – and existing expats – make the right decisions about living in France. If you are considering buying a property and living in France, here are some of Home Hunts most popular resources.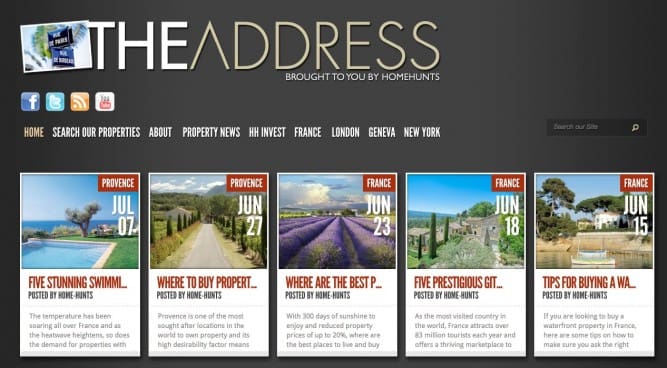 Area information
Making decisions about living in France, and where to view and buy property, is made simpler by reading the range of area guides that Home Hunts has put together.
Home Hunts covers eight major territories in France: Paris, Riviera, St Tropez, The Alps, Provence-Var, Occitanie, South West France – Aquitaine and South West France – Midi Pyrénées, and each has a write-up on the website that gives more information about the region. Within each region, prime locations have been identified and each of these also has a dedicated information page.
Area guide brochures in PDF format also exist, which include additional details, such as transportation and schooling information. These are available to clients on request.
Buyer's guide
The French buying process is strictly regulated and not always straightforward, so it is important that those considering living in France have access to the correct advice. Home Hunts' brochure "The Buying Process" was created so that buyers have a good overview of what to expect when buying a property in France.
Being clear about what you want the property for, how you will buy, the contracts, the professionals involved and the taxes and charges that will likely to be incurred are all elements of the buying process that are covered in the brochure.
Prime property investment insights
Knowledge of the current real estate and financial markets is crucial for those who are planning on buying and living in France. Being aware of location hotspots and potentially lucrative up-and-coming areas is also crucial information for those planning to invest in French property.
Twice a year Home Hunts produces INSIDE FRANCE, a property insights report that gives an insider view on what locations are in demand and why, what people are buying and for how much, and where the up-and-coming areas are.
The spring edition of INSIDE FRANCE was out earlier this year and the next will be available in autumn 2015.
Vineyard buyer's guide
Did you know that estate agents only have about 10% of the vineyard properties that are for sale on their books? Vineyard owners are particularly discreet, so for those considering living in France and investing in a vineyard property it is important that you can see the whole market not just a small percentage of it. Most vendors don't want their competitors or their staff to know their property is on the open market, so they will stay firmly "off market".
To find the vineyard property you want, you have to dig deeper and this is where Home Hunts' extensive advice, market intelligence, contacts and advice will prove crucial to finding the most suitable property.
As Home Hunts works on behalf of the buyer, the team ensures clients are as knowledgeable as possible about the market. By requesting a free copy of Home Hunts' Vineyard Buyer's Guide, you will not only ask yourself the right questions, but be on the right path to finding the answers.
The Address newsletter
In addition to an informative property blog at www.home-hunts.com – which provides information and tips to help buyers accomplish their dream of living in France – Home Hunts also produces an online newsletter. Known as The Address and bursting with news, advice, tips, property profiles, market insights and location guides, this is a must-read for anyone wishing to invest in French property. The blog and The Address are updated regularly throughout the week, so there is always something new to inspire and inform your property search process.
For more information about any of the resources mentioned in this article, or about living in France generally, please contact a consultant on +33 (0)970 44 66 43. To read The Address, go to www.home-hunts.net, and to check out the blog and search for property, visit www.home-hunts.com.