Ibiza may be known as a party resort, but there's so much more to it to attract buyers – and that wild lifestyle is actually in only a few distinct locations. As one of the stunning Balearic Islands, it's in an area of Spain that's prime for buying a luxury property. For those looking to invest in properties in Ibiza is also ideal because the island is so easy to travel to and from. Plus, there are beautiful beaches all around, and the climate is practically perfect – it's relatively mild throughout the year, with temperatures that don't get into the extremes and very few rainy days.
The summertime Ibiza is thriving with tourism, which is excellent if you have a business that caters to tourists or if you're going to rent out your home for part of the year. And once tourism dies down, Ibiza stays enjoyable, especially because it's quieter and calmer for residents.
While Ibiza is famous for its nightlife, you don't have to venture far from the coast to find the true gems of the island. The island has heavily wooded areas, making for lovely, natural surroundings, and the rural areas are notably peaceful. The best properties on the market can be found in the charming villages tucked into the hills of Ibiza. Can Furnet and Cap Martinet are especially prominent locations because, while they're subdued and not in the heart of Ibiza, they're both within walking distance to it and its unbeatable bars and restaurants.
Let's take a closer look at five of Ibiza's most luxurious properties to buy.
1. Seven Bedroom Villa in Sa Caleta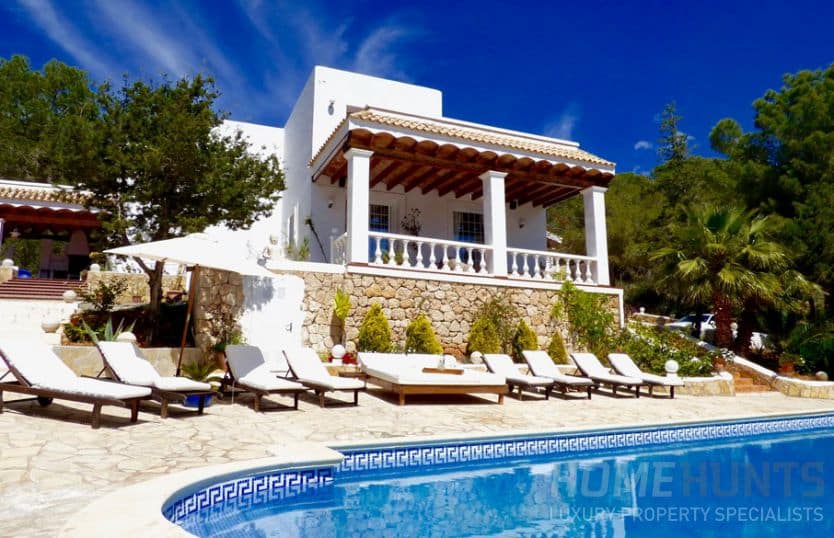 Set in the hills above Sa Caleta, on the south coast (which you can thank for the phenomenal sea views), this village has seven bedrooms, nine bathrooms, private terraces and a jacuzzi. The spacious, traditional Spanish house is surrounded by pine trees, and there's a pool and a large outdoor BBQ area for entertaining guests. You'll be within walking distance to the beach and its popular waterfront restaurants, and Ibiza is no more than 10 minutes away.
2. Outstanding Waterfront Villa in Illa Plana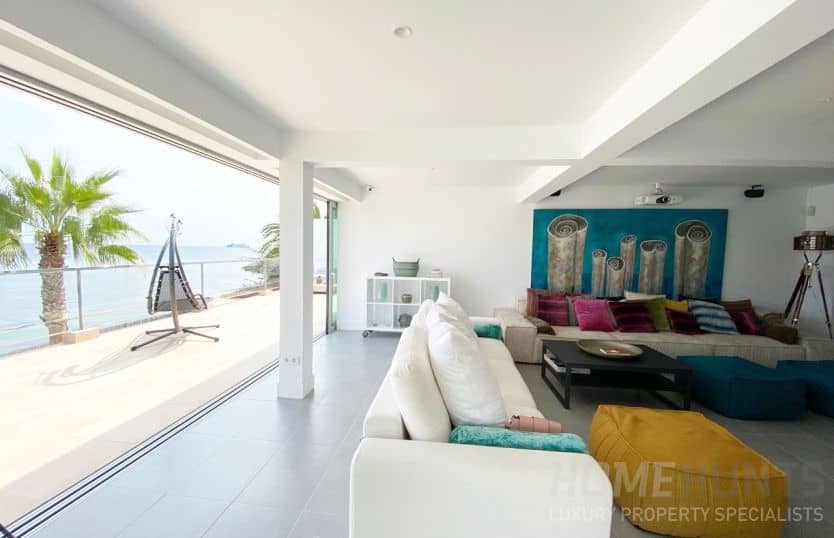 You can't get much closer to the waterfront than this villa in Illa Plana. There are three bedrooms and bathrooms, a modern kitchen, and a living room with sliding doors that lead to the terrace and pool area. You'll have direct access to the sea, and Talamanca beach is just 100 metre's away. Ibiza is a 10-minute walk, and you can also take a stroll to the nightlife.
3. Beautiful Country House in San José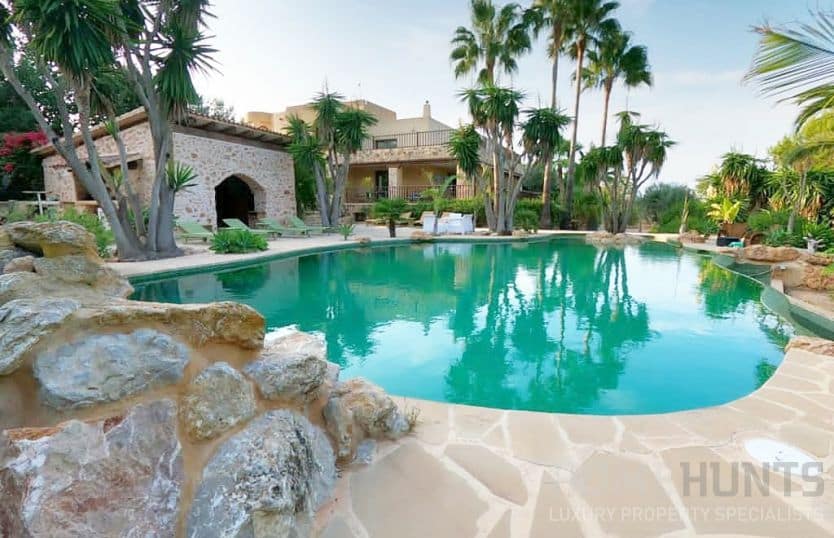 There's very little that this sprawling San José estate and country house doesn't have. The main house includes a fully-equipped open kitchen and a fitness area in the basement with a gym, sauna, massage room and shower. On the ground floor, two large bedrooms each have their own bathroom. The upper floor has an additional three bedrooms with private bathrooms.
There's also a small apartment with a bedroom, bathroom and kitchen, the perfect size for a guest or staff member. The rest of the property boasts an assortment of specialty areas: stables, paddocks and a space for horseback riding; a playground and tree house; an orchard and vegetable garden; a large workshop; and a koi pond. There's also a pool next to a large, covered area that has a full bar and lounge, ideal for dinner or drinks with friends.
4. Fantastic Five Bedroom Villa near Cala Vadella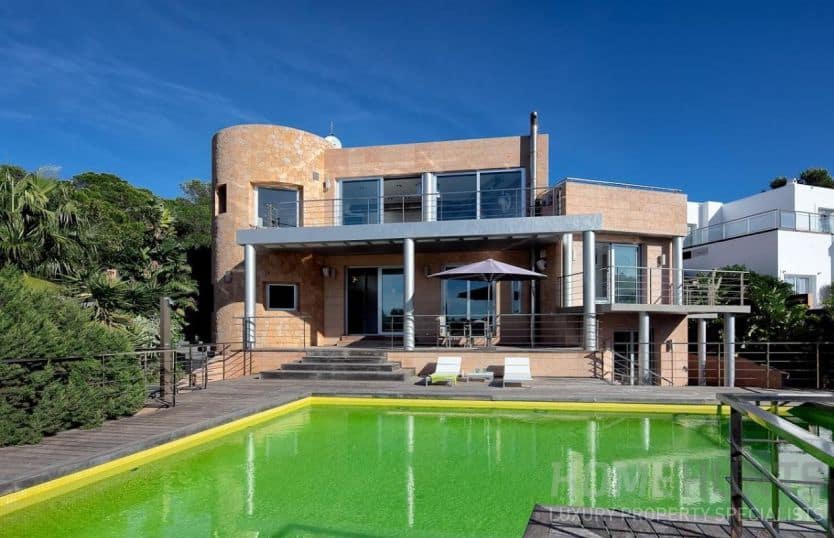 This San José villa is ultra-modern and sleek, with clean lines and a minimalist design everywhere you look. The three-level home has five bedrooms and four bathrooms, plus a fully-equipped kitchen and high-end Bosch electrical appliances. The living room and dining room have direct access to the terrace, which is covered and has al fresco dining. Right nearby is the pool, which has BBQ and relaxation areas (you're also a few minutes from several beaches). Other luxury amenities include home automation and underfloor heating.
5. Outstanding, 14 Bedroom Villa in Cap Martinet

With 14 bedrooms (each with air conditioning) and 13 bathrooms, this isn't just a house – it's more like your own personal resort. Located in Cap Martinet, just minutes from Ibiza town, you'll have serene natural surroundings and direct access to the sea. In addition to more than enough room for you, your entire family and all of your guests, the villa also has a large open-plan kitchen, two living rooms and a separate lounge room with a fireplace. Moreover, the property has a cave-style nightclub with a DJ booth, plus a large pool with a pool bar, two gazebos and several terraces for sunbeds.
HOMEHUNTS property agents are able to select beautiful, luxury properties in Ibiza based on your specific search criteria. Search our website and browse the selection of luxury homes. Alternatively, you can also speak directly to one of our property consultants by calling +33 (0)970 44 66 43.