France and Switzerland are two of the most sophisticated countries in the world, and they're both preferred holiday locations and luxury property hotspots for the ultra-rich and famous. Where do these elite visitors spend the most time, though?
The destinations that are chosen by celebs and the wealthy have the best chefs, most sophisticated shops and once-in-a-lifetime experiences. Here are six luxury property hotspots for the super rich.
Luxury property hotspots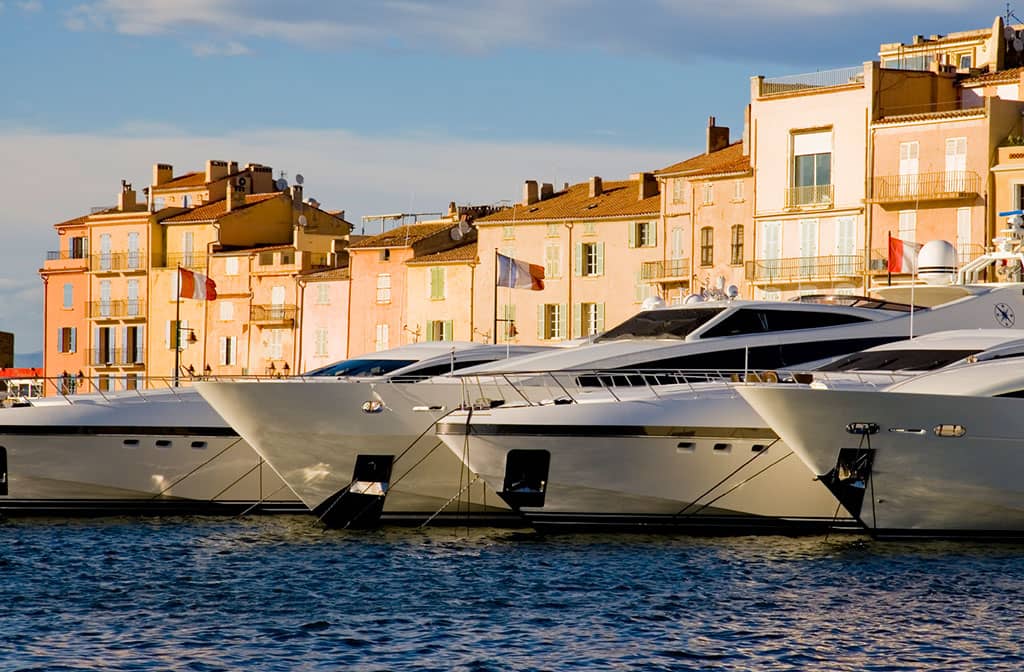 Cannes
Five-star hotels like the Hôtel Barrière Le Majestic boast a private beach, but you can book an appointment at the Spa Diane Barrière even if you have your own property in Cannes to return to. You won't see more recognizable faces than during the annual Cannes Film Festival, but it's now in a popularity contest with the Cannes Lions creativity festival. Another perk of Cannes is that it's easy to travel to. If you have a private plane, it's even more convenient – just leave it at the Cannes airport.
Cap d'Antibes
Brimming with 1950s charm and discreet hotels that play host to A-listers, Cap d'Antibes has a beautiful, accessible coastline and a more relaxed vibe than the bright lights of other playgrounds.
The Cap d'Antibes is a leafy and exclusive peninsula located between Antbes and Juan les Pins.  You can see why this area inspired artists during the 19th century (and continues to attract the rich and famous to this day): the wooden fishing boats and terracotta roofs are lovely muses. There are still fishermen here, and you can purchase their fresh catch at the open air market in Antibes. Stroll along Billionaire's Bay, too, to see the anchored yachts bobbing in the harbor.
In Cap d'Antibes, attentive waiters provide top-notch service, and you can start your day by indulging in hot coffee, rich cheese and pain au chocolat. Hotel Imperial Garoupe, a one-time private villa and now a private and exclusive hotel, has soundproofed rooms surrounded by olive trees, plus a great swimming pool. This is the perfect launching-off point if you're touring luxury homes in the area.
Monaco
Monaco is windely regarded as THE playground for the rich and famous, it offers a huge range of fine dining restaurants, luxury shops and an exciting gambling district. The five-star Monte-Carlo Beach hotel has its own beach with private tents, plus an Olympic-sized pool. It's also home to the Michelin-starred, organic restaurant Elsa. If you're on the hunt for property in Monaco, consider staying here during your viewing trip.
Monaco is home to plenty of millionaires, many of them owning second homes here. Monte-Carlo is especially attractive because it's so safe. The entire town has 24-hour video surveillance and it also boasts the largest police force per capita.
Saint-Jean-Cap-Ferrat
Saint-Jean-Cap-Ferrat, a tiny peninsula between Nice and Monaco, has some of the French Riviera's most stunning homes. The seaside town is beautiful, with breathtaking views and lush greenery. It's quiet, too, happily removed from the buzzing nightclubs without being too far from Monaco.
This is where billionaires come to buy a villa, letting their staff care for their home when they're traveling. That's what it takes to protect the homes of the super-rich, especially if there's original artwork on the walls or high-priced wines in the cellar. If you relocate here and are planning a private event, the Grand-Hotel du Cap-Ferrat is a prime location.
Saint-Tropez
Saint-Tropez is particularly popular during the summertime, when big names like Beyonce and Lady Gaga hang out on their yachts and head to charity galas hosted by other big names like Leonardo DiCaprio.
Saint-Tropez is ritzy and glittering, with super yachts and massive mansions. This is where to go if your idea of a holiday is lounging on the beach, checking out other visitors (and letting them wonder who you are, too), and spending long afternoons and late nights at trendy clubs. For dinner, dine at the Michelin-starred La Vague d'Or, which has a Mediterranean menu that makes use of local ingredients.
Verbier
Verbier in Switzerland offers world-class skiing with notably challenging terrain, making it an ideal spot for thrill-seekers. The main crowd that flocks to Verbier is made up of bankers, lawyers and other professionals – smart, rich and with high standards.
Verbier is low profile, especially in comparison to the flash of the French Riviera, and the people who holiday and live here are willing to spend money on quality. They want great restaurants, stellar wine lists, swanky hotels and luxury shops. They want some of the world's best skiing and they also want a lavish getaway.
A big part of Verbier's appeal is location: it's just an hour and a half by car from Geneva, while other Alpine resorts are a taxing few hours from the airport. This makes Verbier the ideal place for a quick trip, as well as a prime spot for luxury real estate.
For the ultra-rich, travel isn't just about visiting a high-end destination. It's also about deciding where to purchase a luxury property, either as a primary home or a holiday getaway.
Home Hunts are here to help you to find your dream home in one of the worlds most luxury property hotspots. If you would like to speak to one of the team to discuss your needs or just to have a chat about the market, you can call us on +33 970 44 66 43 or send us a mail to info@home-hunts.com. If you just want to browse through thousands of beautiful French homes, visit our website at www.home-hunts.com or follow us on Facebook or Instagram.