Villefranche-sur-Mer is a charming, medieval seaside town on the French Riviera, with fabulous weather for most of the year. As one of France's – and possibly the world's – most beautiful bays, Villefranche is extremely picturesque with plenty of interesting architecture.
Set between Nice (five minutes away by train) and Monaco, two cosmopolitan locations, Villefranche-sur-Mer maintains a small-village feel, which will remain that way, as the coastline makes it impossible for it to expand much more.
If you've ever visited Villefranche-sur-Mer, you'll have probably found it difficult to leave. Many are drawn to the laidback lifestyle and the can't-beat proximity to the sea and many find themselves longing to continue spending their days – or at least more holidays – wandering from the waterfront to the winding alleys complete with restaurants, bakeries, cafes, churches, museums, shops and weekly markets.
If you're considering a move to the area, let's take a close look at five luxury villas in Villefranche-sur-Mer with sea views.
Five Bedroom, Three-Story Villa with Infinity Pool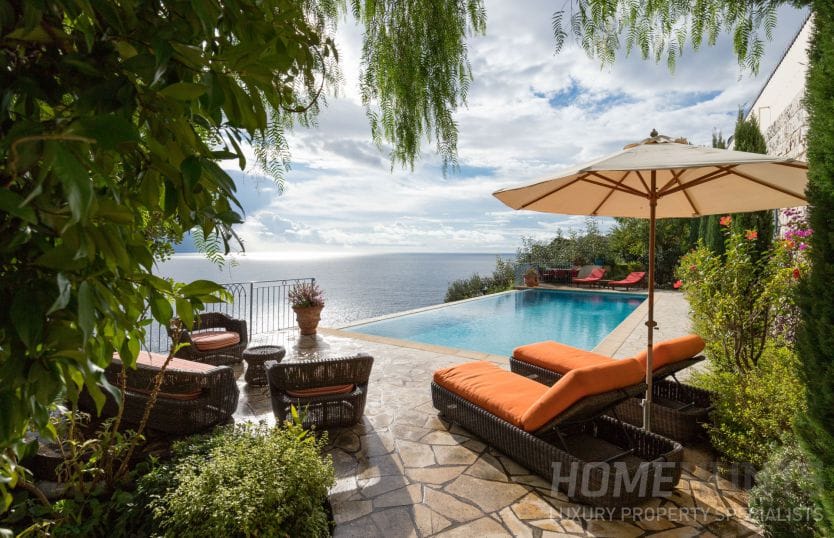 The sunbathed rooms of this three-story villa remind you that you're always a few steps from fresh air and beautiful landscapes. There are four en-suite bedrooms with dressing rooms that open onto spacious terraces. The home also has a double lounge, a fully equipped kitchen and a walk-in wine cellar.
Soak in views of the sea from the infinity pool or the lounge chairs right beside it, and walk right down the coast via the private-access staircase. There's also a guest house on the shore, which includes its own terrace, plus space to store recreational water vehicles.
Seven Bedroom Modern Villa with Panoramic Sea Views
Built in 2017, this ultra-luxury home exudes both warmth and modernity, which is a difficult note to hit. Finished with top-notch features, you'll enjoy amenities like teak floors, a sauna, a gym, a movie screening room and a lift that travels from the garage to the roof. The master suite has a Jacuzzi in the bathroom that looks out on the terrace and the panoramic views beyond, and there's also a separate apartment with two bedrooms and two bathrooms. Outside, there's a rooftop pool and summer kitchen, plus both covered and open-top lounge and dining spaces.
Stunning Five Bedroom Hillside Villa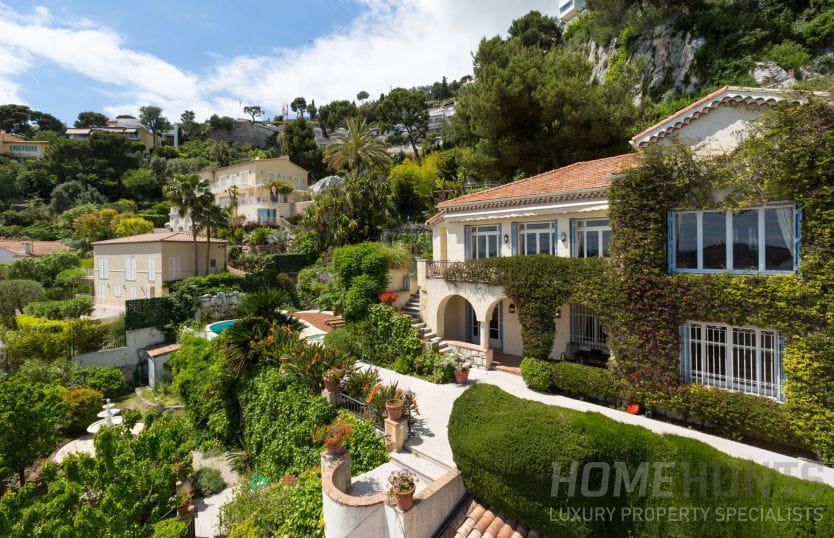 This villa makes for the perfect holiday home in Villefranche-sur-Mer, with five bedrooms and five bathrooms in the main house, plus a separate guest or caretaker's apartment. The primary house also has a sitting room, dining room, kitchen, study and laundry room, plus a lift and reversible air conditioning. Moreover, the property has a swimming pool, a garden, a garage that fits three cars and, of course, phenomenal sea views.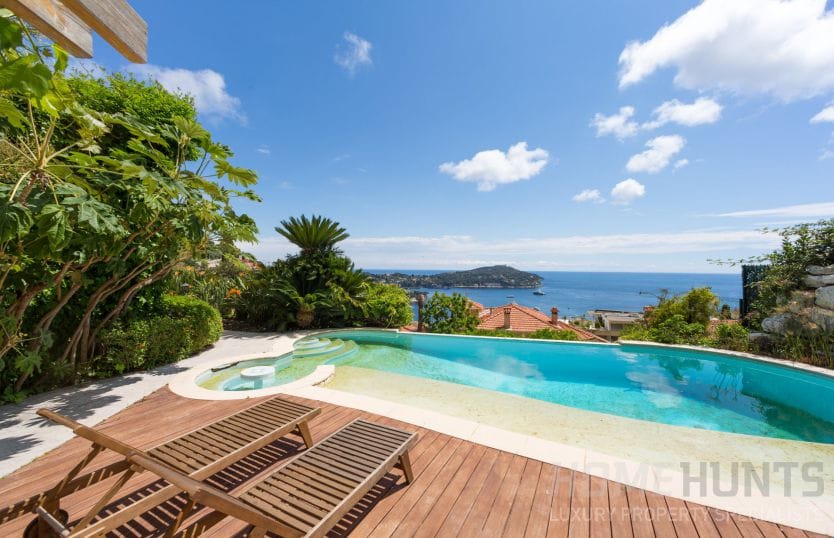 Stunning Contemporary Villa in the Prestigious Le Castellet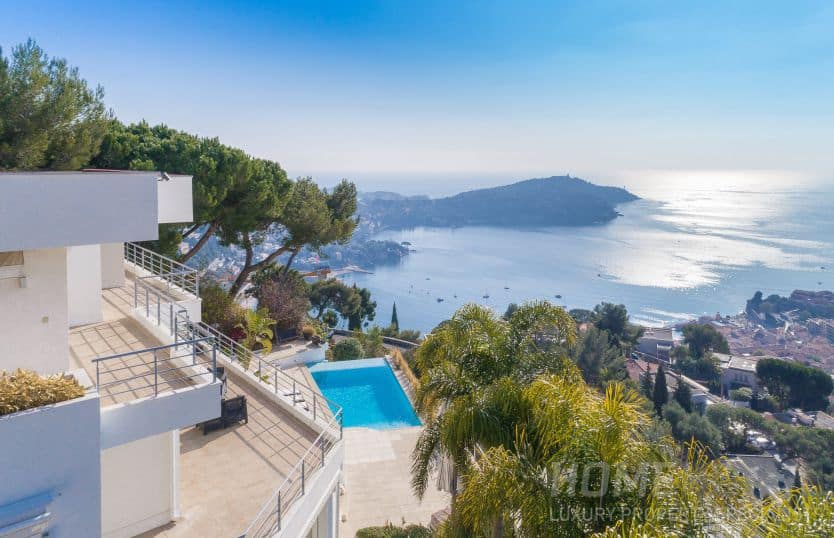 Sleek and minimalist, this six-bedroom contemporary villa has possibly the best views of the sea you'll find in Villefranche-sur-Mer. The massive outdoor area is perfect for parties, and beautiful landscaping with lush greenery surrounds you. Set in the private domain of Le Castellet, this fully-enclosed property on elevated grounds also has a swimming pool, wine cellar, lift and garage.
In the main part of the property, the sea-view lounge is airy and spacious, with huge sliding windows. The home also has two gourmet kitchens and five bedrooms with bathrooms. Guests or staff can feel comfortable in their own space, thanks to the separate apartment.
Contemporary Villa with Stunning Views Over the Bay of Villefranche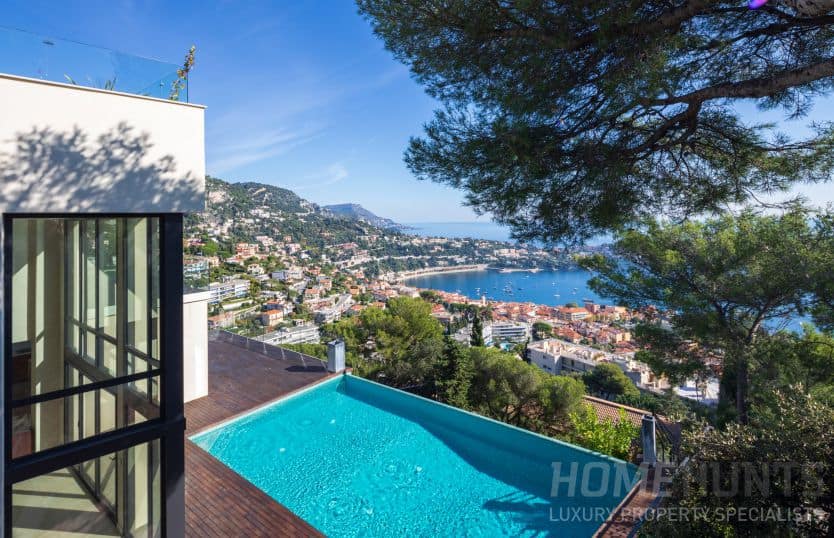 This impressive home's three levels are lift-accessible and include a large fitted kitchen with a dining area, six bedrooms, an office (which can also be used as a games room) and dressing rooms, along with ample storage space. There's also a reversible AC system and equipment for home automation.
The landscaped garden is enclosed and features a swimming pool, large terraces and a waterfall, and the property also has a green roof terrace. The double garage has three parking spots, plus space that can be turned into a gym, wine cellar or additional storage. There's also a separate apartment that's perfect for a caretaker.
Looking for Stunning Luxury Villas in Villefranche-sur-Mer
Looking to invest in a Villefranche-sur-Mer property? As expert property buyers agents, HOMEHUNTS are able to select beautiful, luxury Villefranche-sur-Mer properties based on your specific search criteria. Search our site and browse our selection of luxury homes. Alternatively, you can speak directly to one of our property consultants by calling +33 (0)970 44 66 43.