Sitting between the Alps and the Mediterranean Sea, Nice seems to have it all – and you'd be hard-pressed to find someone who doesn't agree. This sought-after French Riviera city is equal parts relaxing and exciting. Homes here have impressive views, sprawling outdoor spaces fit for a holiday and perfect proximity to amenities, nightlife and cultural outings. And with near-perfect weather all year long, you'll have a hard time ever leaving. In this property buyers guide to Nice, we'll look at this wonderful city and tell you everything you need to know about living in Nice.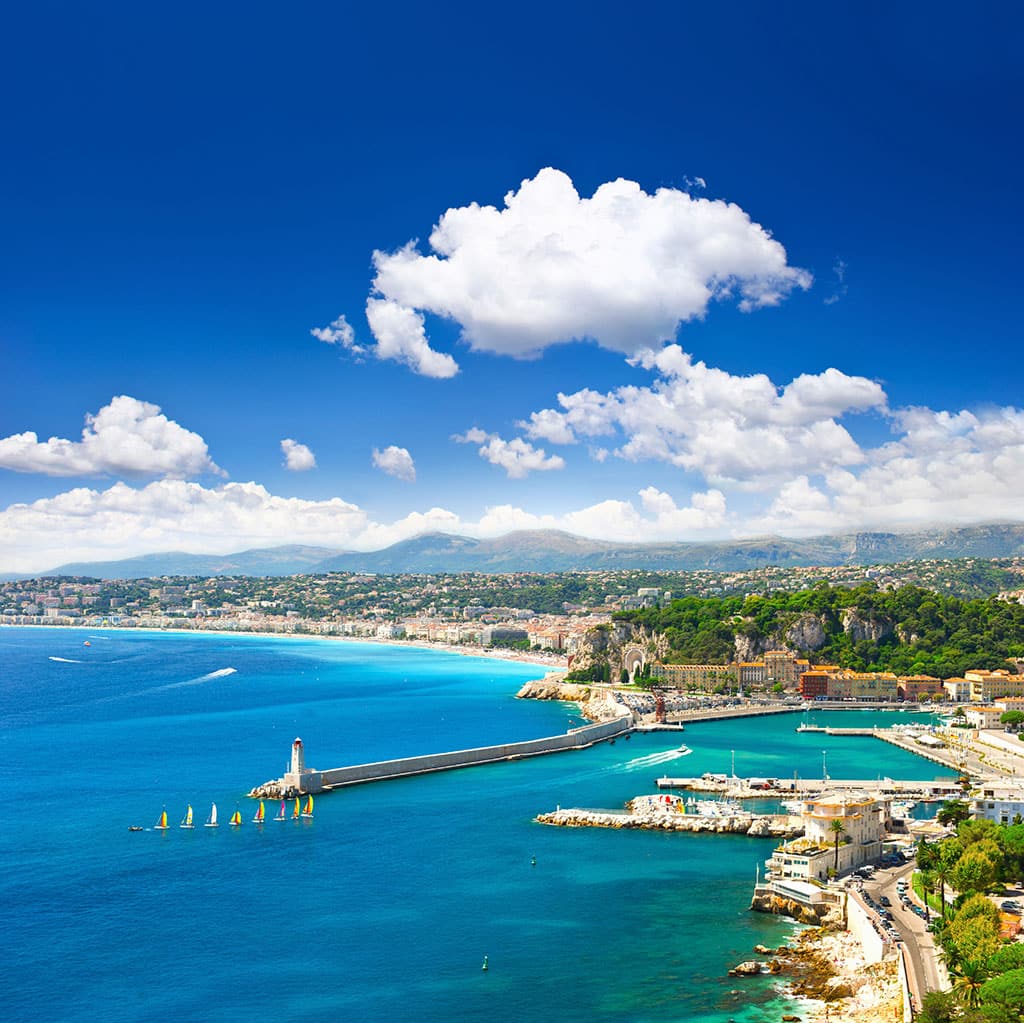 Where is Nice?
Nice is situated on France's southeast coast, and it's the capital of the Cote d'Azur (also known as the French Riviera). It's set between the French Alps' premier ski resorts and the glistening, turquoise Mediterranean Sea. Since it's France's fifth-largest city, one that's set in a first-rate locale, it's popular with both tourists and property buyers (including buyers who're interested in renting out their home during high-traffic seasons).
The Climate
Nice is well-known and beloved for its lovely weather, which includes practically year-round sunshine. Average temperatures range from around 13 degrees Celsius (55 degrees Fahrenheit) to 27 degrees Celsius (80 degrees Fahrenheit), with December to February being the coldest months and June to September being the warmest (and August at the peak of the hottest weather each year). September and October are possibly the best months in Nice, as tourism has died down and temperatures remain in the mid-60s. Even during the winter, though, the weather remains pretty mild – you may not want to head to the beach from November to the first part of March, but you certainly won't mind taking a stroll outside.
The Lifestyle
What's notable about Nice's culture is that it's heavily influenced by the quintessential Italian lifestyle, and you'll also be treated to art museums, buzzing casinos and first-rate shopping. Furthermore, there's mouthwatering regional cuisine to try here, as well as adventure sports for outdoor lovers.
Stroll along the Promenade des Anglais to take in Old Town's art deco architecture, colorful buildings and medieval streets. Head there for a jog early in the morning, too, or people-watch during a leisurely afternoon – the area is frequented with everyone living in or visiting Nice.
One of Nice's top locations is Mont Boron, which is a hill that stretches to nearly 200 metres above sea level (and is home to some of the area's most stunning villas). From there, you can see Nice's Old Port, the city, the Cap Ferrat peninsula and the whole village of Villefranche-sur-Mer. You can also take the coastal hike that starts in Eze and leads to a staircase in Mont Boron, which will bring you to the next part of the trek that leads into Villefranche-sur-Mer.
Nice's city centre is another can't-miss area, with designer shopping and the store-lined Rue Paradis. Place Masséna, the city's historic square, and Rue Masséna, which leads off of it, has cafes, restaurants and even more shops. Don't let the word "city" fool you, though – there are stand-alone homes here, not just luxury apartments.
Getting There
Getting to Nice is simple, thanks to one of France's largest airports being located there, the Nice Cote d'Azur Airport. This makes Nice a prime spot for purchasing holiday property because you can fly in for a long weekend and then fly back home when you have to return to work. If you're traveling from another part of France, you can use the high-speed TGV train to travel from Paris to Nice, and there are also trains that travel from Italy to Nice.
Discover 5 of the Finest Properties Currently For Sale in Nice
Stunning Waterfront 5 Bedroom Villa in Mont Boron
What's wonderful about this contemporary home is that you can keep it sleek and ultra-modern or you can adorn it any way you want for a warmer, cozier feel – it functions as a blank canvas that way. Set on the water in Mont Boron, the views are spectacular, made even more enjoyable thanks to enormous windows that look right out onto the sea. Facing west to maximise natural sunlight, this four-bedroom villa has an extra-large terrace and an independent apartment fit for guests.
Luxury 6 Bedroom Villa with Panoramic Sea Views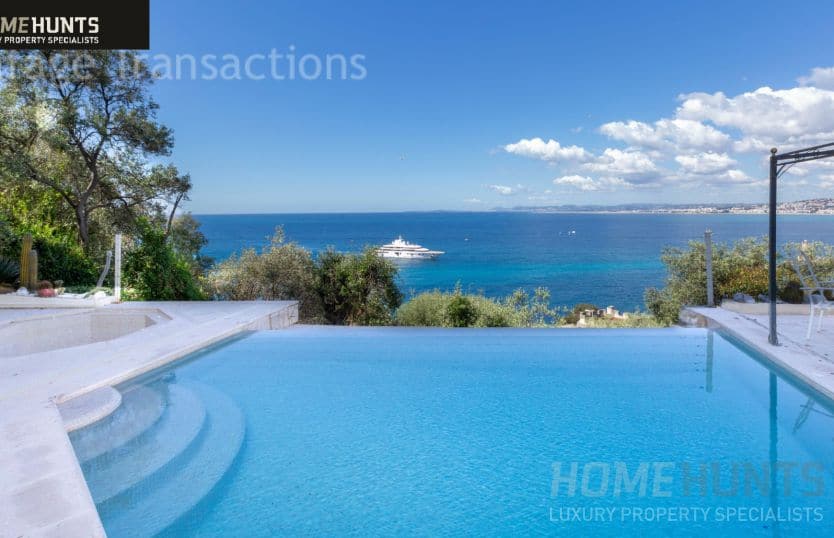 With six bedrooms across several floors and an elevator, this house in Nice is perfectly set between the port and Mont Boron. Boasting a panoramic sea view, the home also includes a fully-equipped kitchen, multiple independent suites (including a guest apartment) and a small garden with terraces and a swimming pool that overlooks the Med. The property also includes a jacuzzi and a garage.
3 Bedroom Stone Villa in Mont Boron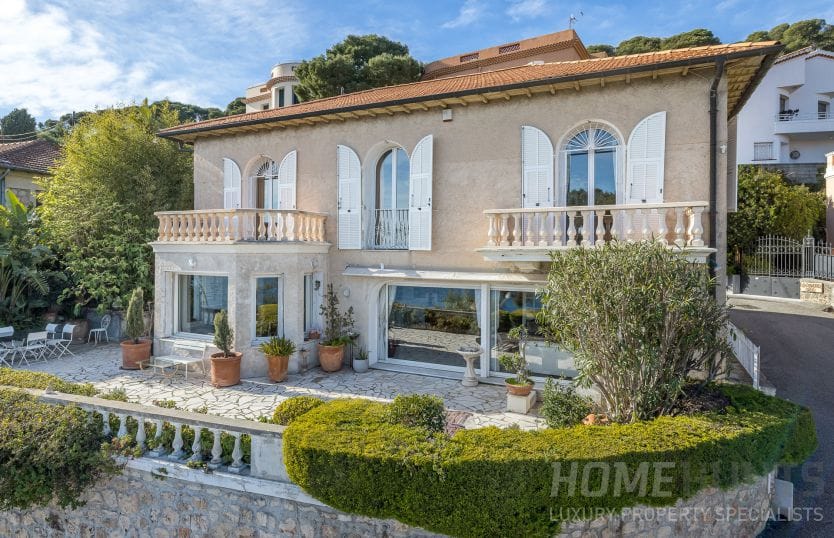 This sweet three-bedroom stone villa in Mont Boron has a lot of charm, and it overlooks the azure sea, as many top properties in Nice do. With roots that date back to 1925 and a view of the Bay of Villefranche, this home is steeped in history and character. The twin living room opens onto a terrace, and the master bedroom has its own private balcony. The property also includes a study, hammam and an adjoining annex.
Prestigious 4 Bedroom Property in Cimiez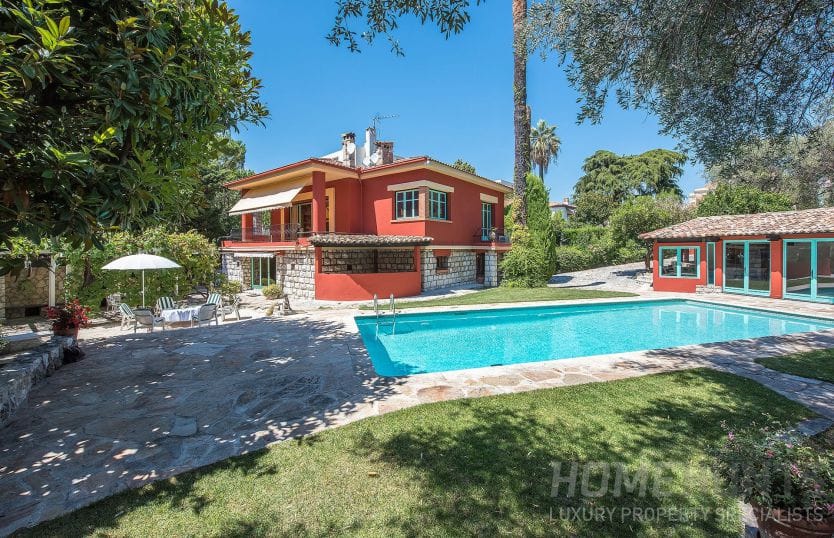 With four bedrooms and both Mediterranean and Italian decor aesthetics, this home in Cimiez, which is referred to as the Beverly Hills of Nice, is a short walk from the Promenade des Anglais and other must-visit sites. This exclusive property includes a heated pool, a professional-grade wood-burning pizza oven, a vegetable garden and a bowling alley. The estate's advanced security system includes motion-detector lights, surveillance cameras and two entry gates. There's also enough space for four vehicles.
4 Bedroom Luxury Villa with Sea View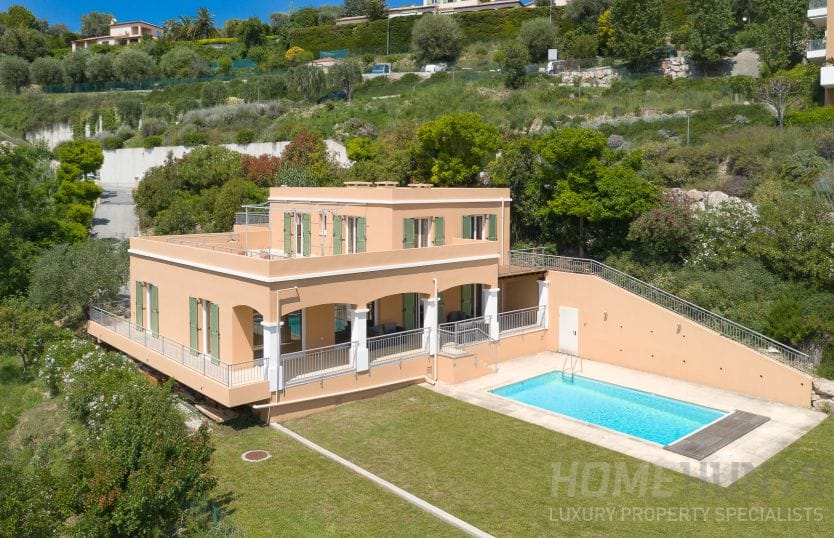 Located in a private area of Nice's city, this four-bedroom villa has a sea view from each room, as well as from the garden. The ground floor houses a living room, dining room, open kitchen, terrace and master bedroom, which includes a dressing room and full bathroom. The upper floor has an additional three bedrooms and two bathrooms, plus a large terrace. Recent renovations to the home include air conditioning in all the rooms and double-glazed windows. There's also a pool and a double garage on the property.
HomeHunts is here to help you to find your dream overseas property, and we can guide you through the entire buying process. If you would like to speak to one of our team members to discuss your needs or have a chat about the market, you can call us at +33 970 44 66 43.