Monaco, one of the world's most desired locations, is like something out of a dream, a movie or a fairytale. It may be small at less than one square mile, but it's in high demand. Located between the Mediterranean Sea and the French Alps, the proximity to both the water and the mountains is one of the main reasons why people choose to own property in Monaco (not to mention the tax incentives, of course).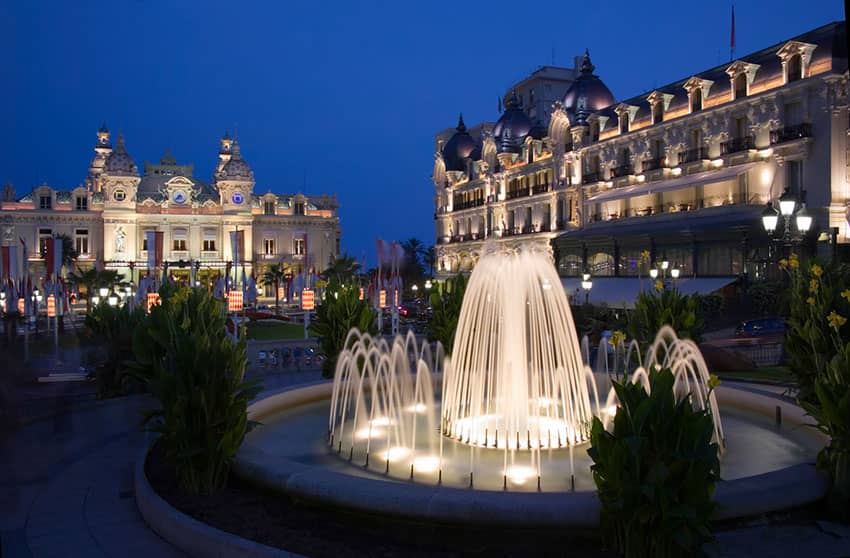 Located on the Cote d'Azur, Monaco is a sought-after location for some of the richest people in the world. The city boasts a prominent concentration of exceptionally wealthy people, and signs of luxury are all around. Superyachts are a common sight in Monaco's two harbours and with so many yacht rental companies to be found, it makes the area ideal for boating enthusiasts. Amongst those who buy property in Monaco  are professionals from the world of sport, musicians and rock stars, models and members of the Hollywood elite.
Entertainment and Language
Monaco may be small, but it has plenty to keep you busy, including beaches, cultural events, golfing and gourmet restaurants. The Monte Carlo district is where you'll find world-renowned casinos that attract high-rollers. VIP events are held in Monaco every year, too, like the Formula One Grand Prix, the Monaco Yacht Show and the Monte-Carlo Masters tennis tournament. The famous Cannes Film Festival isn't too far away either.
Most people who live in Monaco speak English, which makes it a prime location for expats. While you'll want to eventually learn French in order to assimilate as much as possible, with so many people speaking English here, you'll be able to get around and meet new people quite easily.
Location and Safety
As a tax haven, Monaco is attractive to the wealthy because they don't feel removed from society – they can easily come and go as they please. If you frequently travel for work or to other properties, you'll be happy to know that Monaco is close to the transport links you'll need. Monaco is about half an hour from the Nice Côte d'Azur Airport by car and under 10 minutes by helicopter (there are two main helicopter companies in Monaco).
Monaco is close to the French and Italian Rivieras and sees a delightful 300 days of sunshine every year, but you'll also be close to the French Alps, making it easy to get away for a day of skiing, snowboarding or the après-ski scene. Though Monaco is small and densely populated, it's still one of the safest places you can live. It has the largest police force per capita and per square metre, which keeps the crime rate low, and the entire area is covered by 24-hour video surveillance.
Cost of Living in Monaco
As one of the most wealthiest areas of the world, the cost of living somewhat matches the wealth of its residents. When compared to Paris, it's similarly priced (though still a bit higher). According to Numbeo, here's what you can expect to pay for regular expenses:
Basic groceries range from less than 1 EUR to around 7 EUR, and a mid-range bottle of wine is 12 EUR.
Basic clothing, like summer dresses, jeans, running shoes and business shoes, range from approximately 50 to 200 EUR.
A membership at a fitness club costs less than 150 EUR per month, and one hour at a tennis court is only around 30 EUR.
A monthly pass for local transportation is 40 EUR and taxis cost 3 EUR to start and a little under 6 EUR per mile.
Basic utilities for a 915 square foot apartment (cooling and heating, electricity, water, garbage) cost less than 200 EUR per month.
Though the cost of living is significantly higher than that of France overall, it's relative to the income and wealth levels of its residents, which makes it affordable.
Property Prices in Monaco
Apartments and penthouses in Monaco tend to have lovely views of the Med – and they should, along with a host of other amenities, because Monaco is the world's most expensive property market. According to Business Insider, the average property price in Monaco in 2017 was $5.2 million. A one-bedroom, waterfront apartment of approximately 1,150 square feet can cost 7.5 million EUR. For that price tag, you'll have a front-row seat to the sea and be just five minutes from Monaco's centre.
It's difficult to find waterfront property in Monaco, but not impossible, especially if you work with a buyer's agent who has access to unlisted properties for sale. While apartments here tend to be on the small side, your location simply can't be beat, which is why residents aren't too concerned with petite homes. There are a handful of villas, but not many, and they're rarely for sale.
It may pay to buy sooner rather than later. While the property market has levelled off recently, the average price for a home has increased by 180% compared to a decade earlier. Demand for property in Monaco is high because there don't tend to be a lot of new buildings. Keep in mind that older properties often need upgrades and refurbishing, which increases the amount you'll have to invest.
Tax Considerations When Buying Property in Monaco
Residents don't have to worry about capital gains, property or income taxes when they live in Monaco. When buying property, expect to pay around 6% of the purchase price on notary fees and property and title registrations. Buyers also pay a commission, which is around 3 percent, and a value-added tax, which is sometimes as high as 20 percent of the commission. Note that rental properties are taxed 1% of the yearly rent, and there may be more charges on top of that.
Monaco is considered a tax haven, which is why so many wealthy people opt to live here. Being a tax haven means that residents don't have to pay tax on their worldwide income. To be considered a resident, you have to live in Monaco for six months and one day each year. Note that it's possible that some countries will require Monaco residents to pay tax to them if a majority of their income originates in that country. Investopedia has a helpful overview of taxes in Monaco, and it's beneficial to hire a financial advisor to answer specific questions about the property you're planning to buy.
HOMEHUNTS property agents are experts in selecting beautiful, luxury Monaco properties for clients based on their specific search criteria. Whether you want to live in busy city location or somewhere more tranquil, there is property in Monaco that is sure to fit your needs. Search the HOMEHUNTS website and browse our selection of luxury homes. Alternatively, you can also speak directly to one of our property consultants by calling +33 (0)970 44 66 43.