Once a centre for floral production (jasmine, rose and lavender, specifically) for Grasse perfumeries, Mougins is now urban and modern, showcasing contemporary architecture, art galleries and well-known restaurants. This picturesque medieval village is perched high on a hilltop, offering glimpses of the town's history while remaining up-to-the-minute when it comes to dining and luxury experiences.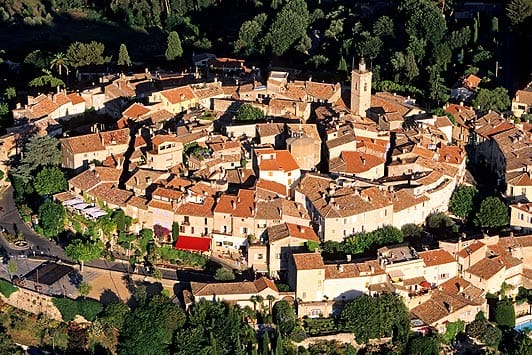 The expat community guide to Mougins
One reason why Mougins is so popular with expats is that it's home to several prominent international schools. It's also where part of the Sophia Antipolis tech park is located, an area with innovative companies and researchers, and where employees represent over 60 nationalities. In addition to great education and career opportunities, expats prefer Mougins because of its low crime rate, protected natural areas and quality sports facilities.
The international Mougins School teaches British curriculum to children between the ages of three and 18. The Centre International de Valbonne and an EIB international school are also in the area. Foreign university students often attend the Université Nice Sophia Antipolis, which has campuses in both Nice and Sophia. For those interested in dance, the Rosella Hightower dance school is also in Mougins.
Close to the village, as well as the international school and golf club, this luxury property in Mougins has a library, wine cellar and guest house. This villa in the same area has a swimming pool and gym.
Places of interest in Mougins
Mougins Centre is the heart of the commune, where you'll find the food market, post office, primary school and tourism office. There are also galleries and restaurants here, and it's the site of the acclaimed International Festival of Gastronomy.
At the Musée d'Art Classique, experience the art collection of Christian Levett, a British entrepreneur. There are 600 works that represent a span of 5,000 years, and the museum strives to show how ancient civilizations influenced different art periods. You can explore the collection by civilization (Egypt, Greece or Rome), and vintage pieces are complemented by more modern works. The armory floor has interactive displays where shields, spears and helmets can be brought to life.
The Musée International de la Parfumerie is in nearby Grasse, set in a mansion from the 18th century. Learn about the history of perfume and see stunning artifacts, like the traveling case that Marie Antoinette used. Multimedia and interactive exhibits include a reconstruction of a 19th century perfume shop. Guests often couple this experience with a visit to Les Jardins du MIP, which show the types of plants that are used in the process of scent-making and perfume creation. Part of the garden is presented as fields to show how the plants are grown, while the other portion is segmented by olfactory families, like amber and floral.
Restaurants bars in Mougins
At L'Amandier, which is the site of an old mill, order a Piscine, a classic cocktail of champagne on ice with strawberries. Le Sot l'y Laisse serves authentic Provencal dishes, like rich chicken stew, plus fantastic fish and meat entrees. At the five-star hotel Le Mas Candille, dine at Michelin-starred restaurant Le Candille, which is open to non-guests. For smaller meals, like breakfast (which can be ordered any time of the day) or charcuterie plates, visit Le Petit Fouet. At night, head to La Cave de Mougins, the perfect spot for wine connoisseurs, where they also serve paired cheese and pâté platters.
Rest and recreation in Mougins
There are plenty of ways to rest and relax in the area. For example, play 18 holes at the Golf Country Club de Cannes-Mougins in the Valmasque forest, which is home to the Cannes Open. Or you can partake in several rounds of golfing at the exclusive Royal Mougins Golf and Resort, then have lunch at the al fresco restaurant overlooking the course. The on-site Royal Mougins spa, housed in a 19th century bastide which is set among olive trees at least a century old, has beauty treatments; a steam room; massage and relaxation services; Pilates; an indoor pool; and a fitness area, among other features. If you want utter relaxation, unwind on the solarium terrace.
At the Shiseido Spa, you'll be treated to a Japanese atmosphere and Zen-inspired beauty treatments. There are also four gardens, a hydrotherapy pool and a Jacuzzi that you're welcome to use. The spa at Hotel Lune de Mougins is a haven of tranquility, beauty and well-being. Indulge in sensory showers, essential oil rituals and international beauty treatments. If you want to relax by the sea, this Mougins property is close to the beaches of Cannes, and includes a main villa and an independent apartment.
There is so much more to this beautiful town that this luxury guide to Mougins can cover. If you are able to pay this wonderful location a visit then we highly recommend that you do. If you are thinking of relocating to the area, then the HOMEHUNTS property agents are able to select beautiful, exclusive properties in Mougins based on your specific search criteria.