It seems like more and more French property buyers are looking to invest in a vineyard, whether for hobby or commercial use, or both. Vineyard property in France gives buyers the opportunity to retreat to a holiday home for part of the year or to relocate full-time.
Vineyard property ranges from quaint and petite, like stone residences set next to a hectare or so of vines, to spacious and sprawling, like airy farmhouses that look out over endless rows of grapes. Your new home can be as modest or as grand as you'd like.
Often, vineyard property includes a cellar with room for barrels as well as space for wine-making. Depending on the property you choose, you may also become the owner of wine-making equipment, such as thermo-regulated tanks. The best part about purchasing a vineyard, though, is that you'll be in a wine-producing town, which are known for being hubs of cuisine, culture, festivals and indulgence.
Owning vineyard property in France means redefining your life in a brand new and completely exciting way. Here are 8 wine producing areas of France to consider if you are looking to invest in a vineyard.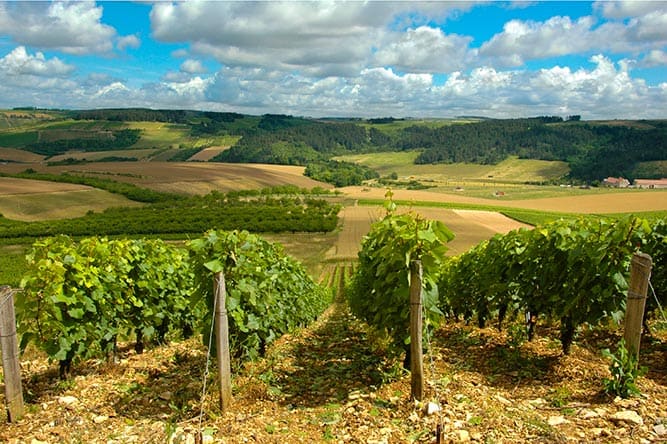 Bordeaux
Just about everybody thinks of wine when they hear the word "Bordeaux." The reason for this is simple: Bordeaux sells 700 million bottles annually and produces 55 of the globe's most popular wines. The world's highest concentration of classed wine comes straight from Bordeaux thanks to its more than 123,000 hectares of vineyards as well as its diverse climate, soil and varietals. Vineyard property in Bordeaux often comes with additional space, like stables, pool houses and outbuildings, plus room for entertaining outdoors.
Cassis
Cassis is best known for growing whites, specifically those made from Marsanne, Clairette, Sauvignon Blanc and Ugni Blanc grapes. Once a fishing village, many of the local families now own seafood restaurants. This seems like kismet: white wine pairs incredibly well with fish.
Chateauneuf-du-Pape
Located in the Rhone Valley, Chateauneuf-du-Pape produces robust reds, often with the following attributes: black pepper, earthiness, cherries, spices, strawberries and regional herbs like juniper, thyme and rosemary, which are collectively called garrigue. The wine produced here tends to skip over the aging process because it's most delicious when young.
Chinon
Though there are several wine towns in the Middle Loire, charming Chinon is considered the top choice. Well-known for excellent winemaking, the area yields mostly reds, specifically Sauvignon and Cabernet Franc. There are rare Chinon whites, too, like Chenin Blanc, plus rosés.
Languedoc
The South of France seems to have it all, including wine. The area produces every variety (red, white, rosé, sparkling), plus a number of classic vintages. Certain areas of the Languedoc region, such as Narbonne, are well-known for art and culture, making it the perfect area to tend to a vineyard. Consider investing in a small hobby vineyard where you can produce wine as well as olive oil. On top of growing your own grapes, you can tour other nearby vineyards, learn about Languedoc's history of winemaking, add interesting bottles to your collection and attend a wine festival.
Provence
Though it's known for its gorgeous Mediterranean weather, another huge draw of Provence is its luxury chateaux and vineyard properties. The area produces plenty of rosés as well as whites (in Bandol) and reds (in the Var). Vineyard property in Provence may include extras like a multi-level farmhouse outbuilding or an on-premises chapel. Look out across a river or gaze at the mountains from your home's terrace. Luberon, an area of Provence that produces Syrah and Viognier, is made up of medieval hamlets and picturesque villages that date back over 1,000 years.
Saint-Émilion
The vineyards in medieval Saint-Émilion are slanted, as are the steep streets. The area's sandy soil is best for yielding light and fruity wines, while the clay and limestone areas produce richer, deeper grapes. Notable varietals are the flowery, spicy Cabernet Franc and the lush Merlot, which has flavors of black cherry, blackberry, chocolate, licorice and plum.
Saint-Tropez
Vineyard property in Saint-Tropez may come with not just one but two wineries, plus a wine cellar and olive yard. When you're not tending the vines, live in a gorgeous mansion with multiple bedrooms and a lift to easily access the entire home. Owning a vineyard in Saint-Tropez feels right on par with the coastal town's lifestyle, which is lavish and prestigious.
HOMEHUNTS estate agents are able to select beautiful, high-end, luxury vineyard property based on your specific requirements. Whether you want to live somewhere with a busy atmosphere or somewhere more tranquil, there is vineyard property to fit your needs. Use the search tool above to browse our selection of luxury homes. You can also speak directly to one of our consultants by calling +33 (0)970 44 66 43.