While Marseille offers a big city lifestyle on the sparkling Mediterranean coastline, it is still underrated when compared with French Riviera cities such as Nice. Having been traditionally associated with crime and violence, media coverage of Marseille has focused more on the negative aspects of the city than the positives. But all this is changing.
Marseille is now making headlines that boldly detail its ongoing transformation and regeneration. More and more Marseille is recognised for being economically thriving, upmarket and an architecturally-celebrated city of the future.
With a population of around 800,000 people and the destination of choice for more than ten million tourists each year, demand is increasing for property in Marseille. Buying property in Marseille presents not only good rental opportunities, but offers owners a high quality of life and the likelihood of an excellent return on investment.
Here are five reasons to buy property in Marseille.
1) Completely regenerated city centre
Over the last twenty years Marseille has been the focus of a €7 billion regeneration project called Euroméditerranée: the largest urban renewal project in Europe.
Since its launch in 1995, a 480-hectare area across Marseille has been redeveloped so the city will be globally recognised as one of Europe's major cities. In addition, as a European City of Culture in 2013 sixty refurbishment projects took place led by a number of celebrated architects, and results include the iconic MuCEM (Museum of European and Mediterranean Civilisations) and architect Stefano Boeri's Villa Méditerranée.
2) Diverse year-round entertainment options
Marseille holds countless events and exhibitions all summer long and through the winter season too. It also has an exciting restaurant scene and plenty of theatre, opera and live music. There is also a long list of impressive landmarks, buildings and museums to visit, such as the Fort Saint-Jean and MuCEM, and leisure activities to enjoy, such as hiking in Les Calanques and exploring the wild island of Riou. Golden beaches are abundant and the mountains are just one-and-a-half hours away.
3) Excellent transport: trains planes and yachts
Marseille is home to the third most important airport in France – which has seen over 50% growth in the last ten years – and has a TGV line that connects to Paris in just three hours. It is also home to the number one French seaport (which is second in the Mediterranean). Yacht owners and enthusiasts can also benefit as Marseille is the largest yachting centre in France with 14 ports spread over nearly 60km of coastline.
The new Thello Riviera train is also a welcome addition to the already-plentiful transport options along the Côte d'Azur coastline. It travels between Marseille and Milan and stops at some of the most glamorous locations on the French Riviera along the way. Once in Italy, destinations include Genoa, Savona and Sam Remo.
4) Economically thriving technology hub
Marseille is highly cosmopolitan and one of France's "French tech" cities as part of the Aix-Marseille territory, a digital hotspot for tech companies. Technology project ITER, which benefited from a €10 billion investment, also made the city "Capital of Mobile Valley" and helped to transform the old tobacco factories of the Belle-de-Mai area into a leading hub for digital, multimedia and audio-visual industries.
5) Warm and sunny weather
Located on the coastline of the Bouches-du-Rhône department, in the Provence-Alpes-Côte d'Azur region, Marseille enjoys over 300 days of sunshine each year. This hot Mediterranean climate, where temperatures easily rise above 30°C in the summer, also brings mild winters, making Marseille a year-round destination.
Property in Marseille for sale
Own an exotic home in the heart of Marseille
In terms of what type of Marseille property to buy to make the most of the good weather, properties with extensive terraces for alfresco entertaining and dining, floor-to-ceiling windows for maximum light exposure and an outdoor swimming pool, like this stunning five-bedroom property (HH-9635301) are highly recommended.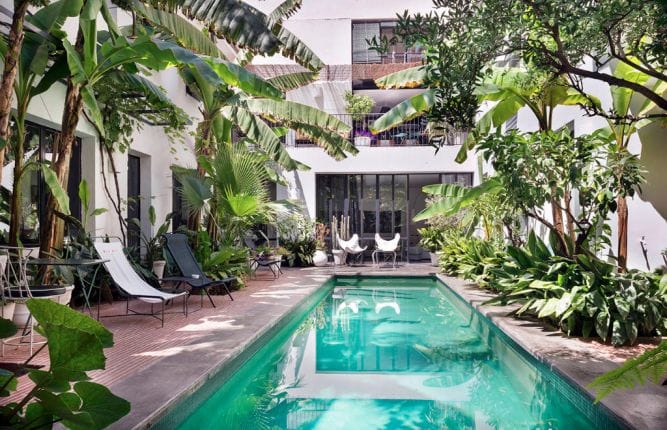 Located in a coveted area in the heart of the city close to the old port, this unique home also features lush Brazilian and Moroccan foliage that brings an additional exotic feel. A real lifestyle property that could work well as a rental opportunity due to its location and design, it is on the market for €1,900,000.
Old warehouse transformed into luxury property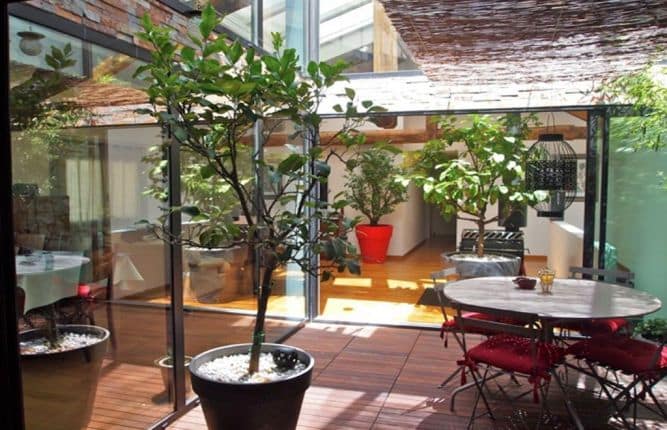 This impressive five-bedroom property (HH-9635472) comes from the transformation of an old warehouse and is located close to the Prado area. It consists of three independent properties: an apartment, a loft and a studio. It has expandable potential and is a good rental prospect. Highlights include a gym and a hammam. This Marseille property is priced at €1,100,000
For more information about property in Marseille, visit www.home-hunts.com, but to speak with a consultant directly about your criteria, call +33 (0)970 44 66 43.