It is difficult choosing the most luxurious things to do in one of the most glamorous resorts in the world, but here are Home Hunts' top five…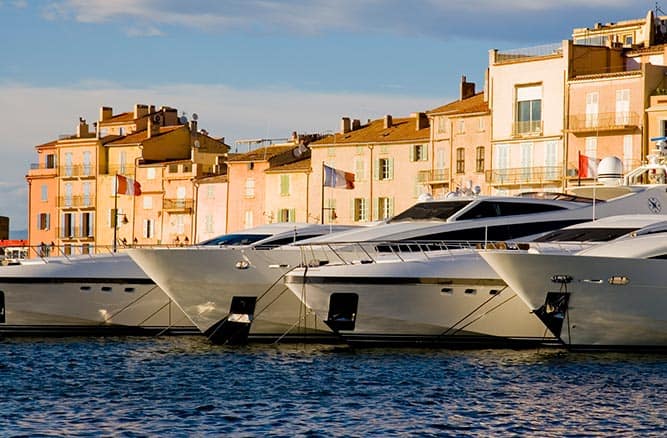 After being put on the map by Brigitte Bardot in the fifties, the quaint fishing village of Saint-Tropez, with its glitzy reputation, has become a hot spot for the global elite.
Meandering through the Place des Lices, sunbathing on the beach or shopping in some of the local boutiques is part of everyday life in Saint-Tropez – yet you're also on the doorstep of some of the most luxurious experiences in the world.
If you're looking for luxurious things to do in Saint-Tropez, here are five suggestions:
Stay at the Pan Deï Palais
The Pan Deï Palais is one of the most exclusive hotels in Saint-Tropez. Just off the Place des Lices in the heart of Saint-Tropez, you can expect to have a refined and relaxing stay here in an Indian-themed palace.
A Relais & Châteaux property, the Pan Deï was built by a French general in the early 19th century to demonstrate his love for a Punjabi princess known as Bannu Pan Deï. With such wonderful use of space, light and inspiring surroundings, guests fall in love this hotel for its serenity and style.
One of the best rooms is the Shanti Suite (this Sankrit word means peace and serenity) on the top floor. For a magical memory, sip Champagne from your private terrace while watching the sun set over Saint-Tropez – this room provides panoramic views across the whole town.
Fly into Saint-Tropez
Saint-Tropez might be the most glamorous resort on the French Riviera, but its intense popularity does mean that there's a fair amount of traffic to navigate during the summer months.
One way around this is to fly in by helicopter. You could be dropped off in town at the most convenient helipad, but if you plan on travelling like this regularly it might be better to rent or buy holiday home with its own helipad. This way you can make it to every destination in the fastest and most private way possible.
Rent or buy a luxury holiday home (with a helipad)
Being choppered to your own helipad is even better than landing in town. There are many prime properties available on the market in Saint-Tropez with private helipads, such as this stunning six-bedroom villa (HH-10812419). Light, airy and spacious, this is a home that is perfect for relaxing and entertaining all summer long.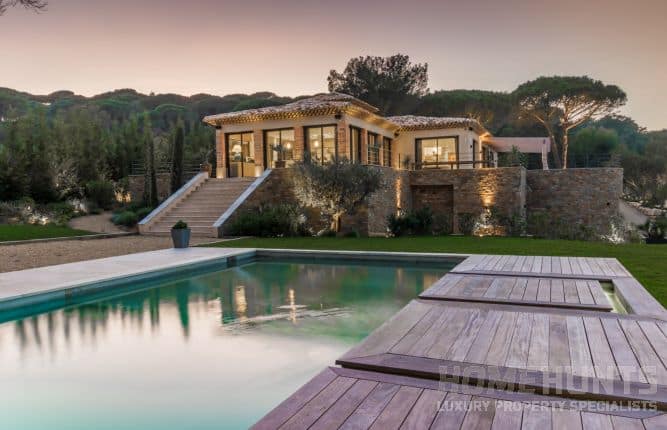 Located in one of the most coveted areas of Saint-Tropez, near the Plage des Canoubiers, it also offers a beautiful sea view, manicured gardens and spectacular heated swimming pool.
Dine at Résidence de la Pinède
Witness chef Arnaud Donckele – the youngest chef ever to be awarded three Michelin stars – work his magic on what will be one of the most memorable dining experiences of your life. Dining La Vague d'Or is a unique Saint-Tropez experience, which cannot be compared with anywhere else.
The fusion of colours and flavours of the region are prepared and presented like works of art to each and every guest. The menu offers five options – from "balade epicurienne" in "seven acts", to "stroll through the gardens" in "five acts". It sounds theatrical, and the result is an absolute show stopper.
Choosing "à la carte" takes diners on a journey across the sea and over land, with culinary highlights including flame-grilled leer fish and sea bass fillet cooked in vine shoot embers.
Charter a private yacht
How do you fancy a morning cruise to Porquerolles' idyllic Notre-Dame beach? Voted most beautiful beach in Europe in 2015, it's the ideal place to relax and swim in warm turquoise waters, before a gastronomic lunch on board prepared by your personal chef.
Chartering a yacht gives you the ultimate freedom to explore the coast around Saint-Tropez in the most luxurious way. Whether for an event or a glamorous voyage around the Mediterranean coastline, there are several companies, such as Saint Tropez Yacht Charter and YachtCharterFleet, which can advise you on the best yacht for your needs.
Don't forget that if you are looking to buy a yacht, Home Hunts also offers a specialist superyacht-finding service. Operating as buyer's agent Home Hunts will help you find the right yacht, negotiate the best deal and advise you throughout the buying process.
If you are looking to buy a property in Saint-Tropez, you can view luxury properties in Home Hunts' online portfolio at www.home-hunts.com. To speak with a consultant about your specific needs call +33 (0)970 44 66 43.