Waterfront apartments in Cannes
It's hard to say that any one town in the French Riviera is better than another, but Cannes is undoubtedly one of its most glamorous and star-studded. Aside from the annual film festival – which doesn't just bring Hollywood's elite, but also rental opportunities for homeowners – Cannes has world-class shopping and dining. Stroll up and down the Promenade de la Croisette, which is lined with designer shops; go golfing at the Cannes-Mougins country club; or escape for the day with a refreshing hike in the mountains. Apartments are popular with property buyers in Cannes due to their central loaction and also due to the high demand for rentals when big events roll into town.
Six-bedroom apartment in the La Californie neighborhood of Cannes
Set in La Californie neighborhood of Cannes, this six-bedroom apartment takes up four spacious floors. The home has been entirely refurbished, boasting a garden, a private swimming pool and views of the Mediterranean from practically every room. Features include sleek, industrial-style lighting and all-glass wine storage that puts your collection on display. There's also an open fireplace and a home cinema for true at-home comfort. Plus, the villa-style apartment comes with a 24-hour caretaker and four parking spaces for you and your guests.
Stunning apartment in sought-after location in Cannes
This stunning, luxury apartment building sits at the beginning of the Promenade de la Croisette, facing the Palais des Festivals – a truly ideal location in Cannes. The building includes 21 apartment homes, and yours can have multiple bedrooms, a sophisticated bathroom with a luxurious bath, and a master bedroom that opens onto its own terrace. Building amenities include high-end shops, a fitness room, 24-hour reception, an on-site concierge, security and wellness services. There are also beautifully designed common areas, including the spa with a sauna, hammam, massage room and snow cabin.
Luxury apartment residence on the Promenade de la Croisette
Another luxury apartment residence on the Promenade de la Croisette, this three-bedroom home is airy and bright, and that atmosphere is only added to thanks to the sea views. Large, sliding bay windows lead out to the terrace, where you can breathe in the Mediterranean, and the open-plan kitchen comes fully equipped. Each of the three bedrooms has its own bathroom, and artistic light fixtures give the lavish home a touch of color. Two private parking spaces are included with the apartment, both located in the basement.
Three-bedroom Cannes apartment with stunning sea views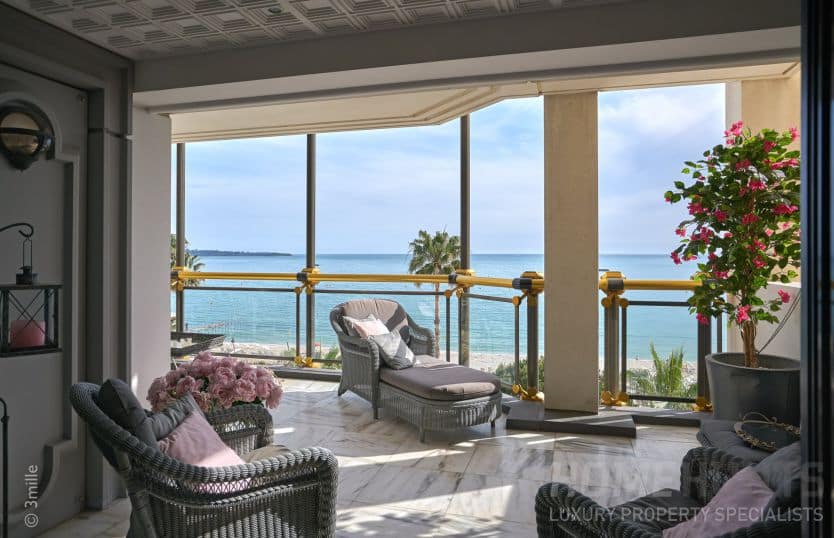 This three-bedroom Cannes apartment is on the fifth floor of a secured residence with 24-hour reception. Features include three bedrooms, each with its own bathroom; a fully equipped, SieMatic-designed kitchen that opens into the dining room; a living room with a fireplace; and a spacious terrace with views of the sea. The apartment also has marble floors and home automation, and you'll have access to the fitness room.
Charming and modern two-bedroom apartment in Cannes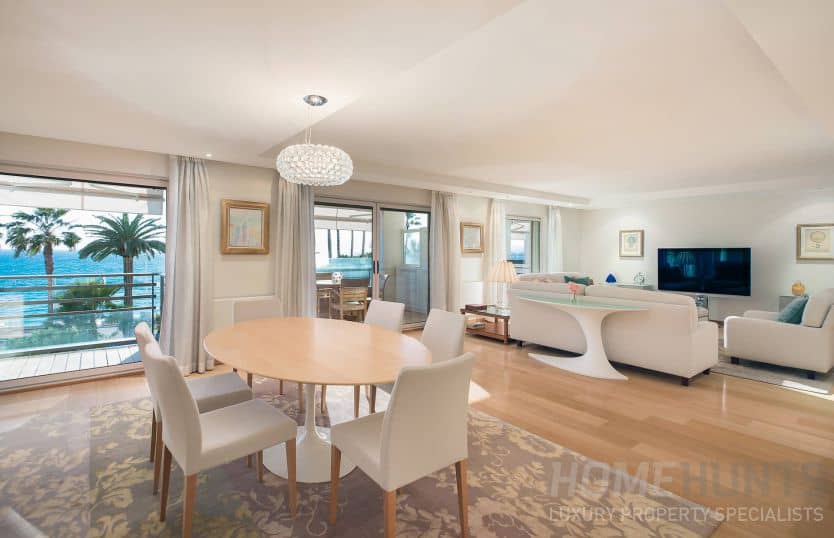 This charming, modern apartment in Cannes has light wood and a neutral design, allowing you to truly make it your own no matter your style. Set on the third floor, the home has two bedrooms, an open living area, and stunning views of the sea, the Bay of Cannes and the Esterel Massif. Additional amenities include a shared swimming pool, 24-hour caretaker's service, a cellar and a garage.
Six-bedroom penthouse apartment with breathtaking sun terrace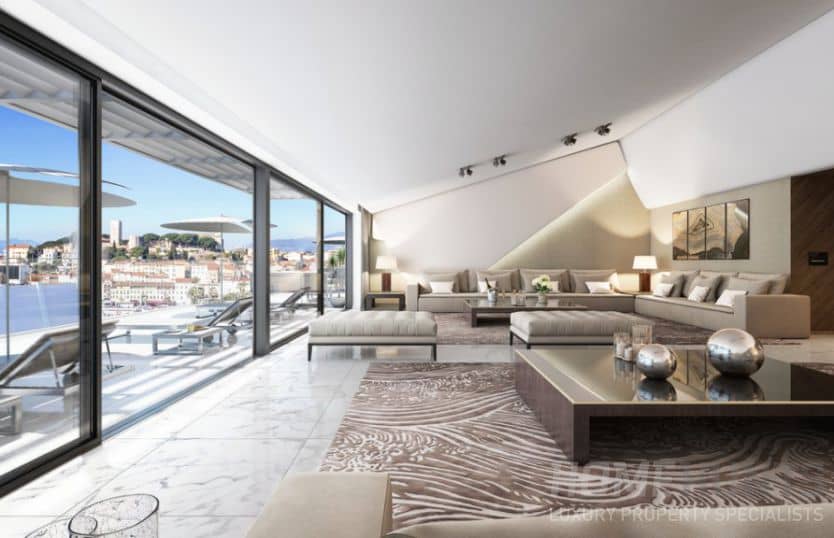 With a superb location in Cannes, this six-bedroom penthouse apartment has a large terrace for sunbathing, plus an additional terrace off the master bedroom. Altogether, the apartment building has 21 homes, plus luxury shopping from luxury brands, around-the-clock reception, an on-site concierge and security services. There's also a wellness centre with a fitness room, hammam, massage room, sauna and snow cabin.
HOMEHUNTS property agents are able to select beautiful, luxury property in Cannes based on your specific search criteria. Search our website and browse our selection of luxury homes or speak directly to one of our property consultants by calling +33 (0)970 44 66 43.