Best places to buy Alpine property – Annecy
Annecy is a postcard-perfect alpine town surrounded by picturesque mountains. Moreover, Annecy's canals have earned it the nickname "Venice of France," and the old town, wonderfully charming cobblestone streets. Homes in Annecy are surrounded by blooming flowers during the spring and covered in charming snowfall during the winter. It is no wonder why many people think that Annecy is one of the best places to buy alpine property if you are looking to invest in overseas real estate.
Annecy is known for its beautiful views, whether you're gazing at the snow-capped peaks or the area's trademark pastel homes. The best views are from the Chateau d'Annecy, though. The castle, which has roots in the 12th century and was where the Counts of Geneva called "home" – towers over the city. While you're there, explore the collections of artifacts from medieval and Renaissance times.
Annecy has a long history of manufacturing – silk was produced there during the 19th century – and several big engineering companies continue to operate in the area. It's just as known for tourism as commerce, though. The fact that Annecy is such a big commerce and startup hub makes it popular for entrepreneurs, but it also attracts families and retirees. And since Annecy has so many romantic characteristics, it's appealing to couples as well.
Where is Annecy?
Annecy is set in southeast France, on the edge of bright blue Lake Annecy, at the foot of the mountains. It has a quaint feel, but it's actually the Haute-Savoie department's biggest city. Annecy is near to a major airport, too, making it easy to come and go as you need, or to receive guests – once you own a home here, everyone will want to visit.
Annecy is also 35 kilometres from Geneva in Switzerland, and many people live in France but work over the border. Since it's so close to Switzerland, you'll notice how this has influenced life in Annecy. For example, raclette (melted cheese combined with other delicious ingredients) is a favorite local dish.
If you can find a home on the eastern shore of the lake, you'll experience more sunshine than if you were on the western side. That's why this is where you'll find some of Annecy's best properties. Bonus: there's less traffic in the area, too. On the other hand, the western shore has cooler weather, which some people may like instead of dealing with hot summer days. The views are stunning, too, especially at sunset.
The Annecy Property Market
Annecy has an assortment of property types to choose from, ranging from high-end, modern homes to classic chateaux with original features. For example, this sleek, modern home near the Geneva border is spacious and luxurious, with four bedrooms and a living room that opens onto a terrace with a swimming pool. There's also a fitness room and a wine cellar. Or, consider this 17th-century chateau, which has retained many of its period features, like the stone stairwell, original beams and oak floorboards. The main home has four levels, and there's also a separate caretaker's apartment. As you wander around the greenery outside, take note of the ancient trees.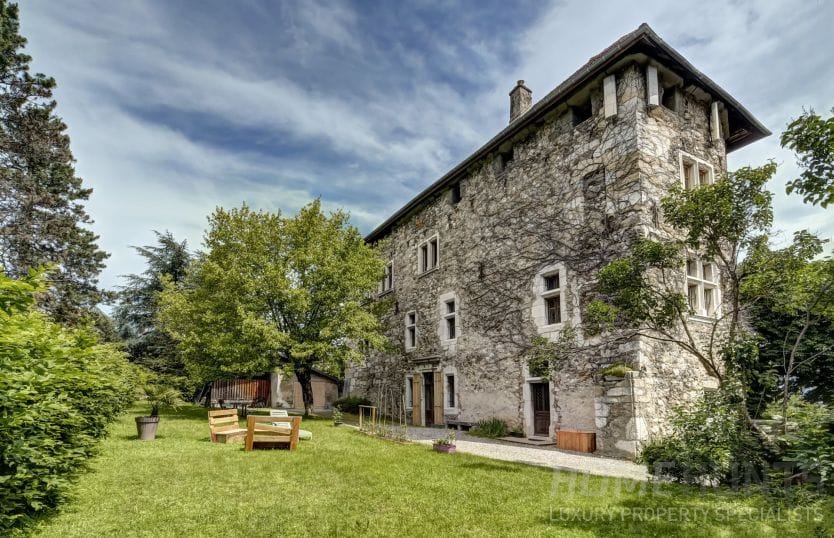 A lot of people purchase second homes in Annecy, giving them a place to escape to when they have time off. This contemporary villa, for example, is perfect for a holiday home. It has so many comforts that you won't even have to leave your property if you'd rather stay in for the day. Watch your favourite films in the cinema room, or head to the zen garden, which has a fountain, pond and waterfall.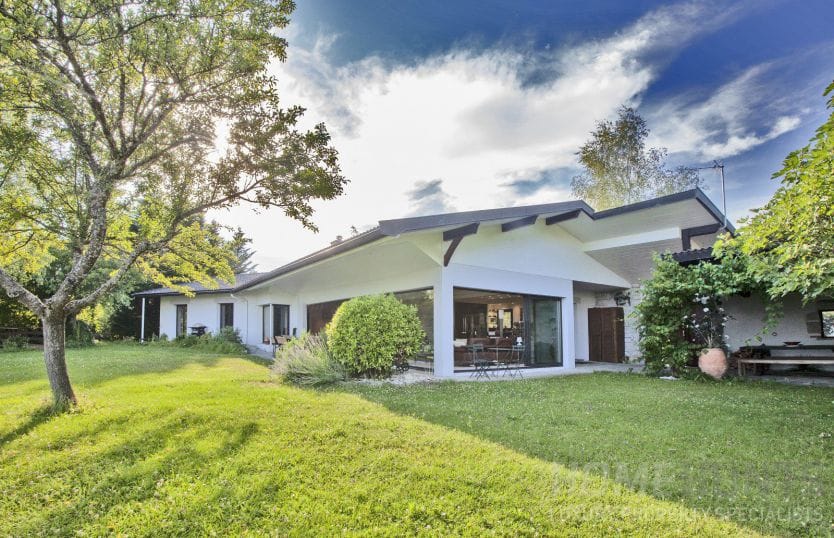 If you'd rather live in an apartment than a house then you will find plenty of luxury apartments that are often very close to old town and the lake, so you can forgo your car most days. Often, apartments are housed in renovated buildings, combining modern fittings with interesting history and giving the home extra character. If privacy is what you're looking for, though, many estates in Annecy have so much property you won't be able to see your neighbours.
Since it's such a sought-after destination, there are opportunities to rent out your property if you won't be staying there year-round. If that's your goal, seek out lakeside homes with multiple bedrooms, villas with extended outdoor areas that include pools and al fresco dining, or luxury apartments that are walking distance from town.
What to Expect from Life in Annecy
There are a lot of amenities and services in the area, which is why Annecy is one of the best places to live in France. Almost any day during the week, you can find an outdoor market to shop for cheese, bread, wine and other ingredients. Annecy's Sunday market is known as one of the best in France.
Summer is particularly lovely in Annecy, and the mountains present opportunities for biking, hiking or climbing. There are also paths for cycling around the lake, plus beaches for sunbathing and swimming. Or, simply take a walk along the canal and stop at a café for a drink and people-watching.
Since Annecy is lakeside, watersports are popular here. When the weather is nice, you can go paddleboarding, rowing, sailing, waterskiing or wakeboarding. Paragliding is another popular pastime. During the winter, you'll love how close Annecy is to major ski resorts, making it ideal for skiers, snowboarders or anyone interested in the après-ski scene.
The Palais de l'Isle is one of the biggest draws of Annecy. Over the centuries it's been a courthouse, mint, prison and residence, and now it's a museum of history. However, even if the museum isn't open, it's still lovely to view from the outside. It's located near the Canal du Thiou, with waterways and the Pont des Amours, which translates to Lovers' Bridge.
Home Hunts are here to help you to find the best places to buy alpine property. If you would like to speak to one of the team to discuss your needs or just to have a chat about the market, you can call us on +33 970 44 66 43 or send us a mail to info@home-hunts.com. If you just want to browse through thousands of beautiful French homes, visit our website at www.home-hunts.com or follow us on Facebook or Instagram.