Les Gets is a ski resort in the Haute-Savoie region of the Alps, set in the eastern part of France. It boasts an ideal location between Mont Blanc and Lake Geneva, making it particularly easy to access. And with direct access to the Portes du Soleil ski area, it's a prime location to live or holiday if you like to spend the snowy months skiing, snowboarding or taking part in adventurous outdoor sports. Plus, with Switzerland being so close, you can head across the border whenever you like. These features and more make Les Gets such a sought-after destination by French and international clientele.
Getting to Les Gets
If you'll be traveling to your new Les Gets property on a regular basis – maybe it's your holiday home, or you want to rent it out now and then during the year – you'll be pleased to know it's very easy to get to and from. The A40 motorway is only 25 kilometres away if you're driving. The Cluses train station is a bit closer at 22 kilometres, and if you'll be flying, you're only a little over an hour's drive from Geneva International Airport.
Getting around Les Gets is as easy as getting to it, and you don't need a vehicle to explore the area thanks to its public transport (it's also very easy to walk around the area as well). And whether you're here in the winter, summer or all year long, you'll want to be out and about because there's so much to do.
Things To Do in Les Gets
In the wintertime, in addition to regular skiing and snowboarding, there's everything from cross-country and freestyle skiing to hiking, geocaching and other mountain activities. Take the kids to a play area or out for a day of snowmobiling, then spend an afternoon relaxing at a spa or yoga studio. There's also bowling, ice skating and paragliding, plus low-key places to visit like museums and farms.
Once the warmer summer months are here, you can replace your skis with wheels and hit the road or a park on your bike. You can also go on walks or climbing at various altitudes; take up archery, fishing, horseback riding or tennis; or go caving or canyoning. To cool off on especially hot days, there are both calm lakes and exciting water parks, as well as heart-pumping activities like rafting and canoeing.
Types of Property in Les Gets
Many of the properties in Les Gets, whether it's an independent chalet or a luxury apartment, are built in the Savoyard style, meaning the main materials used are stone and wood. And while there are plenty of traditional homes to be found here, many of them have contemporary upgrades with sleek surroundings and high-comfort amenities. Plus, just about every property has private parking and a ski locker to store your equipment. Let's explore a few of the beautiful properties for sale in Les Gets.
This four-bedroom apartment in Les Gets has a lot of character, combining Savoyard charm with modern style. There's a sun-drenched balcony for basking in the morning light, and the complex has a gym for the days you can't hit the slopes. There's also an on-call concierge who will help with everything from arranging airport travel to booking restaurant reservations and even scheduling a babysitter.
For space that's all your own, this four-bedroom chalet set between Mont Blanc and Lake Geneva has panoramic views of the mountains. With plenty of storage and two private one-bedroom apartments as part of the main house, you can host anyone you like throughout the year.
This second-floor, five-bedroom apartment is prominently located in Les Gets centre on the main street, Rue du Centre. The brand new hotel-turned-complex has a wellness area with a sauna and sports room, and there's also an on-call concierge, plus booking services for babysitting, house cleaning and more. If you'd like help designing your brand new space, you can also arrange for an interior design service.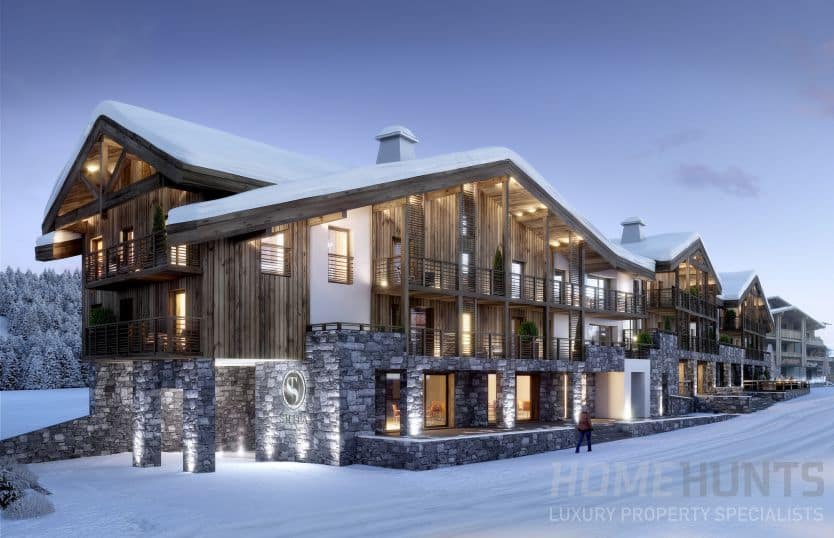 The terrace of this three-bedroom apartment in Les Gets is large enough to have drinks and appetisers with friends, and there's a jacuzzi to warm up as you look at the snow-blanketed mountains in the (not-too-far) distance. And if you need more space with additional bedrooms, you can combine residences for a stand-alone chalet.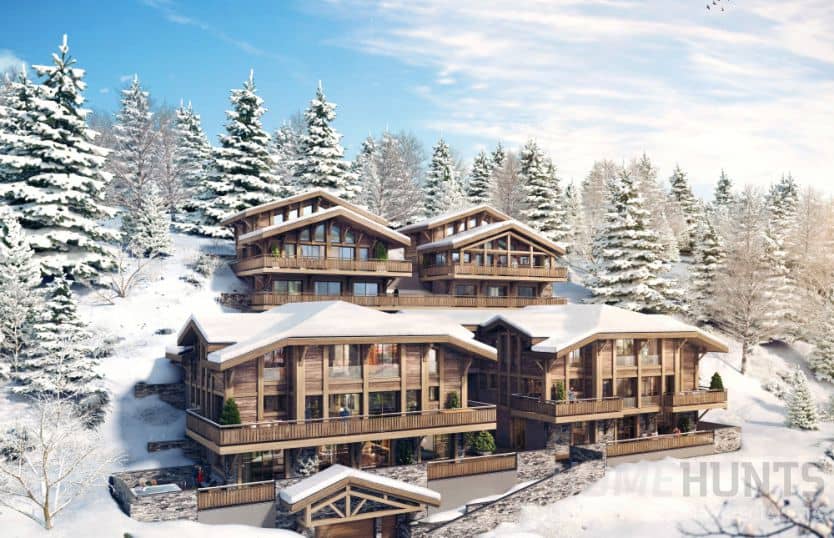 HOMEHUNTS property agents are able to select a range of luxury property in Les Gets based on your specific search criteria. Whether you want to live in the heart of the town or in a more tranquil setting, there is property in Les Gets to fit your needs. Search the HOMEHUNTS website and browse our selection of luxury homes. You can also speak directly to one of our property consultants by calling +33 (0)970 44 66 43.