Just when you thought you couldn't love France more, the holiday season comes along and brings lovely, festive Christmas markets with it. France is at its most enchanting during the Christmas season, and holiday markets are centrally set on historic streets and near well-known landmarks. Stroll along avenues that glow with twinkling lights and pop into shops that smell of cinnamon or pine.
Aix-en-Provence Christmas Market
The lovely town of Aix-en-Provence (once a favorite of Cezanne's and other artists) has a pretty Christmas market each year. Approximately 50 chalets are set up to sell local goodies, handmade toys and hot wine. There's often a magician there, too, to entertain children.
Avignon Christmas Market
Artisans sell their goods, like gourmet foods and an assortment of Christmas gifts, at the Avignon Christmas market. You can get a Christmas tree while you're there, too. The most notable aspect of the Avignon market is the range of nativity scenes on display, and makers purposely place their crèches in Provencal settings.
Bordeaux Christmas Market
The holidays and rich wine are an ideal pairing, and you can pick up several bottles at the Bordeaux Christmas market. There are over 100 stalls to explore, where you can buy chocolates, glassware, linens, perfumes and pottery. If you have kids in tow, take a ride on the carousel or visit Santa.
Chamonix Christmas Market
Chamonix was made for the holiday season, and nothing is more idyllic than having the French Alps as your setting. After a day of skiing, sledding or snowboarding, head to the market to pick up crafts (both local and international) and specialty foods, like crepes and mulled wine.
Nice Christmas Market
Nice's Christmas market has a ton of vendors – around 60 stalls – and activities for people of all ages. Shop for gifts, take a spin on the ice skating rink, say "hi" to Santa  (you'll find him in his workshop) and play carnival games. Take a break for a few minutes and get a bird's eye view of the market and the Mediterranean Sea from the Ferris wheel.
Another perk of being in Nice at Christmas time is that the weather is notably warmer here than in other parts of France. You can spend a lot of time at outdoor markets without ever getting too chilly (although you're still welcome to warm up with a cup of mulled wine).
Paris Christmas Markets
One of the nicest things about being in Paris between November and December is having such easy access to the city's many Christmas markets. Here are just a few to check out:
The Alsatian Christmas Market has products specific to northeastern France. Try sausages and sauerkraut in between shopping for artisanal crafts. Don't forget to pick up a program so you don't miss the Christmas carols or stories.
The Champ de Mars holiday market has the Eiffel Tower as its background. Shop for artisan-made crafts and wooden items, and try locally-made treats like cookies and mulled wine. There's a huge ice skating rink, too.
The Christmas market by the Louvre has 100 wooden stands that peddle crafts and treats. There are also games and rides for kids, and an ice skating rink by the Grand Palais.
The Noisy le Grand market is known for its decorations, and you can also take a ride in a horse-drawn carriage around the square.
The Christmas market outside Notre-Dame has stands from 40 artisans who come from all over the country. There's an enormous Christmas tree, too, which is especially meaningful since Notre-Dame was damaged in a fire in April 2019.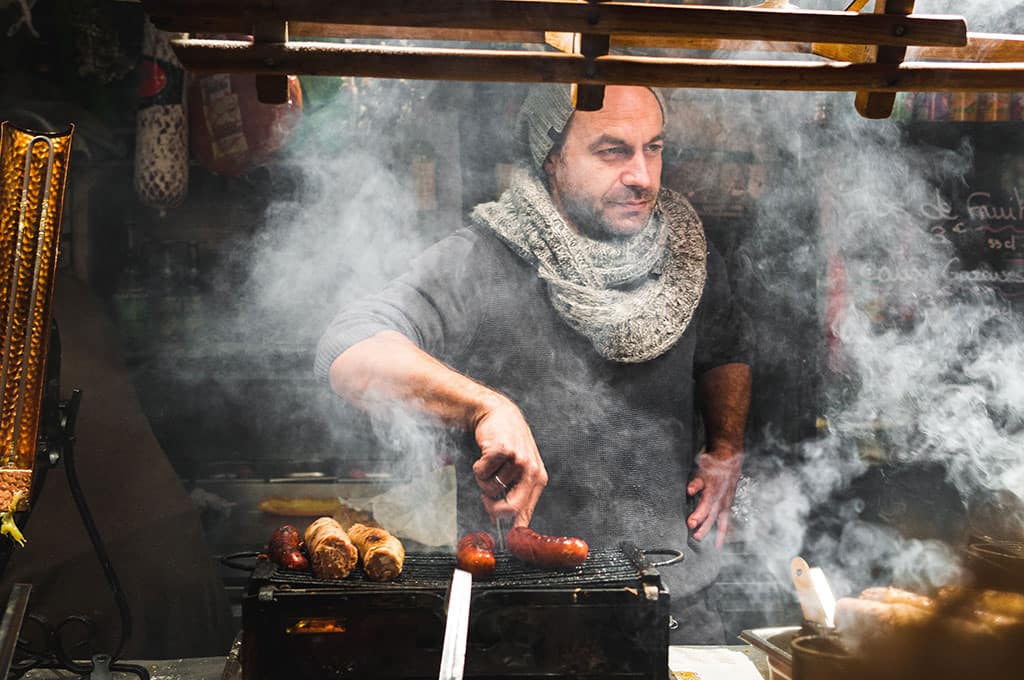 Perpignan Christmas Market
Perpignan is a diverse area of France – set in the south and bordering Spain, it has a distinctly Spanish influence, which can be felt in the multicultural Christmas market. The entire city is fitted out with holiday lights, and the market is set on the riverbank. Try local foods, like cheeses and sausages, or buy handmade items, like home décor and jewelry.
When to Visit Christmas Markets in France
There are numerous Christmas markets held throughout France, and most of them run from mid-November through December. Some may even extend into January to celebrate the new year. However, since a handful of markets are only two weeks long or so, double-check before you visit.
Holiday markets in France range from traditional to unexpected, and no matter what area of the country you're in, you're bound to be near one. Some are so close that you can go from one to the other in the same night (such as in Paris). Whichever market you choose, you'll likely be able to listen to choirs, sample festive treats, catch up on your Christmas shopping and cap off the night with a spin around an ice rink.