Living in Spain near the Mediterranean may be a lifelong dream for many people, and with so many first-rate cities, towns and villages to choose from, finding luxury property here is certainly possible. Spain has a wonderful climate, a laid back, family-orientated way of life and offers a mixture of relaxed peace and calm alongside a bustling social life. With so many locations to choose from in Ibiza, Mallorca, Menorca or on the mainland areas of Spain such as the Costa Del Sol, but where are the best places to live in Spain near the sea? Here are some of our recommendations.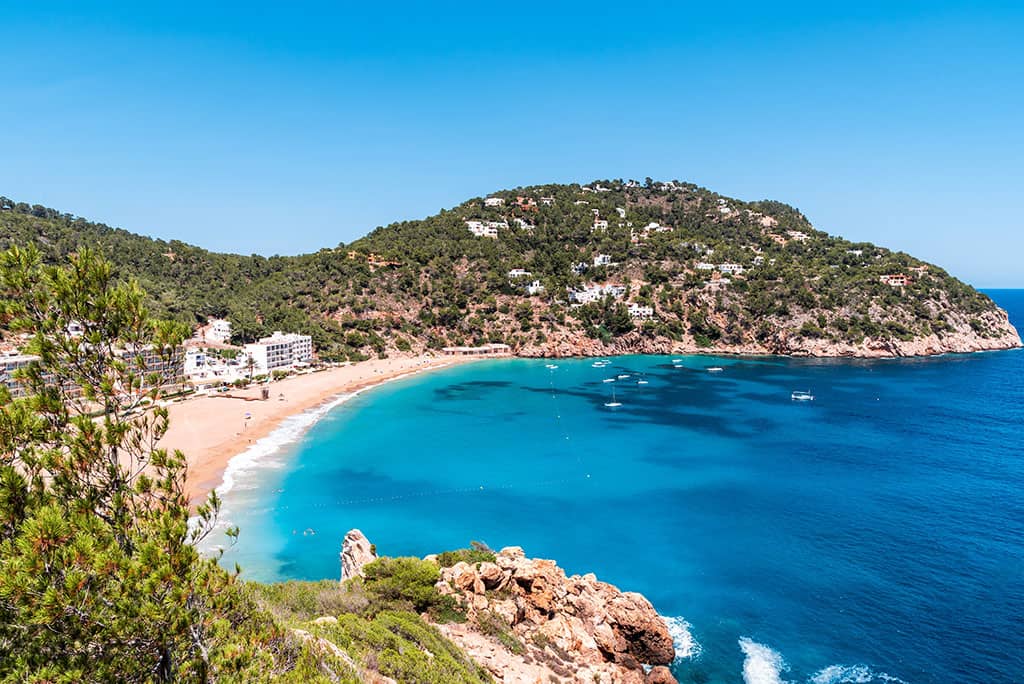 Our Top 10 Best Places to Live in Spain Near the Sea
Camp de Mar, Mallorca
Camp de Mar is a pristine, family-friendly beach and golfing location in the southwest of Mallorca. While Camp de Mar attracts A-listers, it remains laidback and a major draw for people on holiday. As you dine in a seafront restaurant, you can take in the surrounding cliffs, pine trees and clear water. If you want a day away from the beach, you can cycle or hike in the Serra de Tramuntana mountains, take in panoramic views from the 16th-century watchtower or play a round at the Golf de Andratx course.
Ibiza Town
Ibiza Town, the island's capital and largest city, is famous for its nightlife, and it's also brimming with art galleries, high-end shops and historic sites. Ibiza Town is large, with lots of distinct areas that have their own personalities. For a more subdued experience, Cap Martinet is private and quiet, and it's still close to the bustling bars, clubs and restaurants of Ibiza Town. There's also the family-friendly beach of Talamanca, with beach clubs, restaurants and water sports.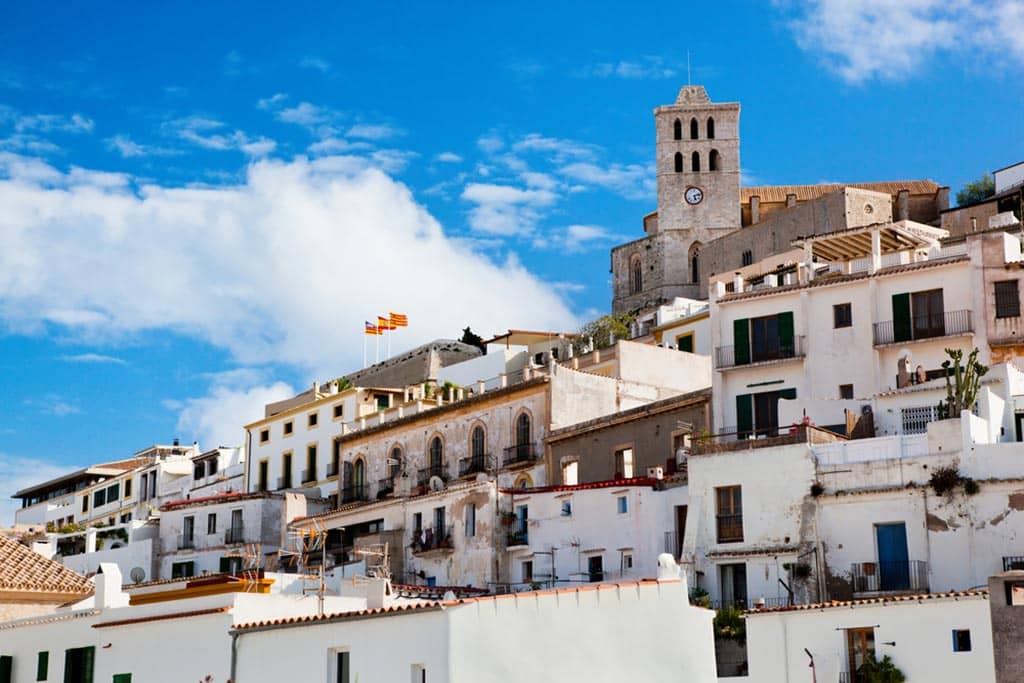 Marbella, Costa Del Sol
The chic, sun-drenched Marbella, along the southern coast of Spain, blends history with modern-day life. La Fontanilla beach is one of its most popular, and the area also has theme parks for when the kids are looking for thrills and spills. You can stoke your inner adventurer with ATV tours, canyoneering or rappelling in the Sierra Blanca foothills. The Old Quarter has cobblestone streets, Moorish ruins and plazas with boutiques and fine dining, and the region is also renowned for its dessert wine, so be sure to cap off your meals that way.
Palma, Mallorca
Palma, the capital of Mallorca, is a beautiful and bustling city that is steeped in history. For a calm and relaxed day, you can take a stroll through the woods on your way to Bellver Castle, one of Europe's very few circular castles. Or walk or cycle along the wide seafront promenade. When you're in a more social mood, head to Sa Gerreria in Old Town, where you'll find plenty of bars, eateries and shops. If you want to be closer to the water, Ca'n Pere Antoni beach has beach clubs at either end.
Portals Nous, Mallorca
While Portals Nous may be a small village, it's also a sophisticated one. Carretera d'Andratx has everything from fashion boutiques to hardware stores, markets, bookshops and restaurants. There are also two beaches right in Portals Nous, one small and one larger and more popular. Instead of having all sorts of historic buildings and cultural spaces to visit, the village is more residential, and the main recreational outing is a day at the beach. That means more than just lounging in the sun, though – you can take out a kayak, jet ski or boat.
Puerto Andratx, Mallorca
Nicknamed the Saint-Tropez of Spain, Puerto Andratx is a refined fishing village in Mallorca. Don't let "fishing village" fool you, though – it's an elite gathering spot for yachts, and its fine-dining restaurants often feature the catch of the day. It's a small area, too, with a limited population, which adds to its exclusive feel (and makes real estate here hard to come by and highly sought-after). The central part of the port is where you'll find bars, markets, shops and restaurants.
Puerto Banús, Costa del Sol
Considered Costa del Sol's playground for the affluent, Puerto Banús is rich with entertainment, from beach clubs (and beaches, of course) to a vibrant nightlife. You can see the exorbitant lifestyle reflected practically everywhere, especially in the shops' designer names. And if you take some time to rest and people-watch while sipping a drink on the marina, you're bound to see celebrities and reality TV stars pass by. Alternatively, you can turn your attention to the sports cars and yachts if that's more your style.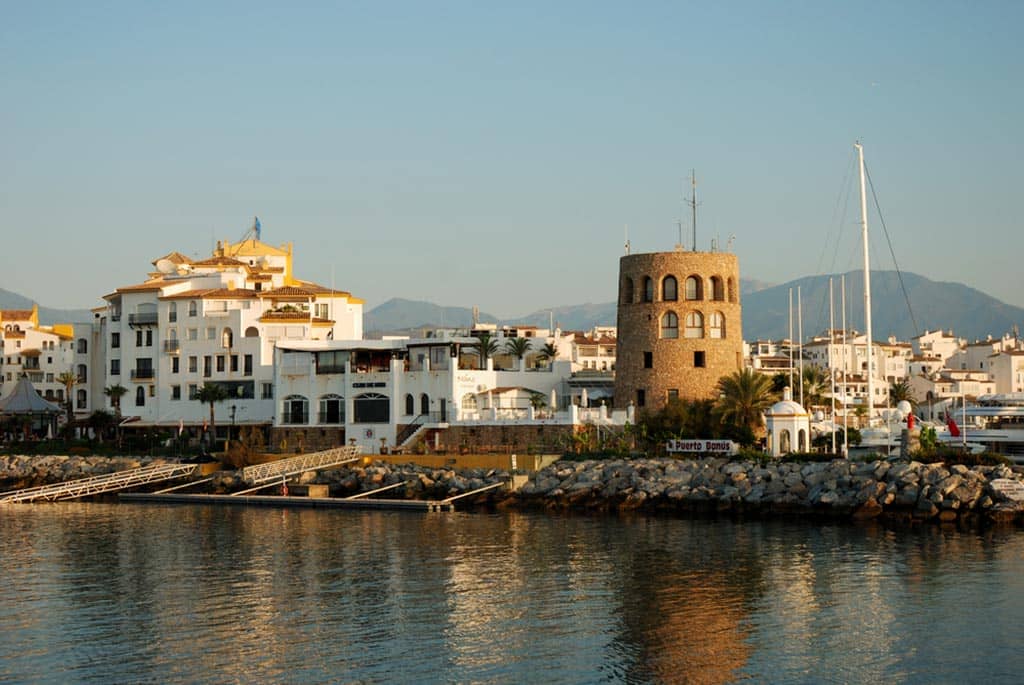 San Antonio, Ibiza
The dynamic resort of San Antonio is situated on an open bay, and is complete with cafes, clubs and water activities. From upbeat nightlife to unbeatable sunsets, the Sunset Strip is where you want to be for cocktails and a stunning view while the sun is setting. The seafront promenade is lined with bars, contributing to Ibiza's well-known reputation for being a party town. That means that San Antonio is non-stop fun, with an assortment of hot spots to choose from, whatever mood you're in.
Santa Eulalia, Ibiza
The beautiful town of Santa Eulalia is quiet and family-oriented, and it has plenty of gastronomic and cultural pursuits to keep everyone busy. Some of Ibiza's best restaurants can be found here, along with art galleries, shops, golfing and both athletic and adventure excursions. There is a nightlife scene, but it's a lot more laidback than what you'll find in other parts of Ibiza. Punta Galera is a must-visit spot, too. The breathtaking bay has rock formations that protrude from the cliffs, and the sea is great for snorkeling.
Sierra Blanca, Marbella
Referred to as the Beverly Hills of Marbella, Sierra Blanca is set in the La Concha foothills, with phenomenal views of both the city and the coast. Plus, you can be in town just as easily as you can head to the mountains. One of the top private schools – Swans International – is located here, too, as is a nine-hole golf course. Nearby is La Charca del Canalon, a river pool with waterfalls and rock pools.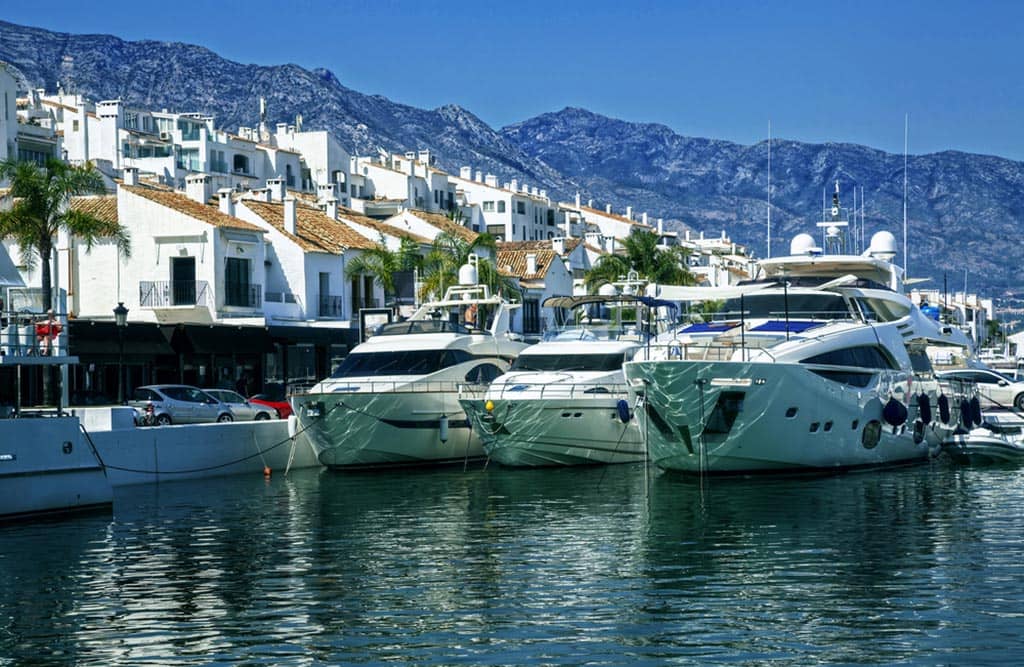 HOMEHUNTS property agents are able to select beautiful, luxury waterfront property in Spain based on your specific search criteria. Speak directly to one of our property consultants by calling +33 (0)970 44 66 43.