Everyone knows it's impossible to predict the weather, but if you want the best chance of excellent, ski-worthy snowfall in France, there are a number of resorts that you can bet on. The French Alps don't just have the best ski resorts in Europe – they're among the best winter-weather destinations in the world. There are options here for all levels, ages and interests, whether you want to hit the slopes from the early morning or you're more into après-ski festivities. In this guide we will outline some of the best French ski resorts for guaranteed snow.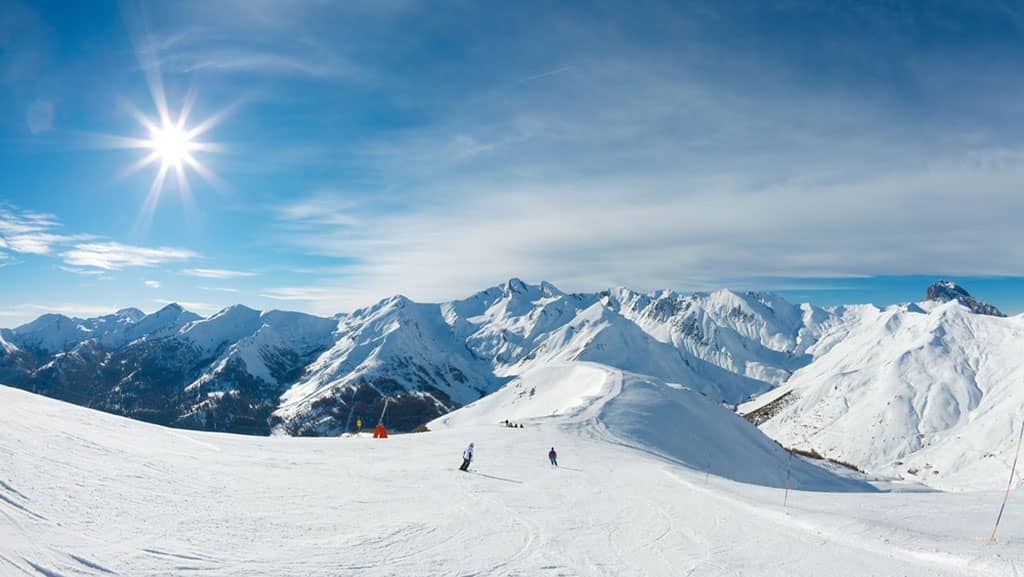 When is the Ski Season in France?
In late December, you'll be able to enjoy Christmas celebrations on top of skiing, snowboarding and other winter sports. In January, though, the crowds die down, which may be just what you're looking for – and you're almost certain to experience snowfall then, too. This makes mid-January the prime time to go on a ski trip to France. February is a particularly popular ski month for families, but by the time late March and April roll around, there may be more slush than snow. Don't write off early March, though – the snow's still good at that point and the weather's warming up just a tiny bit.
Best French Ski Resorts for Guaranteed Snow
Les Arcs
Les Arcs is made up of four villages, each with a distinct atmosphere, and it's linked with the La Plagne ski area, making it one of the biggest resorts in Europe. There are both traditional and modern parts of Les Arcs, with property types that range from apartments to chalets.
A majority of the runs in this ski resort are over 2,000 metres, making it an ideal spot if you're interested in very-high-altitude skiing. Plus, since the village is high above sea level and faces northeast, the snow sticks around into the spring season. Want to stay outside once the sun goes down? This resort offers night skiing, too.
Chamonix
While it may not be known for its altitude, Chamonix's ski season goes until May, which makes it more than worth a stay here. Plus, on top of the luxury apartments and chalets that are typical for France's ski resorts, you may also be able to find farmhouse property in Chamonix.
The resort is lively all year long, too, with a vibrant town centre and lively nightlife scene. During the daytime, you can do more than ski and snowboard, too, as the area is popular with extreme sports enthusiasts. That goes for the off-season as well, as adventure activities like hiking and paragliding are offered during the warmer months.
Courchevel
For the classiest skiing experience in Europe, make like an A-lister and head to Courchevel. Not technically a single resort, this is instead a collection of several separate resorts that are linked by pistes and lifts. It's a great option for beginners, too, as there are multi-lingual ski instructors available to help you learn.
Courchevel is where you'll find the most luxurious of ski chalets, along with designer shopping and fine dining. Yes, there's skiing too, of course, but you can enjoy the resort even if you never gear up during your time there, as the après-ski scene here is unbeatable.
Tignes
If you'll be traveling to the French Alps often or you want to buy a full-time or getaway home here, Tignes is the place to be for serious skiiers. The slopes are open for all but two months out of the year. Plus, it's where you'll find Grande Motte glacier, which is the highest point in Espace Killy, the ski circuit made up by Tignes and Val d'Isère.
This resort is also popular with families and students, and there's plenty of entertainment in town for those non-skiing days or nights. Here's something else to consider: Since Tignes is ski-ready almost all year long, many of the chalets here have ski-in/ski-out access, making it a prime spot to buy real estate if you plan to spend most days on the mountain.
Val d'Isère
Val d'Isère seems to have it all. Its high altitude and long seasons mean that snowmelt here is rare, and you'll also be treated to fantastic views of Mont Blanc. Also, should snowfall be less than expected, there's an artificial snowmaker so that the slopes can stay open. While not ideal for beginners, the resort does have a lot of options for intermediates and experts. Plus, the village is chock full of bars and restaurants that are perfect for warming up.
HOMEHUNTS Property agents are able to select beautiful, luxury ski chalets in the French Alps based on your specific search criteria. Search the HOMEHUNTS website and browse our selection of luxury homes or speak directly to one of our consultants by calling +33 (0)970 44 66 43.