Places to buy property near Cannes
From country estates to quaint houses with breath-taking views, the variety of properties and the lifestyle they can offer are good reasons to consider them in your French Rivera and Cannes property search. If you are looking to buy property near Cannes, maybe this will help. 
With golden beaches, stunning scenery and the Riviera coastline just a short drive from these stunning villages, buying property in these areas means you can enjoy a lifestyle that is tranquil, glamorous and diverse. As year-round destinations with the Alps behind, they are also offer good opportunities to buyers who need to rent out their properties throughout the year.
Old-world charm in Mougins
Perched up high inland between the golden beaches of Cannes and the perfume capital of Grasse, the medieval village of Mougins is one of the most coveted locations to buy property near Cannes on the Riviera.
Home to many famous celebrities over the years, including Edith Piaf and Christian Dior, Mougins is the perfect place to soak up old-world charm the French way. Mougins' pioneering gastronomic scene roots the village firmly into modern day excellence. With more Michelin stars concentrated into this area than in any other, there are scores of renowned restaurants serving delights you will savour forever.
Vibrant Valbonne
With its red and ochre townhouse facades overlooking sunny café terraces and bustling market stalls, Valbonne is the embodiment of authentic Provence. Located 20 minutes from Cannes, half-an-hour to the closest ski resort and an hour from Nice, Monte Carlo and Italy, you can easily create a diverse and ultra-luxurious lifestyle by living here.
Valbonne has a lively calendar of events which attracts visitors all year round, including the "Festival des Arts de la Rue'' in July, when arts, music, theatre and dance fill the streets. Residences located within walking distance to the village are the most sought-after in Valbonne due to the phenomenal lifestyle it offers.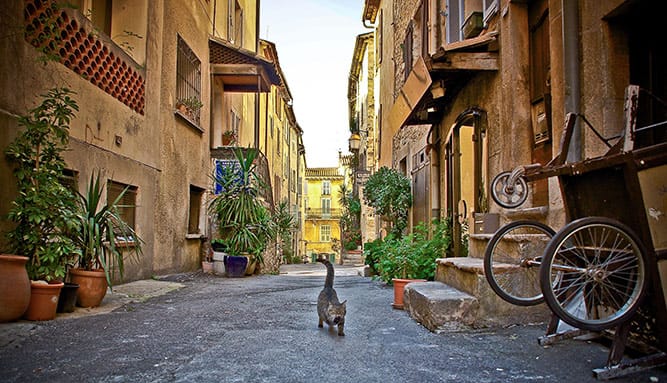 The perfume capital of Grasse
More than one million tourists visit the perfume capital of Grasse each year. Crowds flock to visit the boutiques of perfumeries Fragonard, Galimard and Molinard, and over the last few years a regeneration programme, called Espace Martelly, has brought new amenities and modernity to the centre. Expected to last until 2021, it has already attracted international buyers to the property market in and around the town.
Grasse has been overlooked in the past with attention from buyers focusing more on the coastal towns and other inland towns like Mougins, yet a holiday home here offers a tranquil yet sophisticated alternative to the more famous coastal resorts, especially during the busy summer season – and your budget will stretch further too. This is a little further inland but it is still an interesting place to buy property near Cannes.
Peace and quiet in Roquefort les Pins
Roquefort les Pins is located between Nice and Grasse, so at 30 minutes from the airport it is well positioned for flying in and out. Cannes' high life and glitz is just a 40-minute drive away, meaning that you can enjoy all the entertainment it has to offer, yet return home to a quiet and tranquil location. Roquefort les Pins is largely off the tourist map so it doesn't become overcrowded during the summer, and it has an excellent range of amenities.
Olive trees and micro-climates in Opio
Opio is a bastide village, surrounded by the beauty and tranquility of olive trees and pines. In a peaceful position, yet not far from Cannes, it is an excellent place to settle if you are looking for an authentic French Riviera lifestyle. It also offers a glorious micro-climate – the reason why it cultivates jasmine and roses for the perfume industry in Grasse.
It takes just 15 minutes to get to the coast from Opio and the village is also around 40 minutes from the nearest ski resort. With the airport of Nice just being half-an-hour away, it's also well connected. There many wonderful restaurants to enjoy in the area, such as in Tourrettes-sur-Loup and Valbonne, which are just a few kilometres away.
If you are looking to buy a property in these villages, you can search online at www.home-hunts.com, but if you would like to speak to a consultant directly about your property criteria, then call +33 (0)970 44 66 43. Follow us on Facebook