Types of French Property
There are many different types of French property to be found in France. Often though, the terminology can be very confusing as certain property types can only be found in specific places. For example, you won't find a chalet in Provence as chalets can only be found in the French Alps. Similarly, you aren't likely to find a mas on the French Riviera, as mas properties are set in the countryside, not by the sea.
For this reason, it can be difficult to find the perfect French property if you're not familiar with the types of homes you'll come across in your search. Since property type and location can go hand-in-hand, you'll need to think about both when searching for the perfect home in France.
Bastide
The word "bastide" can be used to describe property or it can refer to a fortified medieval town from the 13th or 14th century. Bastide-style homes are square or rectangular stone properties designed with practical layouts. Some have a ground-level archway leading to a veranda, a nod to the archways that were commonly found in bastide towns.
Originally the homes of wealthy farm families, bastides are most commonly found in the Aquitaine or Midi-Pyrénées regions, but they can also be found in Provence. Large and elegant, bastides typically have tiled, almost-flat roofs and stone walls that are either whitewashed or coated with stucco.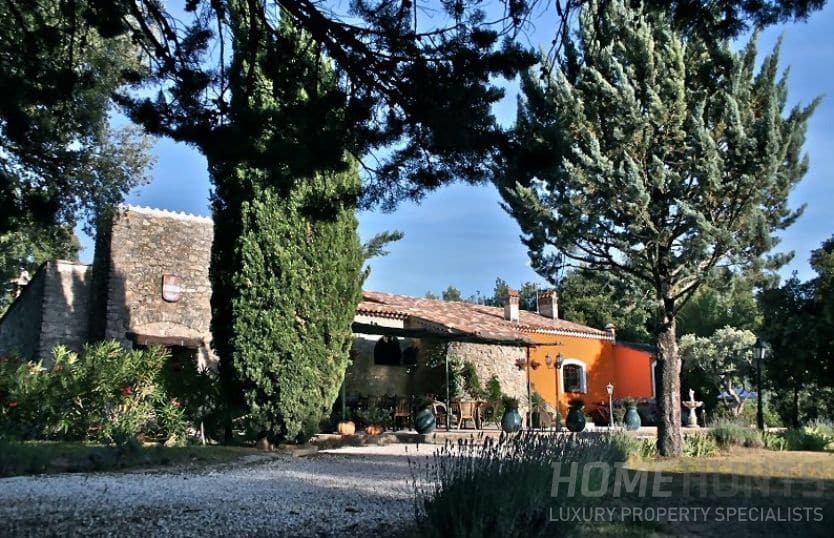 This bastide in the Var dates back to 1616 and was renovated in 2011. It has seven bedrooms, tons of outdoor space for dining and swimming, and a separate caretaker's house.
Chalet
Chalets are most commonly found in the mountains and, as you could have guessed, are popular amongst skiers. They're built to withstand intense weather, evident in their gabled roofs and thick, overhanging eaves. Traditional features of chalets are stone ground floors and wood construction, and modern chalets are outfitted with luxuries like gourmet kitchens and hot tubs.
The original chalets were built as huts for animal herders and were smartly placed along the annual migration route. Though they're popular now during the winter, they were once used only during the summer when animals were in their pastures.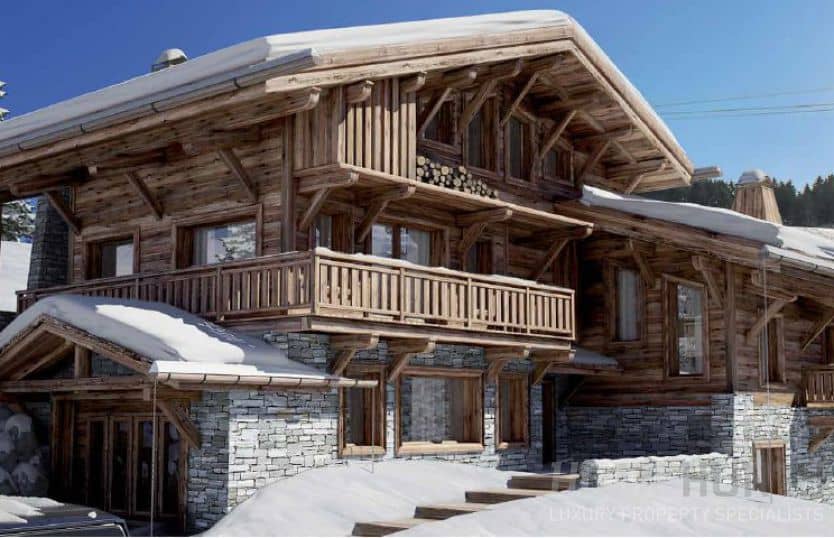 This chalet in Megève has an indoor pool, outdoor terraces, ski-in/ski-out access and a convenient lift. Its layout is unique, with full floors as well as half-levels.
Chateau
While several types of French buildings are referred to as chateaux, most all of them are grand and prestigious. Many of them sit on plenty of agricultural land and have been restored in recent years with modern features. Other common characteristics of chateaux include long driveways, spacious entrance halls, plenty of space for hosting guests and breathtaking views.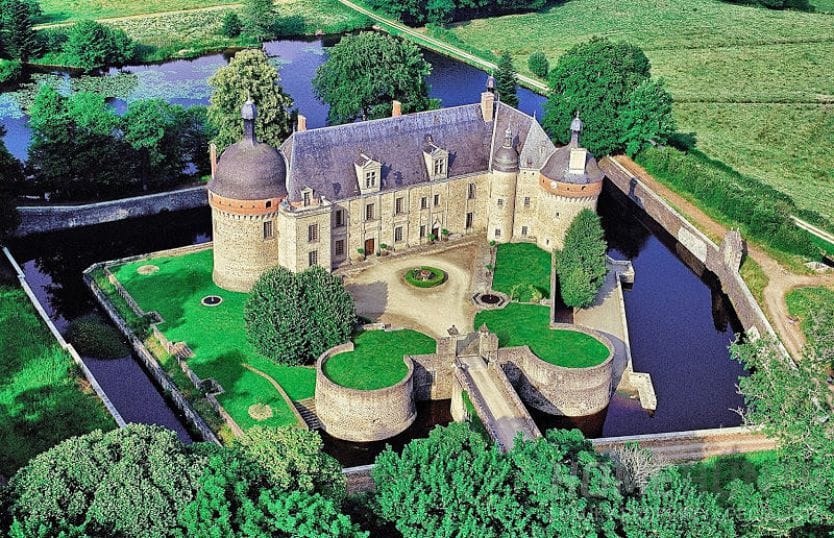 Chateaux were once owned by nobility or royalty, but contrary to popular belief, a chateau is not actually a castle. Instead, it's a country or manor house, also sometimes described as a palace. This pentagonal, six-bedroom chateau in Guéret is stunning both inside and out, with refined furnishings, ancient fortifications and rich history that dates back to 1533.
Maison de Maitre
The maison de maitre, which translates to "master's house," is an elegant mansion set in a town or village. Features include a symmetrical exterior and a practical layout inside, plus high ceilings, four main rooms on each floor and fireplaces. It's also common for a maison de maitre to have a large garden.
Once upon a time, these homes belonged to squires or minor landowners, and many of them have retained their original features. Before going on the market to the public, many of these properties were passed down through the generations.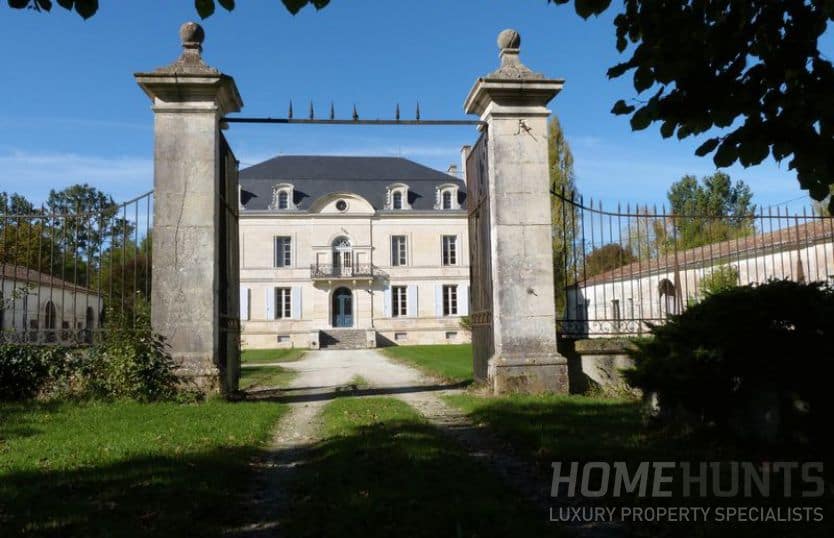 This maison de maitre in Bordeaux has a private drive to the front of the home and a small river at the foot of sloping lawns. The mansion also has eight bedrooms, a tennis court and two additional buildings.
Mas
A mas is a medium- or large-sized rural property set in the countryside, and they're most commonly found in southern France, particularly Provence. Built with inexpensive, locally-sourced clay, stone or wood materials that vary based on location, the mas may be part of a farm or vineyard property. The size of the mas is related to how wealthy the original occupants were.
These homes were once completely self-sufficient. The property could produce everything from milk and grain to meat and produce. Animals would be housed on the ground floor and bedrooms and food storage would be located on the upper floors.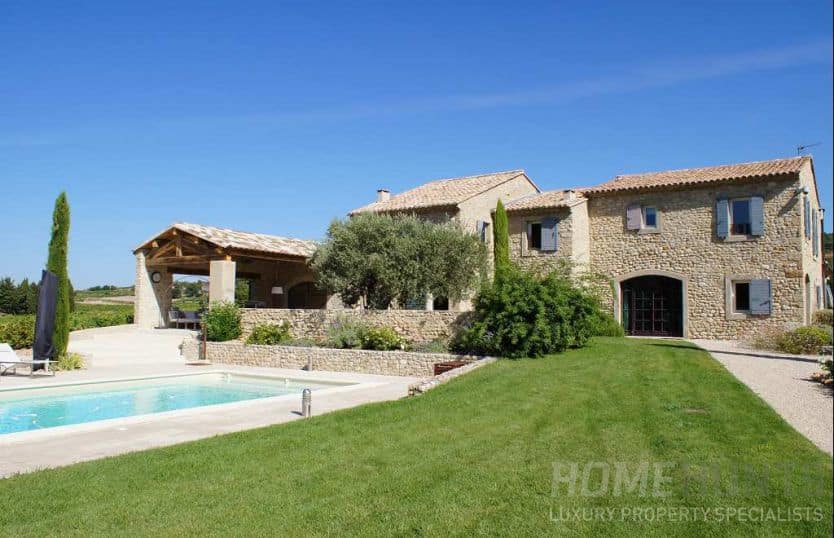 This restored, five-bedroom mas in Vaucluse has a farmhouse kitchen, an outdoor playground for kids, an orchard and a vineyard. It's also being sold fully-furnished.
HOMEHUNTS property agents are able to select beautiful, high-end, luxury French property based on your specific search criteria. Use the property search to browse our selection of luxury homes. Alternatively, you can also speak directly to one of our property consultants by calling +33 (0)970 44 66 43. Follow us on Facebook