Luxury Coastal property
Sunshine streams through your floor-to-ceiling windows, gently waking you up and calling you out to the terrace for a glimpse of the Mediterranean's sparkling waters. You wander into your fully-fitted kitchen to make a fresh pot of coffee, then an hour later you're out the door and on your way to a day of shopping, dining and soaking up every ounce of natural beauty the coast has to offer. When you choose a waterfront property in France, this is exactly the lifestyle you can look forward to.
If you're thinking about investing in a luxury coastal property in France, where should you be looking? Where are the best places to invest your hard-earned cash? Let's take a look at the main locations that'll give you a blend of opulent living and stunning sea views.
Cap d'Antibes
Cap d'Antibes runs from Antibes to Juan-les-Pins, and it's an area full of hills, woods and fantastic views. Take a stroll through the botanical garden created by Gustave Thuret in the mid-1800s. If it's too hot to do anything but swim, go to one of the area's beaches. There's great snorkeling in the rocky coves, but if you don't catch sight of sealife, venture right outside of Antibes to Marineland.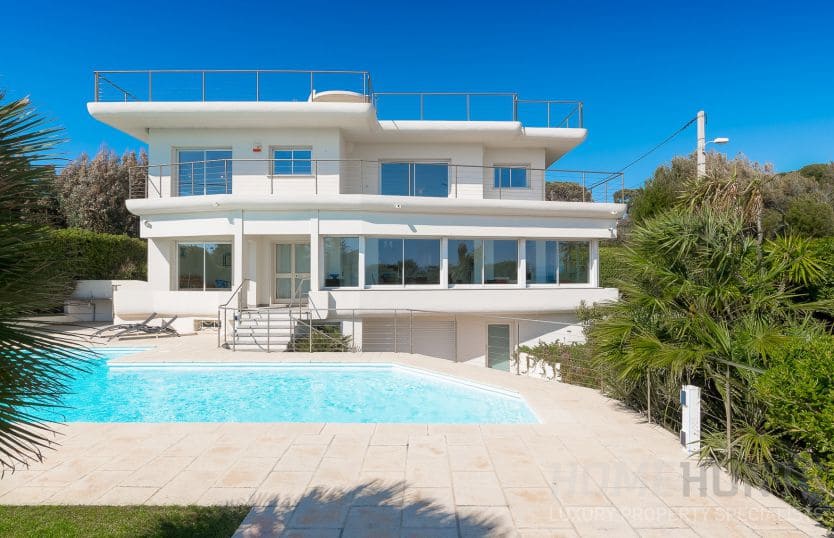 While it's close to La Garoupe beach, this modern seafront property in Cap d'Antibes has its own pool in case you feel like staying home for the day. The master bedroom has its own bathroom and a private terrace, and there are three additional bedrooms as well as a separate apartment. Other features include multiple parking spaces, an alarm system and electric gates.
Èze
Èze is filled with winding streets and stunning views, with yachts docked on the water and lovely communities set in the hills. As you make your way through the stone streets of the historic section, you'll feel like you're back in Medieval times – it won't be long, though, before you spot a contemporary art gallery or a mouthwatering café. For some of the best views you'll find, head to the Jardin Exotique d'Éze, which has panoramic views of the sea, plus paths that take you past statues and interesting indigenous plants.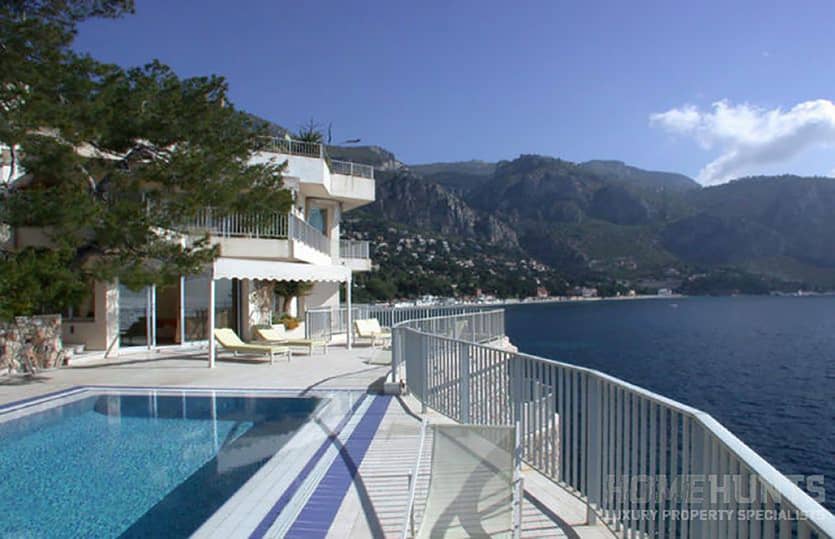 This waterfront property in Èze has panoramic sea views and direct access to the water, plus a heated swimming pool, pool house and Jacuzzi. Inside the home you'll find four bedrooms and a separate caretaker's apartment. There's also an office, terraces and enough parking for four vehicles.
Roquebrune-Cap-Martin
Roquebrune-Cap-Martin has three sections to explore. The peninsula of Cap Martin has luxury homes that look out over the water; there's a contemporary resort town right on the coast; and above it all is the historic village. You won't be able to miss Château de Roquebrune-Cap-Martin, the area's best-known landmark. Once you're back to the coast, wander along Promenade Le Corbusier, which would take you all the way to Monaco if you felt like walking for two hours.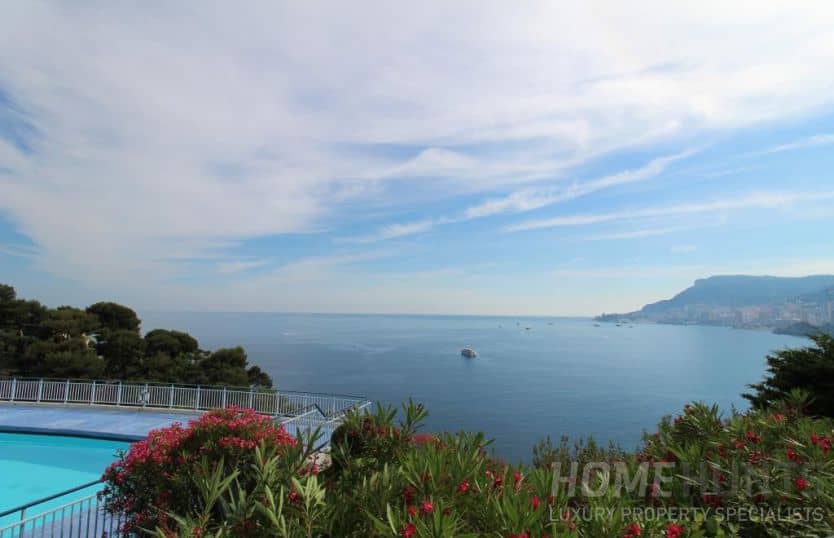 If you don't need an entire house to spread out in, consider a luxury apartment instead. This bright, three-bedroom apartment in Roquebrune-Cap-Martin has an equipped kitchen, a large patio and a gorgeous pool that looks over the Bay of Monaco.
Saint-Jean-Cap-Ferrat
Saint-Jean-Cap-Ferrat, the main town of Cap Ferrat, has a petite town centre and a harbor that attracts small boats. Get ready to snap some photos, because the brightly painted houses here are completely picture-worthy. Paloma Plage is an exclusive and popular beach, with a seafood restaurant that has possibly the prettiest setting you'll ever dine in. The next morning, go on a jog along the Cap Ferrat coastal walk.
Make this charming farmhouse in Saint-Jean-Cap-Ferrat your new home and wake up to views of the Med every morning. The gorgeous outdoor patio is partly covered and partly open, allowing you to relax under the sun or dine in the shade, whichever you prefer. Indoors, there are four bedrooms with full bathrooms and an independent apartment for guests.
Saint-Tropez
Saint-Tropez has it all, whether you're craving a wild night in buzzing bars or more interested in checking out art, indulging your inner foodie or lounging on the beach. This is also a highly fashionable part of France, with no lack of high-end boutiques and stylish beachwear. Film buffs will want to stroll around Saint-Tropez to spot where some of their favorite scenes were filmed.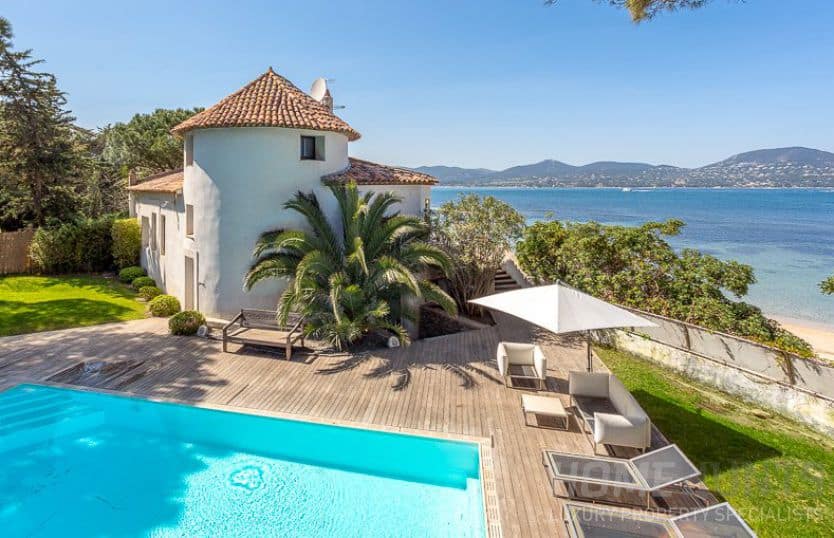 This Saint-Tropez waterfront property is the quintessential holiday home, with direct beach access, four bedrooms, and a living room that opens onto a terrace. It's just a short walk from the town centre and offers views of the bay and the village. The property also includes a small caretaker's house and the ability to add to the upper floor if you want more space.
HOMEHUNTS property agents are able to select beautiful, luxury coastal properties based on your specific search criteria. Search the Home Hunts website to browse our selection of luxury homes. You can also speak directly to one of our expert property consultants by calling +33 (0)970 44 66 43. Follow us on Facebook