Time in Dordogne moves indulgently slow, which is what you need in order to take advantage of the countryside landscapes, delicious cuisine and unique way of life. Most of the homes here reflect rural England and have stunning views of the river, hills or wilderness. Take as much or as little time as you need to see beautiful, historic Dordogne, and consider these five stellar properties if you're planning to live out your dream life in one of France's loveliest areas.
1. Stunning 12-bedroom Chateau in Périgueux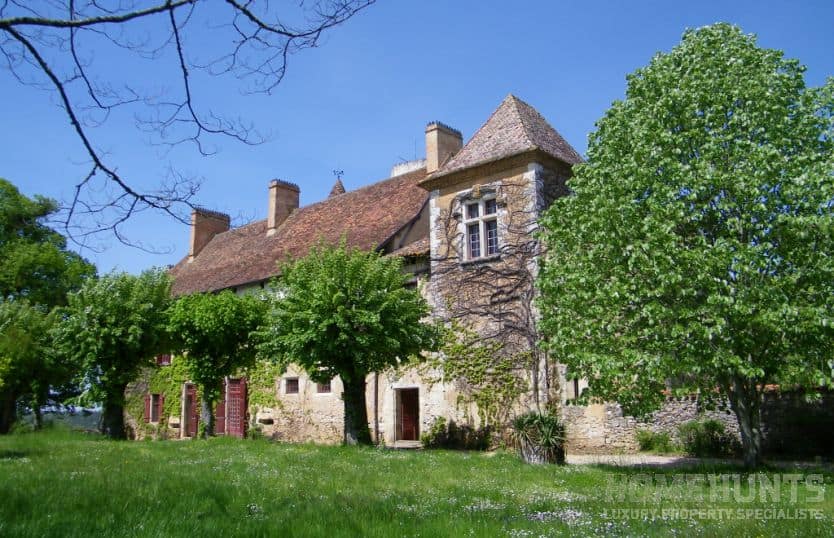 This 12-bedroom chateau in Périgueux is set on 125 hectares at the end of a bridle path. Built by the Templars in the 13th century, the castle has an authentic dungeon and is protected by a perimeter wall, battlements and a fully-resorted fortress. Though overflowing with history, the estate has also been fitted with modern comforts, and it also boasts a lookout room and a walkway that overlooks the property. Take in the garden views and tend to the three independent farms, one of which has a riding school and stables with 12 horse boxes.
2. Two Architect-Designed Properties in Perigueux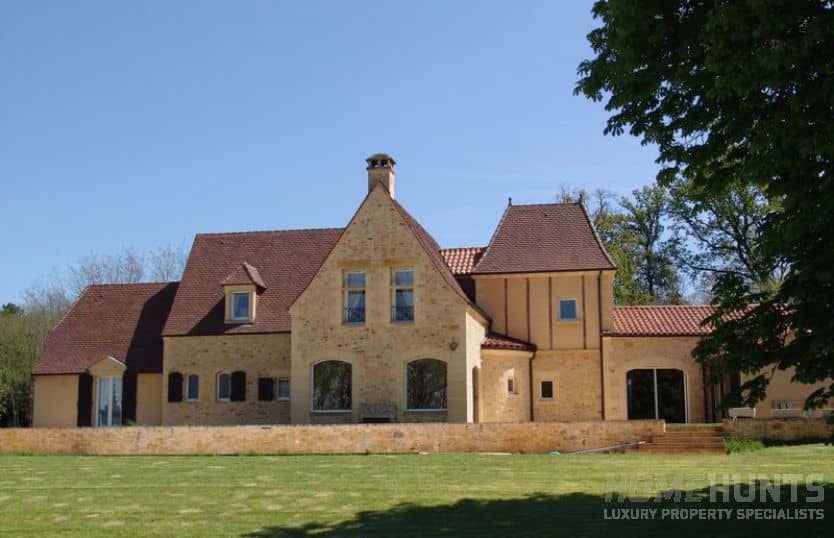 Close to the Sarlat area and its many amenities, and under an hour from Bergerac, this estate has two architect-designed properties built in the Perigourdine style. In addition to a three-bedroom stone house and a pool, there's also a four-bedroom home with two garages; gated and fenced grounds; and the latest environmental technology. The estate also has underfloor heating and separate videophone entry driveways for each house.
3. Stunning Winery in the Bergerau Region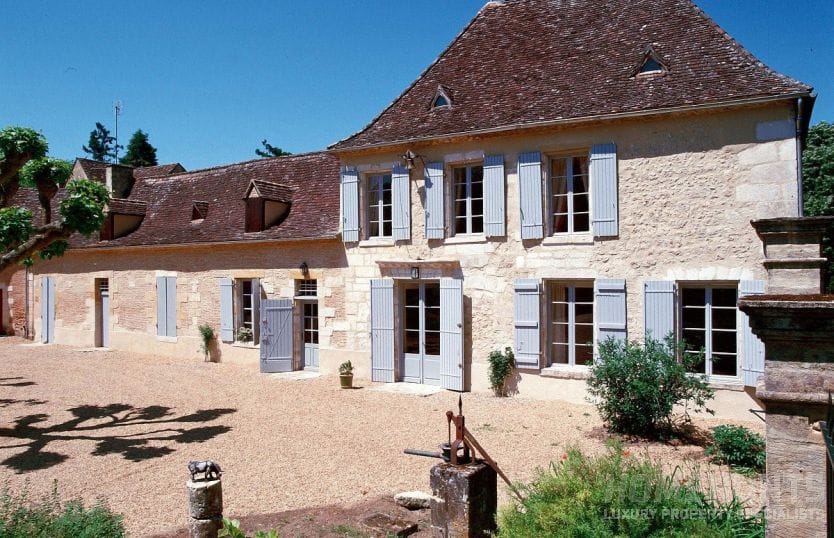 Set in the Bergerac region, this seven-bedroom home also has a commercial vineyard, an outbuilding with the ability to host weddings, and farm buildings that include a barrel cellar and a range of winemaking necessities. Along with 15 hectares of producing vines, 10 hectares of meadows and eight hectares of mature parkland, there are rare species planted on the property, like cedars, magnolias, American Redwoods and silver lime trees.
The chateau has grand reception rooms, offices, six bedrooms with en-suite bathrooms, and additional independent accommodation with four rooms. The home's authentic elements have been preserved, including the stonework, timber inlaid walls, woodwork, chimneys, tomette tiles and bread oven. If you need more space, the loft can be converted.
4. Amazing 18th Century, 8 Bedroom Chateau in Perigueux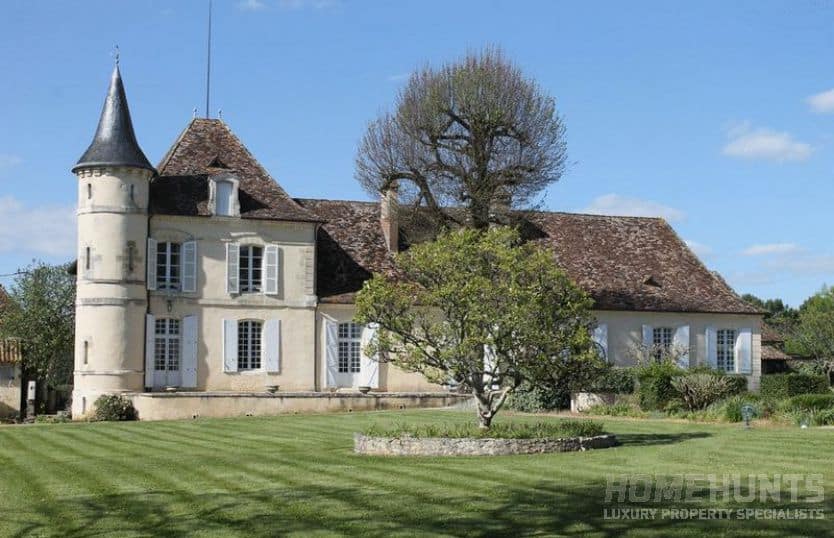 Originally built in the 18th century as a hunting lodge for royalty, this eight-bedroom chateau sits on 30 hectares along with traditional outbuildings like a large party barn and circular pigeonnier. Retaining its original charm and character, the home has six spacious bedrooms, reception rooms, doors and windows that open onto formal gardens and terraces, additional living space on the grounds, and a heated, covered swimming pool.
5. Breathtaking 16th Century Castle in Nontron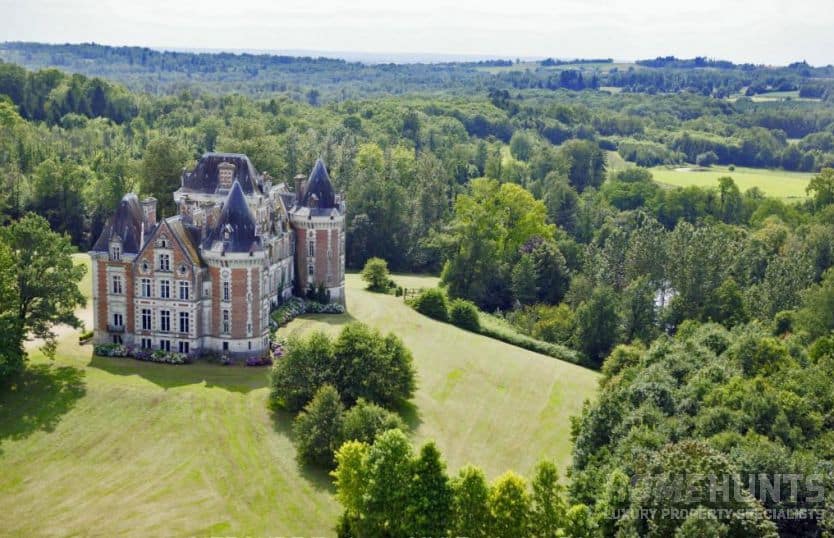 With unique additions unlike many other property in France, this 30-hectare Nontron estate has everything from a chapel and oak library to equestrian facilities and a small golf course. With reception rooms, 19 bedrooms and over 50 rooms total, this 16th century castle was created in the lovely, symmetrical style of the Second French Empire. Originally built for the friends and family members of King Henri IV, it was remodeled and improved around 1870. Surrounded by ancient forests, green lawns, lakes, ponds and a rose garden, this home also has a private entrance gate, open fireplace and grand staircase.
HOMEHUNTS are luxury property buyers agents who are able to select beautiful, high-end Dordogne property based on your specific search criteria. Use our property search to browse our selection of luxury homes for sale. You can also speak directly to one of our property consultants by calling +33 (0)970 44 66 43.