A modern metropolis with a legendary reputation, Bordeaux is brimming with luxurious experiences – here are Home Hunts' top five…
Bordeaux is the fifth most visited city in France, welcoming more than five million visitors each year. With chic boutiques, world-class wine and gourmet restaurants in abundance, Bordeaux is a joy to explore and a perfect base from which to discover local vineyards and the sandy beaches of the Atlantic coast.
Spending time in Bordeaux is always special, but if you are seeking suggestions for some ultra-luxurious things to do in Bordeaux, here are some ideas.
Buy a luxury home in the heart of Bordeaux
The Jardin Public has been one of the most popular places to visit in Bordeaux since it was built in 1746. A beautiful ten-hectare space filled with colourful flowers and tall trees, as well as 18th-century buildings, bridges, lakes and a children's play area, properties within walking distance are in high demand.
This stunning, ultra-chic five-bedroom home (HH-11106035) is perfectly located near the Jardin Public so the gardens or Bordeaux itself can be accessed easily whenever desired. But if you prefer to stay in, spending time at home here is always a luxurious experience as there is a glorious indoor swimming pool, hammam and Jacuzzi. A rare opportunity to acquire such a unique and well-renovated home in such a coveted location, this property is on the market for €3,430,000.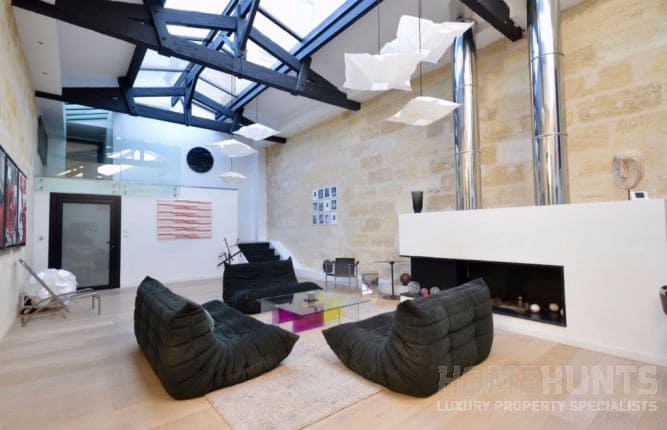 Stay in a stylish Bordeaux hotel
Bordeaux is an exquisite fusion of old and new. While the old town is on the UNESCO World Heritage List as "an outstanding urban and architectural ensemble", on the famous Place de la Bourse, the Miroir d'Eau is a modern masterpiece and the largest reflecting pool in the world.
The newly opened Yndo hotel in the city centre captures Bordeaux's unique personality with its luxurious contemporary and eclectic interiors inside a traditional grand 19th century building. Exclusive, yet playful, this is a super deluxe accommodation experience in Bordeaux, especially if you stay in the top suite.
Dine by Europe's largest sand dune
The Côte d'Argent, or Silver Coast, runs for 200km along the Atlantic coastline west of Bordeaux. Around an hour away from the city centre in Pyla-sur-Mer is the largest Sahara-desert-like sand dune in Europe. A popular tourist attraction, it is an incredible sight at 2.7km in length and 110 metres above sea level and well worth exploring.
After visiting the dune savour an exceptional lunch at La Corniche, a restaurant designed by Philippe Starck that is renowned for its magnificent menu. Dine on the terrace for a breath-taking view over the ocean, the dunes and the village of Cap Ferret – a small sandy peninsula known as the French oyster capital – for a luxurious, unforgettable experience.
Take a VIP wine tour
From Pomerol to Saint Emilion, the Bordeaux wine region is famous for producing some of the best wine in the world. But once you've established which vineyards you wish to visit for some serious wine tasting, what is the best way of travelling around and making sure you see and taste as much as possible?
There are many companies organising VIP wine tours in the area, so whether you want to be chauffeur driven around the Médoc, take a private tour of all the great estates, or indulge in an exclusive private jet day trip in and around Bordeaux, there is a luxury wine experience to meet even the highest expectations.
Indulge in the best of the golden triangle
Antique shops and art studios are plentiful in Bordeaux's streets, but it is the "golden triangle" between Cours de l'intendance, Cours Georges Clemenceau and Allée de Tourny which is home to the most exclusive brands such as Louis Vuitton, Cartier, Hugo Boss and Dior.
Within the triangle you will also find the Grand Hotel de Bordeaux & Spa, which offers a more personalised accommodation experience where no two rooms are the same, and has a Michelin-starred restaurant, Le Pressoir d'Argent, where a special lobster dish can be made at your table.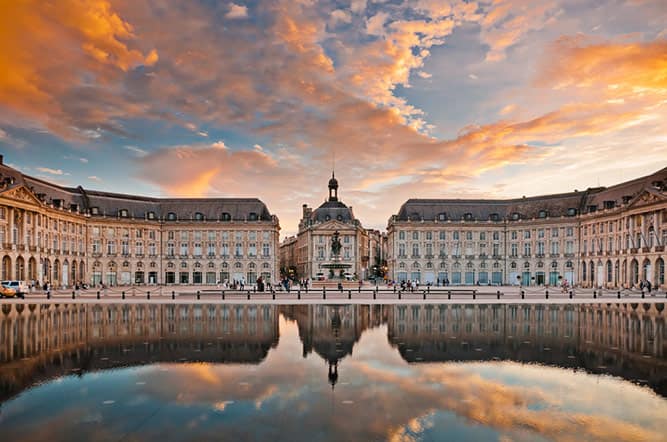 If you are looking to buy a property in Bordeaux, you can view Home Hunts' impressive online portfolio at www.home-hunts.com. To speak to a consultant about other luxurious ways to spend time in Bordeaux or to discuss your specific real estate needs, call +33 (0)970 44 66 43.