Luxury properties for sale in Mougins
Mougins sits on top of a hill in the sought-after French Riviera, a short 15 minutes from Cannes and preferred by expats for the international Mougins School. Luxury golfing and lush woods surround the village and its charming medieval centre. Just like the rest of the area, Mougins is glamorous, appealing to jet setters and the rich and famous.
When you live here, you'll be able to dine at premier restaurants, unwind at a luxury spa or stroll around a museum or garden whenever you wish.
Luxury properties for sale in Mougins range from classic to contemporary, but all of the homes seem to share a few must-have qualities: sprawling pools, manicured grounds and unbeatable views views. Consider these four Mougins properties if you're looking to live the enchanting French Riviera lifestyle.
Mougins villa with stunning landscaping
This 10-bedroom villa in Mougins has gorgeous landscaping, a breathtaking pool and pool area, and offeres the utmost in privacy thanks to the surrounding protected forest. The garden was designed by famed landscape artist Jean Mus, and the property also includes 2.5 acres of vineyards with more than 6,000 vines. The main villa, guest house and caretaker's house are all in perfect condition, offering panoramic views of the surrounding hills.
House in Mougins with a mix of classic features and modern design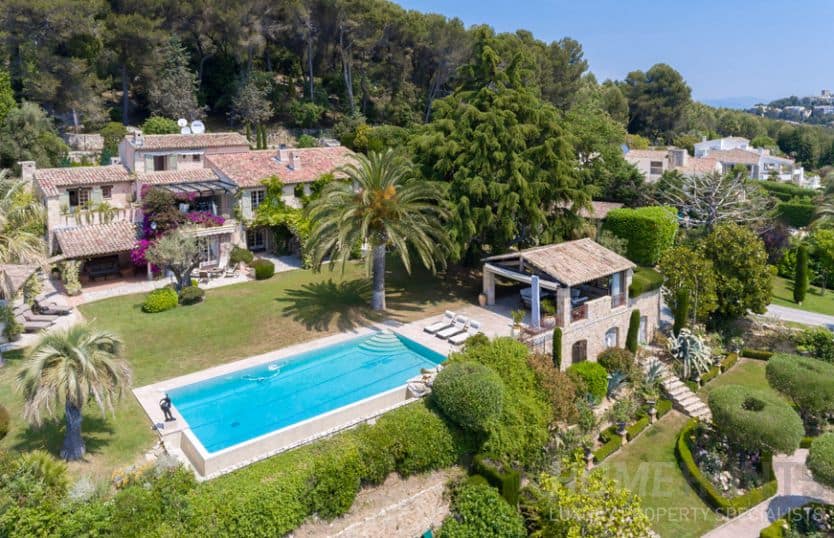 This five-bedroom house in Mougins has a lovely mix of classic features and modern design, and the quiet setting creates your own little haven. The home has a living room, dining room, kitchen and master bedroom with an en-suite bathroom, plus four more suites with en-suite bathrooms. The property also has a hammam and a massage room, plus automatic garden watering. Enjoy views of the Mediterranean from the landscaped garden and soak up as much sunshine as you want in the infinity pool and lounge area, which will make you feel like you're on holiday.
Modern villa in the Mougins hills
This modern villa in the Mougins hills has six bedrooms, ultra-modern exterior lighting and floor-to-ceiling windows in several rooms. The cubic home is situated in a protected, landscaped, fenced park, and the property has guest parking and a double garage, plus a rooftop terrace. The massive living room, which has high ceilings that give a cathedral effect, opens onto a south-facing terrace. The property also has five bedrooms with en-suite bathrooms, a large swimming pool, a spa and a Jacuzzi. Overall, the home is fitted with state-of-the-art equipment and high-end fittings.
Mougins house with Mediterranean views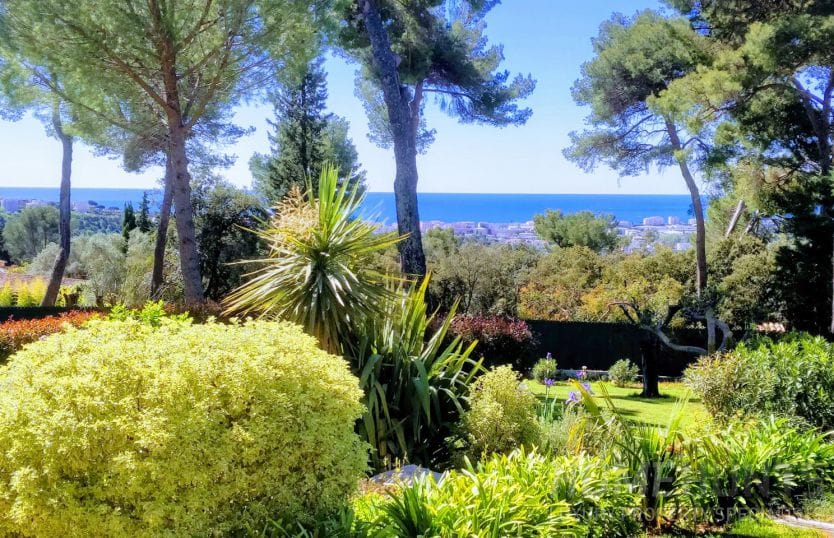 Spacious and with views that look out onto the Mediterranean, this six-bedroom house in Mougins is peaceful and lovely. The main part of the home has five bedrooms and three bathrooms, and there's a separate, one-bedroom apartment located on the ground floor. The property also has an infinity pool, cinema room and wine cellar, plus plenty of storage.
HOMEHUNTS are luxury property buyers agents who are able to select beautiful, luxury properties for sale in Mougins based on your specific requirements. Search our website and browse the stunning selection of luxury homes. Alternatively, you can also speak directly to one of our property consultants by calling +33 (0)970 44 66 43.