If you are seeking a property investment in the South of France that will also give you an idyllic Riviera lifestyle, make sure these property hotspots of the French Riviera are on your search list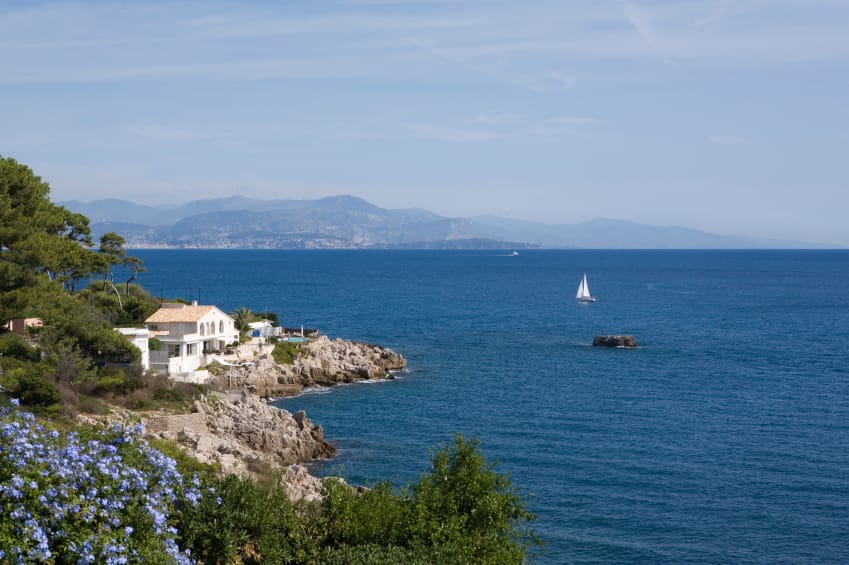 The Riviera has always been a popular destination, especially with the Brits. Queen Victoria was keen on holidaying here and it became fashionable to visit during the winter too, the milder climate considered far more healing than the rather chillier British one. Since the 18th century it has continued to grow in popularity and is now one of the most fashionable locations in the world.
Why buy on the Riviera?
"People buy here because of the climate, the sea, the stunning scenery, food and accessibility," says Tim Swannie, Director of Home Hunts. "There are superb beaches and the Alps are just behind – so even in winter you are less than an hour from the nearest ski slopes – it is a real year-round destination."
Such coveted coastlines come at a price and while the Riviera also has some of the most expensive real estate in the world, Home Hunts observes year after year that prices remain relatively stable, even after the crash of 2008-2009.
"Prices are now on the way back up and have been for the last year or two," says Tim. "No boom, but a slow and steady increase."
Incomparably Cannes
Cannes is unique and if you're looking for a sound real estate investment it should be firmly on your French Riviera radar.
According to Savills' latest "second home spotlight" report, tourist growth of 13% in the Mediterranean region outperformed every other market in the world. The rise goes hand-in-hand with the growth of the sharing economy and with the increase of rental marketplaces, such as Booking.com and Airbnb.
This makes it easier for owners to rent their property out, especially on the Rivera where over 11 million tourists visit each year. Today it is common to invest with that intention and 50% of Home Hunts' clients are seeking holiday homes that can partly or completely pay for themselves.
Home to a star-studded and internationally celebrated film festival, a thriving congress market (which brings in rental income all year round), yacht-filled harbours, dazzling designer boutiques and miles upon miles of fine golden beaches, it is no wonder properties in Cannes are so sought after.
The cream of the crop in Cap d'Antibes
Cap d'Antibes is consistently popular with Home Hunts' clients. An idyllic location for a property, this charming peninsula has long been one of the most desirable places to live on the Riviera.
"Most buyers on the coast know the area well and have stayed locally on several occasions," says Tim. "This area has famous hotels and world class restaurants, wonderful beaches and great lifestyle."
You will find the world-renowned Hôtel du Cap-Eden-Roc on the southernmost tip of Cap d'Antibes, which is usually frequented by stars and the global elite, especially during the Cannes Film Festival.
It's even said that Picasso designed the menus of the hotel at one stage. The Picasso Museum is just down the road in Antibes, it was formerly Château Grimaldi where Picasso once rented a room. Guy de Maupassant, Ernest Hemingway, F Scott Fitzgerald and the Duke and Duchess of Windsor are few more famous names among the many who have chosen to settle in Cap d'Antibes.
Authenticity rules in Théoule sur Mer
The pretty beach, the charming little lighthouse and the red rock of the Estérel makes Théoule sur Mer a hotspot for those looking for a Riviera property. As the surrounding area includes mountains as well as lush leafy spaces, this is a peaceful haven away from the bustle of the busy Riviera resorts.
Just 15km from Cannes, half-an-hour from Nice airport and with several little marinas, it is easily accessible by plane and by boat and meets the expectations many holiday home investors have for their real estate.
The sandy beaches and prestigious hillside properties make Théoule sur Mer a top choice for buyers looking for an authentic Riviera resort. It is also renowned for its spectacular trails (for hikers and mountain bikers) – one of the most popular takes you to the hilltop statue of Notre Dame d'Afrique, which provides spectacular views over the îles de Lérins.
Magnificent lifestyle in Villefranche sur Mer
Villefranche sur Mer is another gem on the Riviera coastline with a highly coveted property market. Part of the Pelagos Sanctuary, a maritime zone that protects marine life in the area, there are some remarkable sites to explore and be surrounded by should you choose to live here.
From the 18th century Royal Port marina (which is listed as a historical monument) to the 16th century citadel of Saint Elme and Saint Pierre chapel there are many landmarks and sites of note to visit and enjoy.
"The bay of Villefranche has been voted the most beautiful bay in Europe several times and contains some of the world's most expensive properties," says Tim. "It is only 12km from Nice airport, so it is very easy to fly in and out, which is a high priority of many of our clients."
Always Nice
If you are looking for a coastal city with a packed events calendar then Nice can easily tick that box. From art exhibitions to carnivals, flower parades and theatre shows, every day brings something new in this vibrant wonderland.
"Nice is a fantastic city which is constantly improving," says Tim. "There is always something going on, whether in the heart of town or tucked away in the hills."
Nice is one of the locations which is likely to provide good long-term investments to buyers. The work on public transportation in the area brings enormous benefits to buyers and for a property's rental potential.
"They are just finishing the tram that will link up Nice airport and the city and this has really helped to increase interest in the area," says Tim. "You can literally land at the airport and walk out straight onto a tram and be downtown in 10 mins or so."
Why now is the time to invest
Home Hunts' data and insights show that the Riviera market has been very buoyant over the past 12 months, with prices rising and set to continue.
"We expect a great year this year and we are very hopeful for a positive outcome to Brexit," says Tim. "If the UK leaves with no deal then this will undoubtedly have an effect for our British buyers, but this will not have an effect on the market generally because there has been a real increase of interest from other nationalities over the past two to three years."
If you are looking to buy a property on the French Riviera, you can check out prime properties online at www.home-hunts.com, but to speak to a Home Hunts consultant about your criteria and requirements, call +33 (0)970 44 66 43. Follow us on Facebook