Purchase a Luxury Holiday home in France
Location isn't the only reason to purchase property (though if it were, France would still be a list-topper). Other important characteristics of a real estate destination are optimism and stability, not to mention timing – when you buy is just as important as where you buy your luxury holiday home in France.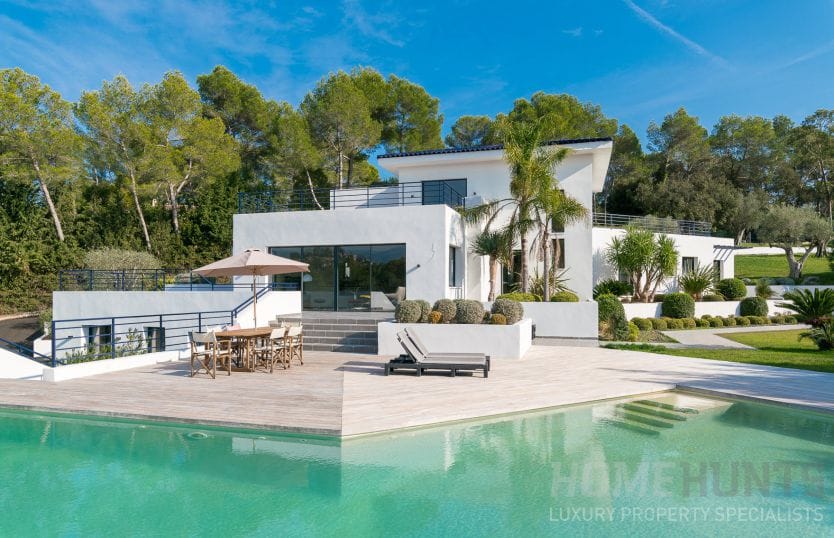 Since the end of 2016, and particularly since the 2017 French presidential election, buyers have been scooping up property much more than the years before. Many have come from Brussels and London, taking advantage of the historically-low pricing. The more rural the home, the better the deal, but even properties in places like Paris have attractive prices.
1. Luxury holiday home in France – All Shapes and Sizes
There are so many types of holiday homes in France that buying just one may not feel like enough. Contemporary homes are fitted out with smart devices and tech, like cappuccino makers and lighting you can control remotely; room monitoring so you can keep an eye on the kids; and underfloor heating to make chilly mornings much more pleasant.
Eco-friendliness is a cornerstone of some luxury homes in France, too, with building materials that prioritise sustainability, gardens landscaped using local plants and flowers, and infinity pools that blend in with your surroundings. There's also the traditional estate, of course – countryside chateaux with views of the hills, top-floor apartments in Paris bathed in light or oceanfront mansions in Saint-Tropez with private beach access.
2. Paris Has it All, and at an Alluring Price Tag
Paris is a hub of culture and fashion, but it's also steeped in history as a UNESCO World Heritage. In terms of modern working ranks, it comes in a respectable third after London and New York in areas such as connectedness, competitiveness, performance and power, according to a Savills report. It's a tourist attraction, sure, but it's also a city of business opportunities and home to a number of international headquarters. Since the housing market was in a slump for a while, homes in Paris are priced better than usual right now.
3. Ski Chalets are Incredibly Easy to Access
When you picture a beautiful ski chalet towering atop a snow-capped mountain, "accessibility" isn't the first thing that springs to mind. Those homes are gorgeous, yes, but easy to access? It doesn't seem like it.
You'd be wrong, though – the Savoie and Haute-Savoie departments of the French Alps are only an hour or so from the Geneva Airport, which has numerous non-stop flights to and from London. Skiers who want to arrive on Friday evening and head home Sunday afternoon can be at their luxury ski chalet within hours. Plus, with many chalets offering ski-in/ski-out access, you're just a few steps from an adrenaline-pumping slope.
4. Your Holiday Home is Someone Else's Rental Dream
Let's say you purchase a luxury holiday home in France, but you prefer to visit when tourism is low. Instead of dealing with the crowds, you like the French Riviera during the off-season. Or, maybe you want a house in the mountains for hiking and biking instead of snowboarding. When tourism is high, there are going to be plenty of rental opportunities, allowing you to turn your holiday home into an income stream. If you purchase property with outbuildings, you could even stay on site while your renters are there.
Two important tips to keep in mind: first, purchase a property that's been recently renovated. You'll know that everything satisfies the necessary criteria from the beginning. Second, consider security – this is your home, after all. The simplest option is to purchase a luxury apartment in a managed building. That way, everything will be checked on and kept in order during your time away and when renters are occupying your home.
HOMEHUNTS property agents are able to select luxury properties that would make a superb luxury holiday home in France based on your specific search criteria. Search our website to browse our selection of luxury homes or you can speak directly to one of our expert property consultants by calling +33 (0)970 44 66 43. Follow us on Facebook