House Hunting in France – The Lot
The Lot has plenty of hidden gems and with increasing house prices offers good investment opportunities
With Bordeaux and the Dordogne to its west, and the cosmopolitan city of Toulouse and the Mediterranean coastline to its south, the Lot department can sometimes be overlooked as a holiday home location. But with wild valleys, vineyard-covered countryside and charming historic villages and towns that offer an abundance of activities and unique sights, this is an area that can offer a tranquil countryside home that is never too far away from some of the most fascinating sites in France.
In practical terms, the Lot is served by many airports, including Toulouse, Brive, Rodez and Bergerac. Most of them, depending on where you are based in the Lot, will require at least a 90-minute journey and much of this would be through the scenic countryside. Locations of note in the area are Rocamadour, Saint-Cirq Lapopie, Cahors and Figeac.
Saint-Cirq Lapopie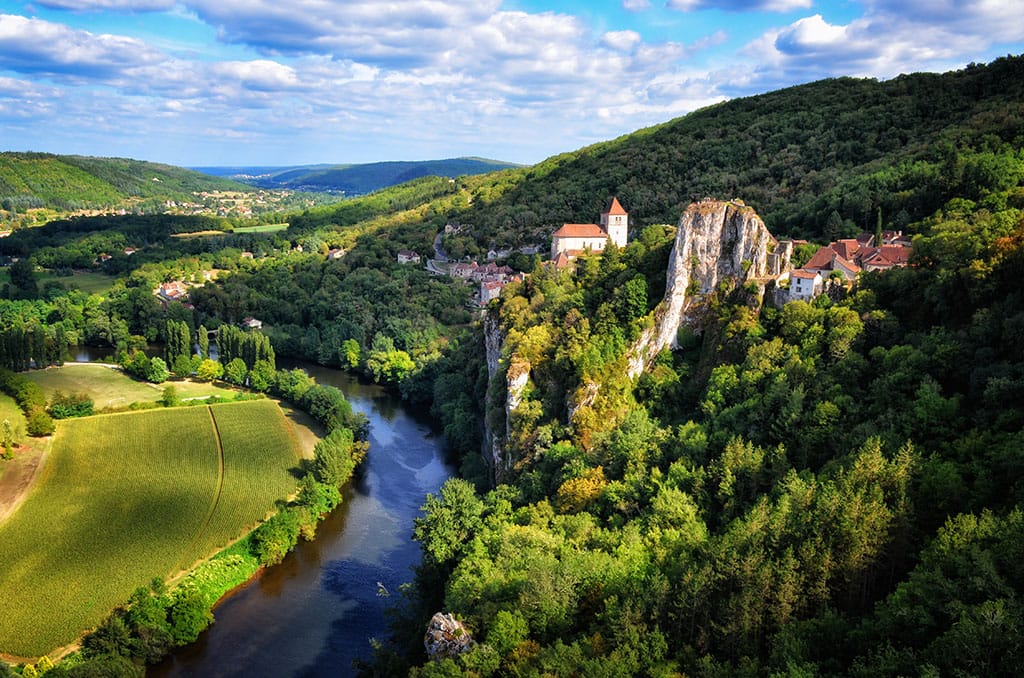 A medieval village with a unique and irresistible charm, Saint-Cirq Lapopie was voted favourite village of the French in 2012. It is a well-loved location with shops, restaurants and cafes that help locals and visitors alike to soak up the cheery ambiance. One of the most fun things to do here is to take one of the wooden "gabares" up the river – adults can enjoy those with a commentary, but children may particularly enjoy the "Pirate Cruise" which lasts around an hour and includes pirate-themed activities, treasure and costumes.
Rocamadour
Clinging to a cliff above a canyon lies the extraordinary village of Rocamadour with the river Alzou flowing through it. As one of the most visited sites in France, Rocamadour can get very busy with holidaymakers in the summer, but it is a pleasure to visit during every month of the year.
In the 12th century pilgrims came from far and wide across Europe to pray here. La Grotte de Merveilles, a prehistoric cave, and the Padirac chasm (8km away) are two of the most fascinating sights to explore. The panoramic views from the ramparts of the château, and the "Rocher des Aigles" park, which is home to eagles, vultures and other wonderful birds, is a family favourite. Taking the tourist train can be a good way to explore the area and the balloon festival in September is always a popular event that draws people in from far and wide.
Cahors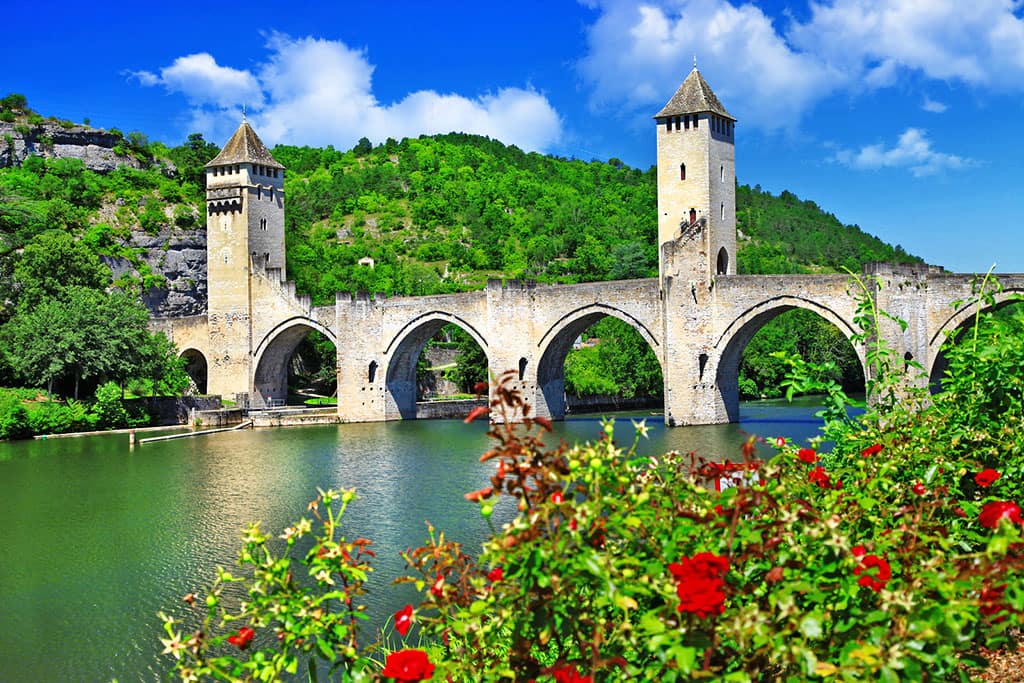 Capital of the Lot department, the city of Cahors was at the centre of trade and finance during the Middle Ages. Situated on a peninsula-like area, the river Lots snakes around it, over which the 14th century Valentré bridge dominates. Over the years this impressive landmark has become a symbol of the city.
For wine lovers, the Malbec grape is grown in this area and is the main grape variety of the "appellation". The "black" wine of Cahors, as it is known, is such a large part of the city's personality that there are even vines growing next to the bridge. Wednesday and Saturday mornings are especially good times to visit as the delightful market is on. Held in front of the magnificent cathedral, the setting and the quality and variety of the produce on the stalls makes this market a popular place to be.
Figeac
A medieval town situated around 70km east of Cahors, Figeac is arguably most famous for being where Jean François Champollion was born in 1790. He was dedicated to understanding Egyptian hieroglyphics and the Museum of Writing celebrates his life and work. Pretty, narrow streets, picturesque views and stone houses make this a fascinating town to meander around. Perusing the market and frequenting the town's café terraces are both excellent ways to soak up the local delicacies and atmosphere.
If you are thinking about buying property in the Lot, it could be a good investment opportunity, as not only are prices fairly low (average is 1,392 per m2 for a house), but they are also on the rise. Data from MeilleursAgents shows that prices have risen 6.2% in the last ten years and are currently increasing, so it's a good time to buy.
Many of Home Hunts' clients buy in the Lot as they can still get more for their money here than in neighbouring departments. The most popular property searches are for spacious countryside estates, offering privacy and tranquility, which are not far from local amenities and landmarks. As tourists flock to some of the most popular villages, such as Rocamadour, properties can also provide owners with good rental income for many months during the year, but especially in summer.
To search for prime property in the Lot, visit www.home-hunts.com, but to speak to a Home Hunts' consultant about your specific property needs and requirements, call +33 (0)970 44 66 43. Home Hunts are here to help you to find your dream home. If you would like to speak to one of the team to discuss your needs or just to have a chat about the market, you can call us on +33 970 44 66 43 or send us a mail to info@home-hunts.com. If you just want to browse through thousands of beautiful French homes, follow us on Facebook or Instagram.