From generous gardens to panoramic views, what are the must-have features on your shopping list for your luxury villa in France?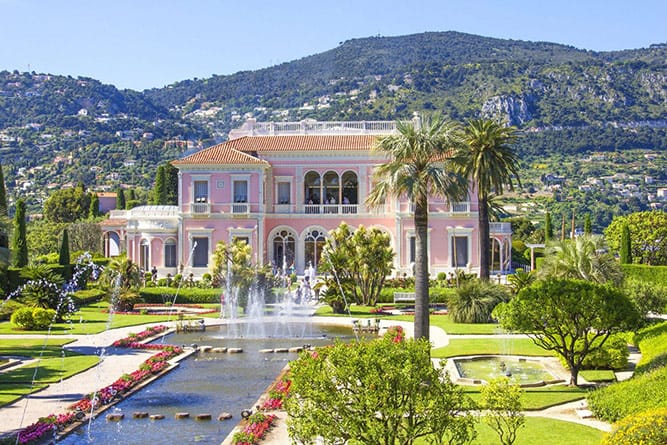 If you are you looking to buy a luxury villa in France, these five features will help you create a check list for securing a dream home and rental property as well as the perfect asset.
1. Impressive gardens
Manicured lawns, flowering trees and artfully-shaped topiary – being able to enjoy a beautiful garden is all part and parcel of owning a luxury villa.
Unless you need a lock-up-and-go type property, eye-catching gardens set up for leisure, entertainment and relaxation are top of the list for most buyers – especially in the South of France.
"A good-sized, landscaped garden generally adds to the value of a property, but it also provides security and privacy, which many of our clients are looking for," says Tim Swannie, Director of Home Hunts. "Spacious terraces, mature, exotic foliage and vast lawn areas for entertaining and family fun are common criteria for clients looking to buy a luxury villa."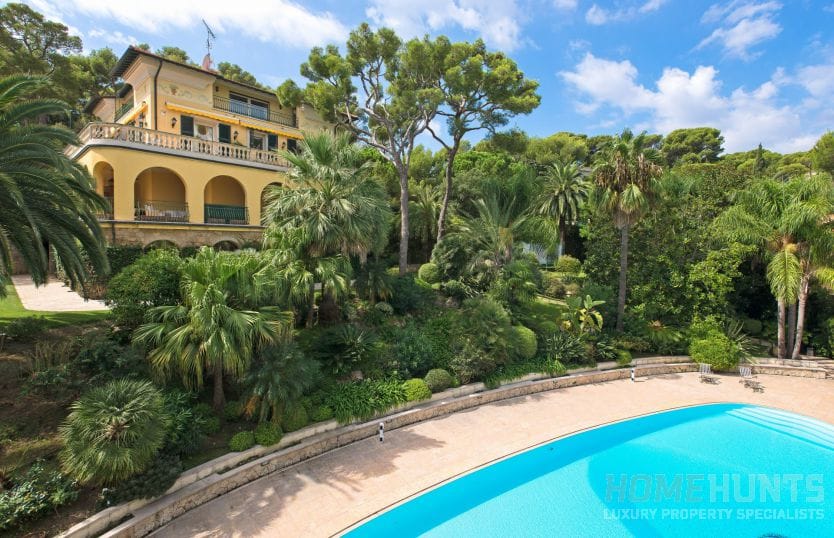 Not long ago we featured five properties on the market with idyllic gardens. But if you're still looking, this impressive nine-bedroom bourgeois villa in St Jean Cap Ferrat (HH-11747241) could be of interest. It even has an automatic watering system as well as a heated pool and panoramic views.
2. Large swimming pool
For buyers looking to invest in a luxury holiday home in France – and in the South of France especially – a swimming pool is an essential feature. If you're going to rent the property out then it's even more crucial, because for sun-seeking holidaymakers having a pool in the garden is a minimum expectation.
It is possible to find beautiful homes near the sea with swimming pools, in a low budget range, but if you are looking for a luxury villa on a lower budget and a large pool is part of your criteria, you may need to look inland where you can get more for your money.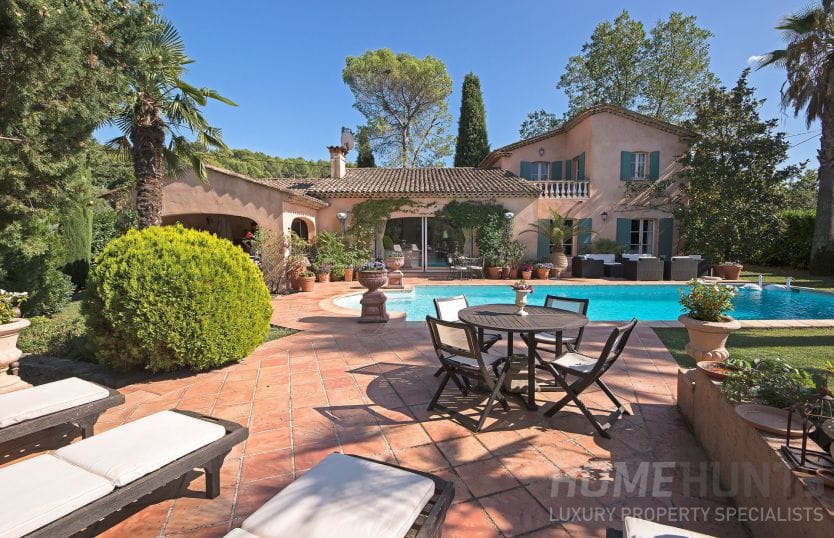 This stunning four-bedroom Provençal villa in Grasse (HH-12382451) comes with a large and immaculate swimming pool area, spacious terraces and landscaped gardens. At €995,000 this dream holiday home won't be on the market for long.
3. Stunning views
Would you prefer to look at the mountains, the sea or rolling hills? Whatever your ideal view is, it is crucial criteria for any luxury villa.
"More than half of our clients want to have an impressive view from their property," says Tim. "An unchangeable view that includes water (a sea view or a lake), can add 50% to the price of a house. You can improve a house, but it's not often that you can improve the view, so for many of our clients it's essential."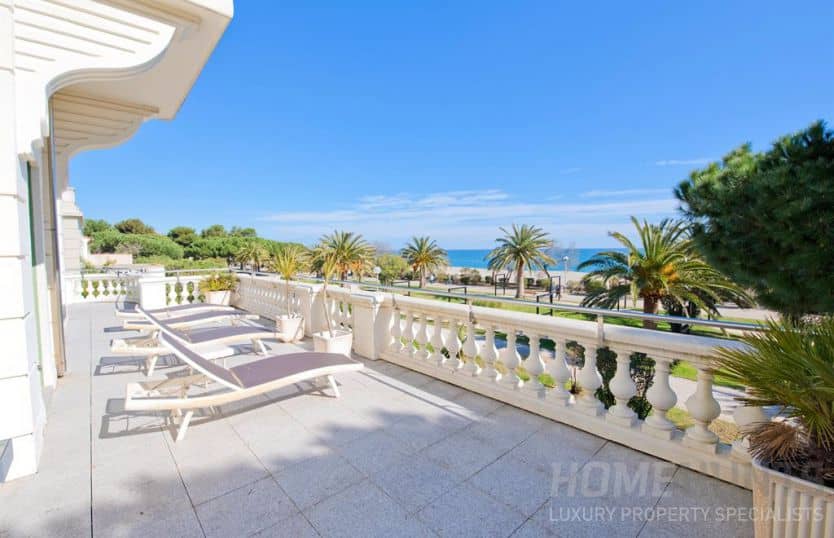 This waterfront mansion in Perpignan (HH-12386752) was designed by architect Vigo Dorph-Pertesen and has just gone on the market. From a lush garden and spacious terraces, it offers an exceptional unspoilt view of the Mediterranean and is priced at €3,750,000.
4. Location location location
Set in tranquil surroundings, yet close to good restaurants, leisure facilities and cultural activities are often must-have criteria for a luxury villa. Usually properties located less than an hour from the airport are most popular with holiday home owners.
"If the property is a permanent home for a family then having access to a good international school is usually a non-negotiable requirement," says Tim. "For second homes, tranquility and privacy is key, and for many (especially if the property is being rented to holidaymakers) proximity to local restaurants and activity clubs is also important."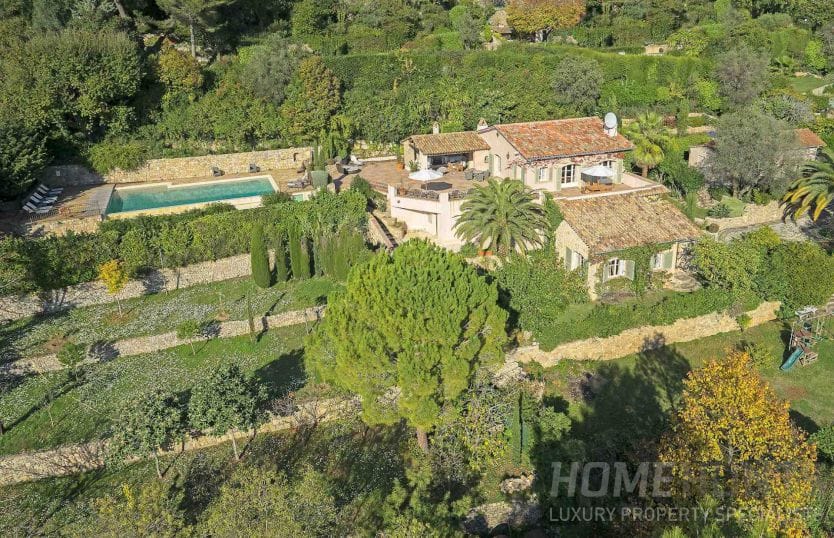 Set in Mougins, with a beautiful view and infinity pool, this striking property (HH-12348503) has a spacious covered terrace for almost year-round al fresco dining. In addition, the local international school and five-star golf club are just fifteen minutes away.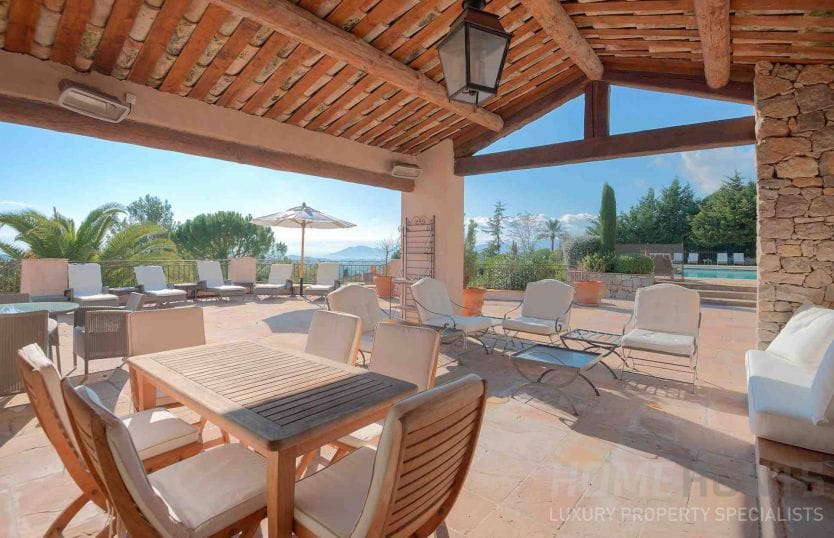 At 25 minutes from Nice airport and with the economic prosperity of the Riviera all around, this property is perfect for holidaymakers and for families looking to permanently relocate in France.
5. Beautifully-decorated interiors
Recently we posted this article featuring five properties with irresistible interiors. For many of Home Hunts clients, well-designed, tasteful interiors are one of the most important elements of a luxury property.
"Of course, we have clients looking to increase the value of a property by updating it, and this can work very well as a way to add value to your new asset over time," says Tim. "However, I would say that more than half of our clients want to avoid doing any decoration work – they're busy people who want to enjoy every second of the vacation they have."
Home Hunts are buyer's agents, we are here to help you to find your luxury villa in France. We can be your guide for your property search across France. If you would like to speak to one of the team to discuss your needs or just to have a chat about the market, you can call us on +33 970 44 66 43 or send us a mail to info@home-hunts.com. If you just want to browse through thousands of beautiful French homes, visit our website at www.home-hunts.com  keep up to date with our latest news at www.home-hunts.net or follow us on Facebookor Instagram.