Not far from the Cannes, you'll find the beautiful village of Mougins, sitting on top of a hill in the French Riviera. Charming and idyllic, the village has a medieval centre and is surrounded by woods and luxury golf courses. Glamorous, like the rest of the Cote d'Azur, Mougins has been attracting famous faces since the 1950s. Still an area for the elite, its also a favorite amongst expats thanks to the international Mougins School.
Mougins is an ideal place for foodies thanks to top notch restaurants and other gastronomic treats. While it's considered casual by French Riviera standards, L'Amandier de Mougins is worth a visit. Located in an old mill, it has stunning views, chandeliers above, and a classic French menu.
Spend your day at the Royal Mougins Golf Club, which has a renowned 18-hole golf course, plus a luxury spa and resort hotel. There's also the Mougins Museum of Classical Art or Les Jardins du MIP, the latter belonging to the Musée International de la Parfumerie in Grasse and with plants that are used in scent making.
If a short visit to Mougins isn't nearly enough time for you, consider investing in your own property in this sought-after locale. Here are five villas in Mougins that are currently on the market.
10 Bedroom villa with panoramic views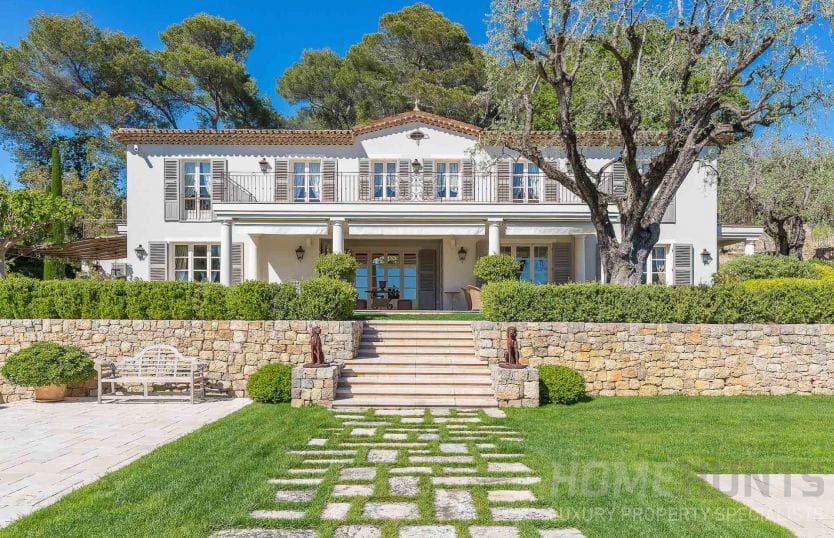 Boasting 10 bedrooms, this villa has panoramic views over the nearby hills that are especially beautiful at sunset. The private garden was designed by Jean Mus, and there's also a swimming pool and a covered al fresco area with plenty of room for dining or entertaining guests. The landscaping and mimosa trees are lovely, but they're not even the best part of the property – the 2.5-acre vineyard is, home to over 6,000 vines and producing 10,000 bottles annually. Outbuildings include a guest house and a caretaker's house.
A contemporary, designer 6 bedroom home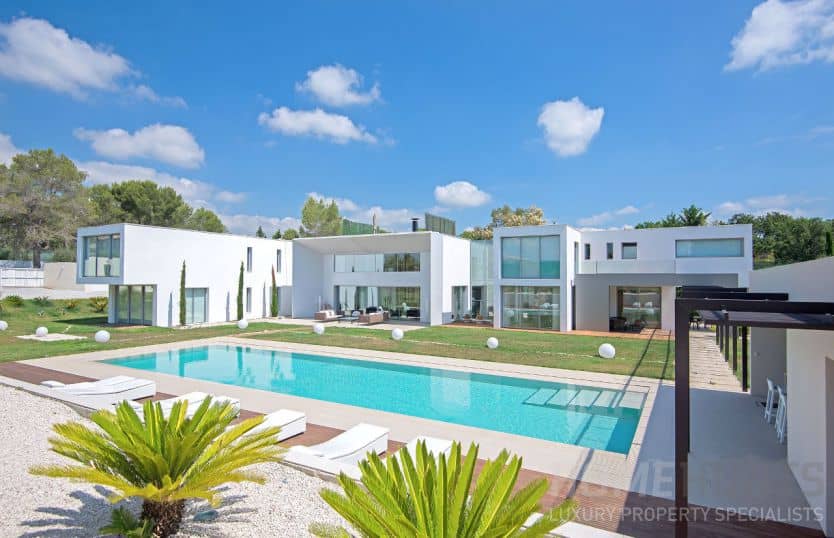 This contemporary, six-bedroom home was recently built in 2014 in a protected, fenced-in park. With a stylish, cubic design, the villa was designed with high-end fittings and state-of-the-art equipment. The enormous living room has high cathedral ceilings and opens onto the south-facing terrace and a large swimming pool. There are also five en-suite bedrooms, a spa and Jacuzzi, and a large terrace on the roof. Other amenities include a caretaker's apartment, electric gates, alarm system and automatic garden watering.
A Sleek and elegant, private estate in the Castellaras area
Sleek and elegant, this private estate in the Castellaras area has unique features like electric shutters, an integrated music system and two swimming pools, plus a summer kitchen and lounge. The main villa has living, family and dining rooms, plus a fully-equipped kitchen, a study and five suites. The master suite opens onto a terrace with a Jacuzzi. The secondary villa has living and dining rooms, plus a kitchen, fitness area, sauna and three en-suite bedrooms.
6 Bedroom villa set in stunning landscaped gardens
Set within walking distance of the old village is this six-bedroom villa that was built in 1850. Features include a living room with a large chimney, a wine cellar, and a pool house with a summer kitchen and barbecue. There's also an independent caretaker's apartment, a two-car garage and parking for an additional ten vehicles. Step onto one of the terraces in the morning to look out over the sea, swim laps in the heated pool, or wander around the garden's more than 60 olive trees and 500 bushes.
A splendid 8 bedroom villa in a sought after area.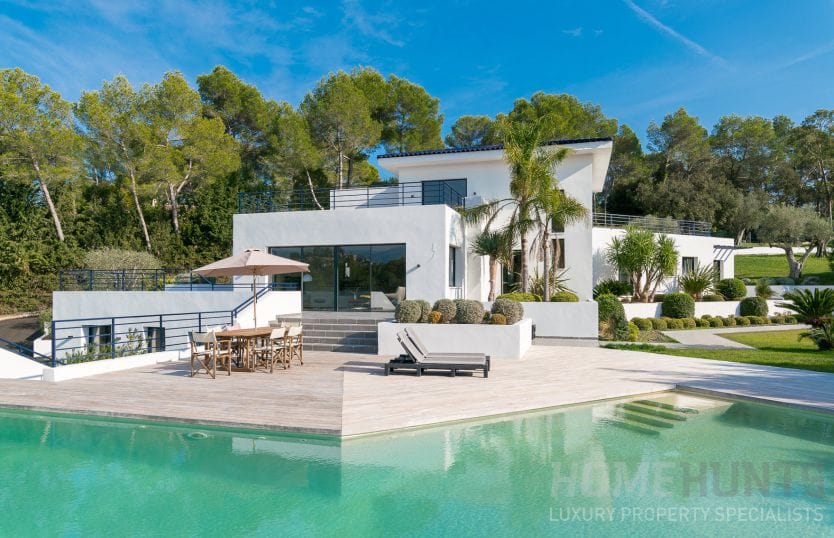 Eight bedrooms, an infinity pool with pool house, and a tennis court are complemented by an open view of the Castellaras castle. The three main floors house several rooms, including a fully-equipped kitchen, a home cinema and a wine cellar. The garden area has a summer kitchen, hammam and fitness room, and you're close to the village for whenever you want to venture out. There's also an alarm system, home automation and automatic watering.
HOMEHUNTS property agents are able to find out beautiful, high-end, luxury properties in Mougins based on your specific search criteria. Simply search through our selection of luxury homes or contact one of our property consultants by calling +33 (0)970 44 66 43.