Is there anything prettier than fresh, white snow? When you live in the French Alps, you get a front row seat to new snowfall – and you may even be the first down the mountain come morning.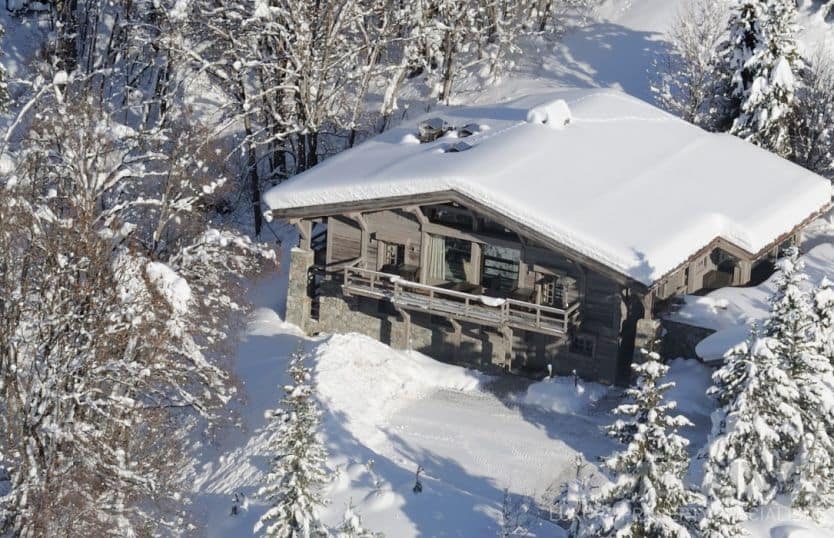 Being surrounded by peaceful mountains can clear your mind and give you a new perspective, literally and figuratively. Even if you're an early riser and hit the slopes first thing, head out at night once in a while – the stargazing is phenomenal. The French Alps are a mecca for foodies, too, especially if you love rich, comforting meals – think crepes with local cheese, omelettes stuffed with bacon or a bowl of lamb stew.
The French Alps may be synonymous with skiing, but there's plenty to do here during the warmer months as well. Get your adrenaline pumping with whitewater rafting or tone it down with a walk through fields of wildflowers or lunch at a restaurant that can only be reached via a walking trail. Since some resorts run their lifts year-round, take a ride instead of making a trek to the top of a mountain, then admire the stunning scenery or pick up a hiking path.
Location, Getting There and Climate
The French Alps are a range of mountains located in southeast France, bordering Italy and Switzerland. Part of France's Provence-Alpes-Côte d'Azur and Rhône-Alpes regions, the French Alps have numerous resort towns, some pleasantly sleepy and others uber-popular. Since the mountains get the winds that blow off the Atlantic, they're prone to heavy snowfall during the winter when compared to the colder, drier climates to the east.
Getting to your specific French Alps destination will vary based on where you're going and where you're coming from. To reach Chamonix and several nearby ski resorts, you can take a shuttle from the Geneva Airport. Or, you may find that the Chambery airport is closer, especially if you're heading to the Les Arcs area.
There isn't one specific climate of the French Alps because the different elevations affect how cold the area gets. As altitude increases, weather becomes colder, and in general the coldest season runs from November to April. It's sunny in the French Alps, but during the summertime afternoon thunderstorms are common. To hike instead of ski, the best time of year is from July to September – the weather warms up and the snow has melted.
Popular Locations to Live in the French Alps
Annecy and Aix les Bains
Step into the storybook town of Annecy, which is set next to a peaceful lake and surrounded by picturesque mountains. The Thiou River flows all the way through old town by way of narrow canals and colourful flowers decorate the promenade during the summer. Annecy is a haven for those who appreciate architecture, with 15th and 16th century churches to be explored on the medieval streets. The spa town of Aix les Bains is best known for its natural mineral spring water, which many believe has restorative properties. Book a massage and then follow it with a gourmet meal at one of the area's four-star hotels.
Chamonix and Megève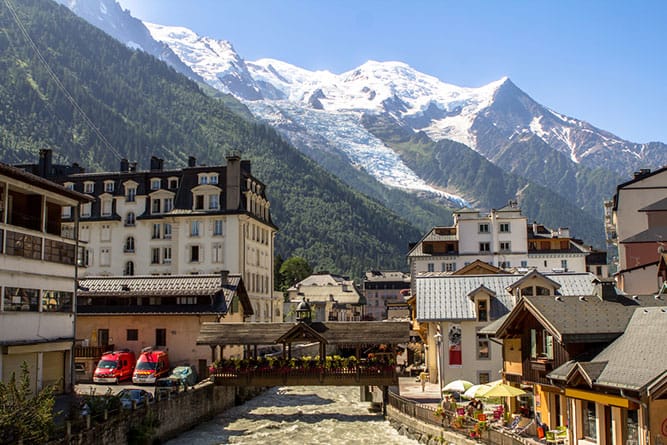 Chamonix played host to the first Winter Olympics back in 1924 and it's been a go-to destination for winter sports ever since. Chamonix attracts true adventurists thanks to its opportunities for ice climbing and mountaineering, as well as its super steep ski slopes. Go for a hike on Signal Forbes, one of the many mountains in the area. This is where Mont Blanc is, too, the tallest summit in all of Europe.
Megève is 45 minutes from Chamonix and it's more of a rural setting if you're in the mood for quiet. It's still a ski resort town, and a wealthy one at that, with chalets, luxury farms and even some designer shops. There's both downhill and cross-country skiing here, plus snowboarding. The medieval village goes all the way back to the 14th century and will make you feel like you're having the most authentic French Alps experience possible.
Courchevel and Méribel
Situated at one end of the Trois Vallées, the world's largest ski area that's linked by lifts, is Courchevel. Since the slopes here face north, it's home to some of the best snow in the French Alps. Méribel is less developed than some of the flashier resorts of the French Alps, but that just means it has traditional appeal – and it's also one of the largest ski resorts in France.
Portes du Soleil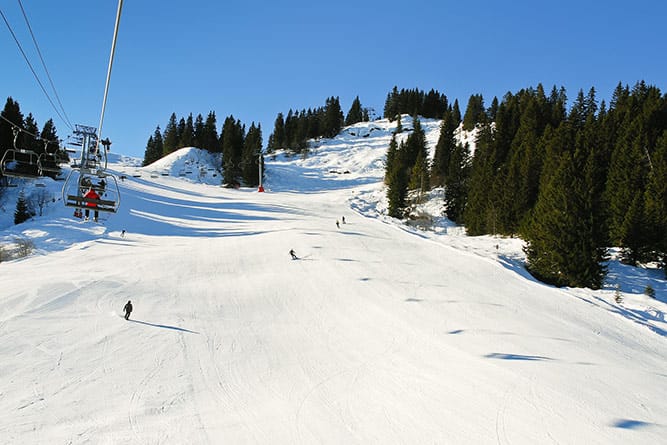 The Portes du Soleil ski area has 12 ski resorts with plenty of non-skiing options, like hiking or mountain biking during the summer. The Morzine-Avoriaz ski resort is definitely one of the most popular, with lovely views of Ardent Falls and Lac de Montriond. If you have children, consider Avoriaz, which is frequented by families.
Samoens in Grand Massif
Samoens is set at the bottom of the Grand Massif ski area and is one of France's loveliest, most picture-perfect villages. This farming village has a ton of history and it's retained its family-friendly atmosphere. This is the area to move to if you want more of a village setting than a ski resort experience.
Val d'Isère, Tignes and Les Arcs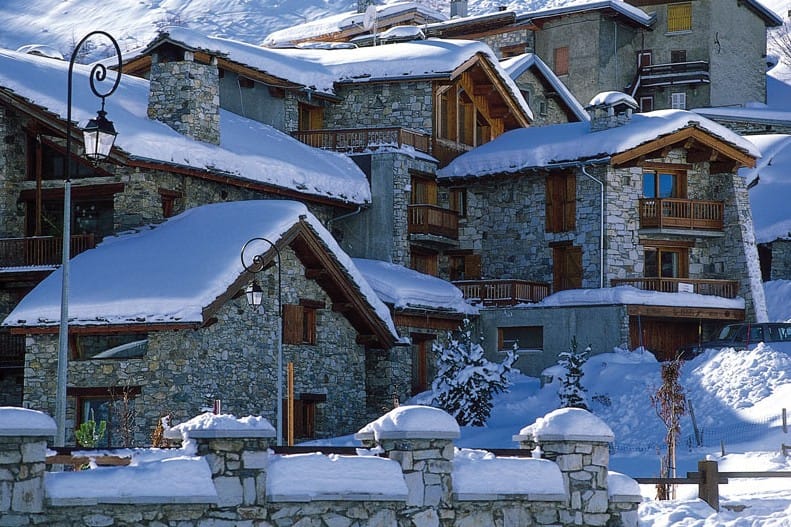 The Val d'Isère and Tignes ski resort is an absolute delight for skiers. The area is so enormous that you'd have to challenge yourself to tackle every ski run there is. Les Arcs is ideal if you're with a group of multi-leveled skiers or if you're just beginning and plan to improve over the next several seasons – slopes range from the super easy to the incredibly steep.
Property Types
Ski chalets in the French Alps are stunning, from the traditional to the modern. Many of them come with gorgeous wrap-around porches that get an abundance of sun and they almost all have ski-in/ski-out access so you can hop on the slopes whenever you want. Some are on the smaller side and cozy while others are grand, contemporary and sleek. Or, if you've always dreamt of living in a farmhouse, the ones in Megève are rustic-chic, with just enough country appeal to be comfortable but plenty of sophistication thrown in.
There are other types of properties in the French Alps, too. If you have a small household or you're only going to be in your new home when escaping for a long weekend, consider a luxury apartment instead. You can rent out your apartment during the weeks you're not there and you'll have less space to worry about than if you owned an entire house. You can also look for an apartment in a managed building, so you'll know everything is taken care of when you're away.
Another consideration is whether you want to buy an older home that you can renovate or if you want a newer turnkey property that's ready for you to move in. Both types of properties have their perks. Older homes retain their original charm and allow you to truly create the house of your dreams as you renovate. Newer builds tend to be outfitted with the latest and greatest fittings and tech, and they generally follow current standards for energy performance.
How to Move to the French Alps
Ready to turn your daydreams into real life? You're definitely not alone – some visitors holiday in the French Alps and then decide to stay for good. Here are three things to keep in mind when looking for property in the French Alps.
1. Put a lot of thought into location.
You may assume that all areas of the French Alps are the same, but everything from the weather to the activities can vary based on the town you choose. It's best to take a trip to the French Alps and explore the many towns before settling on one. If you're going to use your new home for getaways, go during the season you plan on being there the most.
2. Consider travel time and access.
If your new home in the French Alps is going to be your second home instead of your primary, make sure you can easily get to it. You don't want to spend half a day traveling for a three-day weekend. There are several ski resorts that are just a 60-minute drive from the Geneva airport, for example.
3. Figure out what you'll do for work.
If you're moving to the French Alps full-time, you'll either need to continue working at your current job remotely or find new opportunities in the mountains. Common jobs and careers here revolve around the mountains, sports, tourism and properties: mountain guides, ski instructors, running a boutique hotel or ski chalet management, for example.
HOMEHUNTS property agents are able to select beautiful, high-end, luxury properties in the French Alps based on your specific wants and needs. Search our wide selection of luxury homes or speak directly to one of our expert property consultants by calling +33 (0)970 44 66 43. Follow Home Hunts on Facebook