Essential things to do in Carcassonne
As the largest walled city in Europe, Carcassonne has so much to offer visitors. From its historic fairy tale castle to the local swimming lake and busy events calendar, there is always something thrilling to do here. If you are looking for things to do in Carcassonne, read on…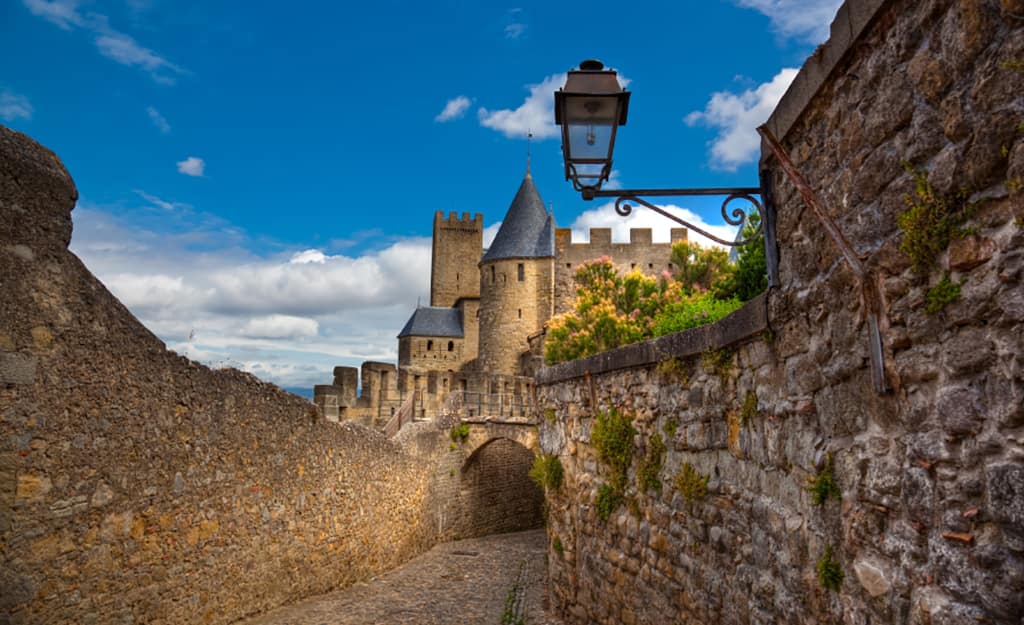 As one of the most visited cities in France, there is always an abundance of exciting events, cultural curiosities and historic wonders to discover in Carcassonne. This is why it is such a popular place for international buyers to invest – especially when property prices are still low and tourism rates are, as ever, soaring high.
With so much on offer it can be difficult to decide what to prioritise, so to help you plan your time in Carcassonne, here are Home Hunts' top five favourite things to do in Carcassonne –
Discover the delights of La Cité
The cobblestone streets of La Cité are full of boutiques, restaurants and cafes, and offer an enormous range of products to buy, and wines and local delicacies to enjoy. Once you lose yourself meandering around these little lanes – there are surprises around every corner, from scented handmade soaps to children's "chevalier" (knight) souvenirs and artisan chocolate – you'll understand why tourists return again and again.
Sitting beneath the shade of the trees while soaking up the ambiance from one of Place Marcou's many terraces is an experience everybody should enjoy.
Take a wine tour
In the heart of a great wine-producing region, there are many different wines to taste and vineyards offering hospitality and tours in Carcassonne.
Whether you prefer the Mediterranean influences of Cabardès or the flavours of the Minervois, wine lovers will adore exploring all that the area has to offer.
Spend the day at Carcassonne's lake
The Lac de la Cavayère, with its swimming lake and sandy beach, is popular with families because there is so much for kids to do. There are zip lines, pedalos, an inflatable water park and water sports, as well as walking trails and places to have picnics.
Located just outside Carcassonne, this is a lovely area for connecting with nature amidst the pine trees and butterflies, and an oasis for relaxation during the hotter months.
Rock the night away
Every summer, Carcassonne holds a music festival within the turreted ramparts of La Cité. All kinds of music is featured, from opera to rock, and it always attracts some big names. Over the last ten years artists such as Elton John, Simple Minds, Pharrell Williams, James Blunt and Diana Ross have performed at this popular festival.
For 2019's event, the line-up, which runs throughout July, includes Sting, Joan Baez and Liam Gallagher.
Behold beautiful views and Cathar castles
Within La Cité, millions explore the Cathar castle of Château Comtal, but what many people don't know is that aside from things to do in Carcassonne, it is an excellent base from which to explore other Cathar castles in the region. The Cathar castles at Lastours (25 minutes away), the castle at Saissac (30 minutes), Arques castle and the ruins at Termes (both one hour by car) are exciting to explore and offer magnificent views of the surrounding countryside at the same time.
To search for a luxury holiday home in the Carcassonne area, check out properties for sale at www.home-hunts.com, but if you wish to discuss your property requirements with a consultant, call Home Hunts directly on +33 (0)970 44 66 43. Home Hunts are here to help you to find your dream home. If you would like to speak to one of the team to discuss your needs or just to have a chat about the market, you can call us on +33 970 44 66 43 or send us a mail to info@home-hunts.com. If you just want to browse through thousands of beautiful French homes, or follow us on Facebook or Instagram.