Five things to do in Montpellier
Even though Montpellier is one of the largest cities in France, you can still explore it by foot and experience most of it over the course of a weekend. The pace of life here is slower and more relaxing than other big cities in France, but there's still plenty to enjoy.
In addition to being known for its style, Montpellier has something for everyone, no matter your age. Montpellier is part of Occitanie, a new area of France created in 2016 from the combination of the Languedoc-Roussillon and Midi-Pyrénées regions. It's located in the southwest part of the country, sees 300 days of sunshine a year and is surrounded by the Med and the Pyrenees. Here are 5 things to do in Montpellier.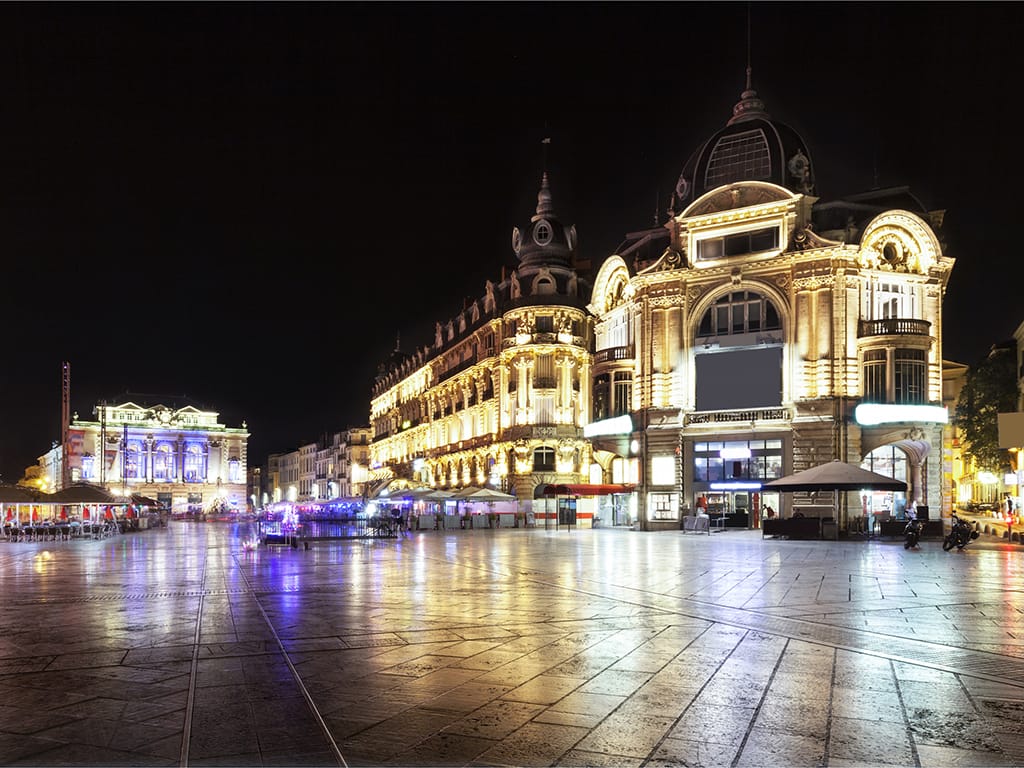 Peek into Montpellier's past at Écusson
Écusson is Montpellier's historic district, with fountains, intimate squares and narrow streets. It's a popular pedestrian area, which means it's ideal for roaming on foot or for people-watching. The maze of trees provides a lot of shade, which is nice if you need a break from the heat or sunshine.
Not all of the Écusson has been restored yet, which makes it all the more interesting and authentic. There are a lot of boutiques, cafes and restaurants here, plus mansions that date back to the 17th century, many with internal courtyards and the opportunity to take guided tours. Visit Les Halles Castellane, the covered market, or dine al fresco when the weather's nice.
Breathe easy around nature at the jardin des plantes
The jardin des plantes, managed by the University of Montpellier, is the oldest botanical garden in France, founded in 1593.
Built to study medicinal plants and once the model for other botanical gardens in the country, the gardens today have more than 2,500 plant species, including palms, medicinal plants and bamboo. The greenhouse has cactuses from all over the world in all colours, shapes and sizes, as well as terraced gardens beautifully decorated with flowers.
There's also a pond in the garden, where you're bound to see water lotus plants, frogs and fish, and maybe even a lazy cat or two lounging nearby. Overall, the gardens are serene and peaceful, and the ideal location for a picnic in the early afternoon.
Explore Montpellier's history at the Promenade du Peyrou
The Promenade du Peyrou is where the locals frequent, and you can watch passersby, runners and street performers from under a shady tree. During the 18th century, this was the meeting place for the local bourgeoisie, and several historical monuments are still located here. There's also an antique and flea market held here every week. In the evening, it's common to catch a musical performance put on by students.
Visit the statue of Louis XIV on horseback, which is located near the 17th century Arc de Triomphe, then get a panoramic view of the city from the esplanade. Vistas of the coastline and surrounding area are unobstructed due to restrictions placed in the 1770s to protect the views. The higher elevation also brings on a lovely breeze, which is especially welcome on a warm summer day.
Appease your inner artist
Montpellier is home to the Musée Fabre, which was founded in 1820 after a donation from Francois-Xavier Fabre. Today, the collection totals over 800 works, with many pieces donated by well-known names in the art world. View paintings and sculptures, many from the baroque era, plus works from 19th-century artists like Bazille and Renoir.
The art nouveau building Pavillon Populaire, located on the Esplanade Charles-de-Gaulle, was built at the end of the 19th century. For over a century, it's been known to host public exhibitions. Since the 1990s, it's shown only photography exhibits (at least three per year), which you can see for free.
Don't miss Montpellier's central square
Place de la Comédie, the central square, links the older and newer districts of Montpellier. Bars, restaurants and shops abound, making this the place to head for a spirited night out. If you're there during the day, take a look at Fontaine des Trois Graces, which shows the Charites, which you may remember from Greek mythology. Then grab a coffee and take a walk down the Esplanade Charles-de-Gaulle, which has pretty greenery to admire. Once the sun goes down, the buildings and restaurants are illuminated in blue lights, which has a unique, futuristic appeal.
As well as finding things to do in Montpellier, we can also help you to find high-end Montpellier property based on your specific search criteria. Home Hunts are here to help you to find your property property. If you would like to speak to one of the team to discuss your needs or just to have a chat about the market, you can call us on +33 970 44 66 43 or send us a mail to info@home-hunts.com. If you just want to browse through thousands of beautiful French homes, visit our website at www.home-hunts.com or follow us on Facebook or Instagram.