Overseas Property Guide – Occitanie
Gorgeous landscapes, the Mediterranean seafront, more vineyards than Bordeaux, and a strong medieval history sum up the interesting region of Occitanie, making it an interesting destination for overseas property buyers. Many locals still refer to the area as Languedoc Roussillon, even though the region was merged with the neighbouring region and renamed Occitanie in recent years.
Though it's becoming more and more modernized, Occitanie is still a distinctive, quirky part of France. Before settling on an overseas property in Languedoc, it's important to learn as much as you can about the area.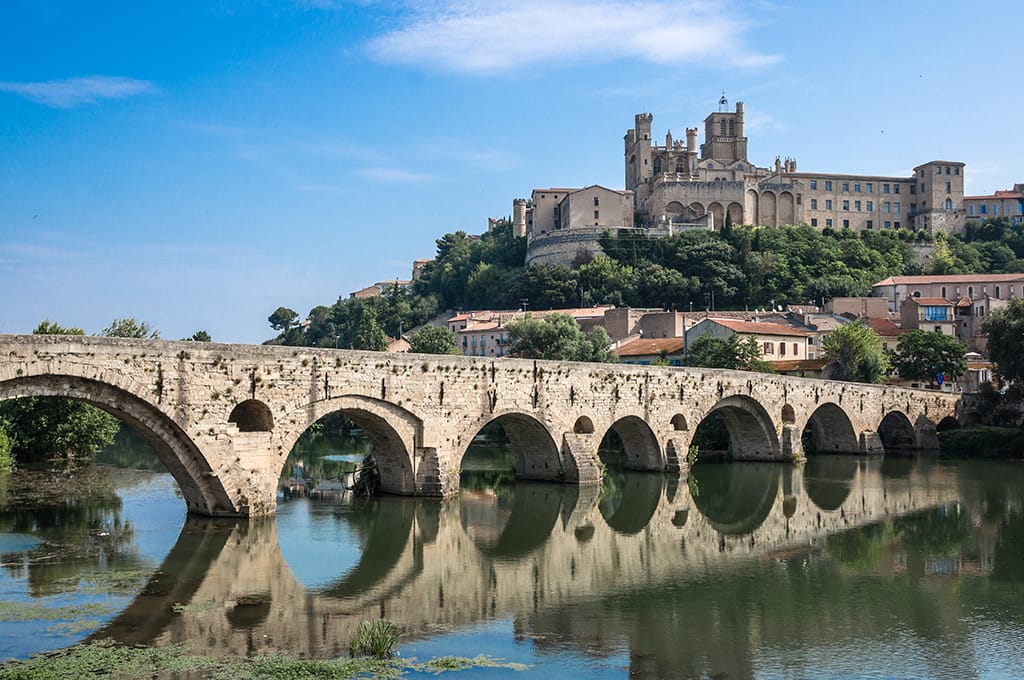 Where is Languedoc Roussillon? (Occitanie)
Languedoc was France's largest region even before it joined up with Midi-Pyrenees to form Occitanie a few years ago. Located in the southernmost part of the country. The Midi-Pyrénées are to the west; Provence and the Mediterranean Sea are to the east; and the Massif Central and the Cévennes mountains are to the north. You can also access the Alps to the northeast. Montpellier, the capital of Languedoc, is France's eighth largest city, plus one of the most appealing cities in the entire country, attracting both expats, overseas property buyers and tourists.
Languedoc is combined with the Midi-Pyrénées, creating the Occitanie mega-region. While the Languedoc-Rousillon region doesn't technically exist any longer, the Languedoc name has held over with locals and overseas property buyers alike.
The Climate
Languedoc has fantastic weather, similar to northern Spain and giving the French Riviera a run for its money. Its Mediterranean climate means most days are sunny and the winters are mild. If you love warm weather, this is the place to be – the south of France has the hottest weather in the country. In the summer, the average temperature is above 300 degrees Celsius (80 degrees Fahrenheit). Summers are long, hot and dry; spring and autumn are warm; and the winters are clear and mild. Rainfall is rare here, since it's the driest part of France. There are also micro-climates here, so if you want a different change of seasons, you can find it.
The Lifestyle
Life moves slowly in Occitaine, though it can pick it up in some of the bigger cities of the area. Everywhere, though, it seems that residents are happy to take their time in order to appreciate the beauty, culture and bounty of the region.
You could explore the region diligently for years and still come upon surprises. The beaches are for more than sunbathing if you love adventure – go canoeing, sailing or kitesurfing here – and hikers will love the mountain ranges and their trails. The coastal areas of Languedoc Roussillon often have yacht-filled marinas, offering the perfect opportunity to rent or buy yours, then sail from port to port or lounge on the sun-drenched deck with a cocktail in hand.
Cuisine can change depending on the town, which is a foodie's dream. Try duck confit, cassoulet, wild boar, truffles or just-caught fish, which are staples of many local menus. Wine is one of the region's specialties, too, with more than 740,000 acres of land used for production. The first vines were planted here in the 5th century BC by Ancient Greeks, and it's been a hub of winemaking since.
While Occitanie specialises in a number of industries, the services industry is the largest, particularly in smaller towns, with a heavy focus on government services. Toulouse is known for the aerospace, electronics and bio-tech industries, and Montpellier has a focus in the high-tech, electronics and computer industries.
Getting There
Languedoc Roussillon is an excellent location for overseas property, it is a great spot if you want to travel to and from France or access other popular parts of the country. Nearby airports are located in Nîmes, Montpellier, Béziers, Perpignan and Carcassonne; Toulouse can also be used as an access point. The TGV stops at a number of locations too, including Béziers, Montpellier and Perpignan, and can also take you to Paris or London.
Popular Locations to Live in Languedoc (Occitanie)
Carcassonne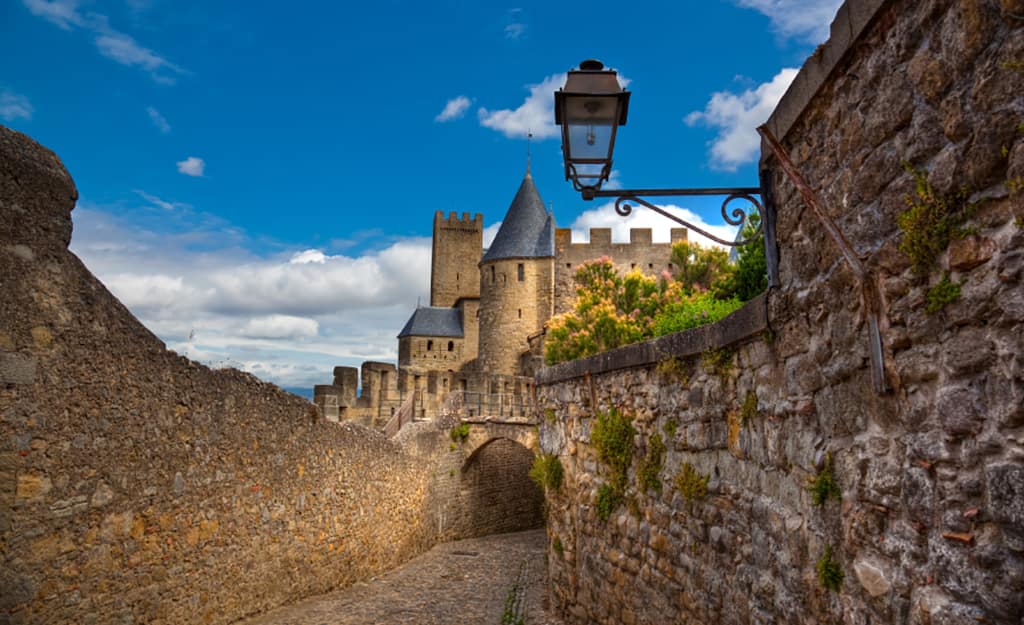 Carcassonne is one of the most popular cities to visit in the south of France and it's home to Europe's most impressive castle. The town inside the castle walls has been preserved and rebuilt, offering a glimpse into what medieval life was like. Place Carnot at the centre of town has a regular market three days a week, and much of the area dates back to the 14th century, which is when it was rebuilt.
Montpellier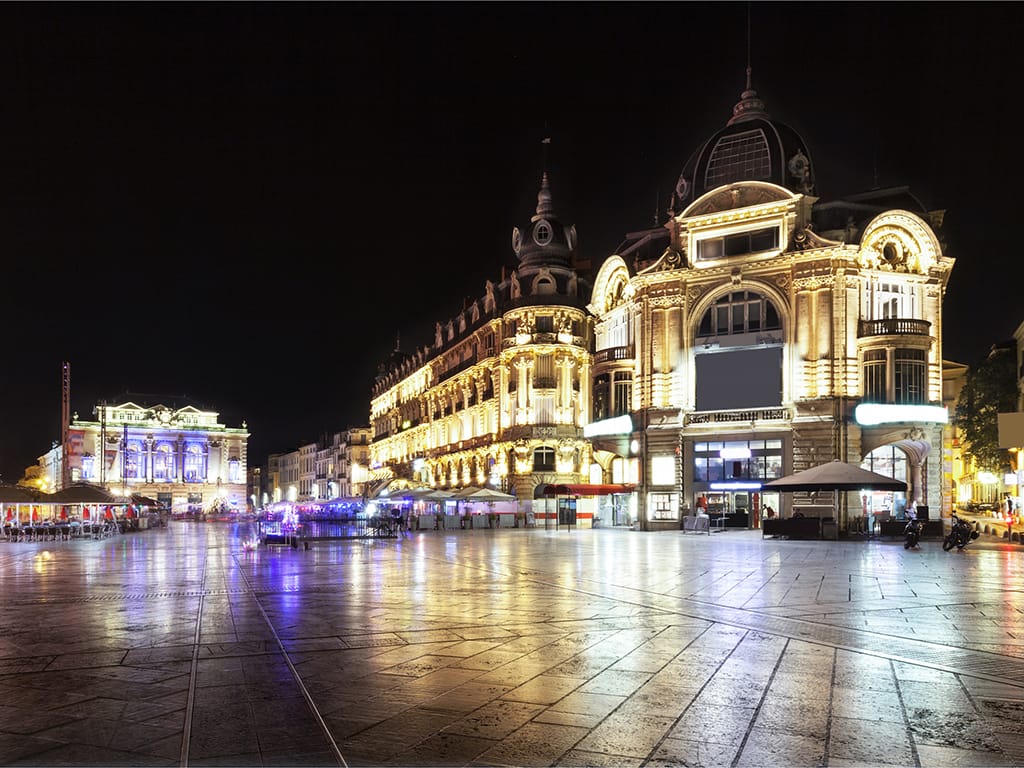 Buzzing, energetic Montpellier is a good balance to some of the South of France's sleepier towns. This is where France's first and most famous medical school made its home, and today the city is just as lively as you'd expect any university town to be. There's a large amount of early- and mid-20-somethings, which also means a selection of bars, clubs and restaurants that are popular year-round. There's also a charming old centre, art museums, modern buildings, a beach and more than 90 miles of bike paths. Cultural events throughout the year include film festivals, jazz concerts and flamenco exhibitions.
Narbonne
Narbonne was originally a flourishing port town, and many of its modern-looking, high-rise buildings are actually the oldest buildings in the area. The Canal de la Robine, with greenery and vibrant flowers along the banks, draws the community for biking, walking and dining. This beloved seaside town also has an enormous beach that attracts fewer tourists than the French Riviera, and every Sunday morning, the town is taken over by a huge market.
Nîmes
Heavily influenced by its Roman past, Nîmes is located on the Via Domitia, which is the main chariot route from Spain to Rome. Must-see monuments include the Maison Carrée, one of the world's best-preserved Roman temples; the amphitheatre; and the Temple of Diana. There are also art galleries here, plus boutiques and annual festivals, like the Pentecost Feria in September.
Perpignan
Perpignan has a distinct Spanish feel, great shopping and a grassy esplanade by the river. Walk along old, narrow streets and make your way to the Palais des Rois de Majorque. The Palais, which is the town's most important building and a symbol of Perpignan, is an enormous palace that sits on a hill that's south of the city centre.
Uzès
Pretty Uzès has a town centre with narrow streets that are lined with small boutiques. The large Place aux Herbes square is replete with fountains and restaurants, and the art influence of the area is palpable. The Saturday market, one of the best in all of Languedoc, has local produce and handmade items from area artisans. Overall, Uzès feels very much like Provence, especially in ambiance and architecture.
Overseas Property Types in Languedoc
The fact that the geography of Languedoc has changed so much also means that there's a more varied selection of overseas property here. You can look for a home in a newly developed area or aim for a more traditional property with original architecture. Choose from modern luxury villas with views of the Med; quaint village houses with 13th century stonework; and sprawling vineyards for either a commercial or hobby vineyard property. There are also plenty of beach houses here, whether you want to live in a popular resort or along a more secluded stretch.
Part-Time Holiday Homes to Rent
Tourism is popular in Languedoc, which is good news if you're planning to rent your property out for part of the year. You'll have to know how to advertise it, though, and you'll want to appeal to a specific tourism sector. Summer tourism is strongest along the coast, while art and history tourism is popular in Toulouse and Montpellier, where there are a number of Roman monuments, medieval abbeys, and old castles and churches. Sports tourism is also popular in certain areas where outdoor activities are available.
Relocating to Languedoc
Relocating to Languedoc, especially if you've never lived in France, means you'll have a lot to consider. Navigating the oversea property buying process will be quite a bit different than you're used to and you'll want to make it as easy as possible to assimilate into a new culture. Here are a few tips for getting started if you're thinking about buying overseas property in Languedoc.
Ask Yourself What You Want from Your New Home Town
Languedoc has a variety of towns to choose from for all overseas property buyers – you can be by the beach, in the countryside or close to the mountains, and in either a rural setting or a busier city. Write down a list of amenities and activities you want to have easy access to.
Join a Local Expat Community
Once you've figured out where you want to live in Occitanie, get involved with an expat community. You can do this before even moving there thanks to online forums and groups. Getting involved with the expats who have already made the move will help you make friends and learn tips about the home buying process and how to get around your new town.
Learn the Language
While you can still be practicing when you move to Occitanie, your goal should be to become fluent in French at some point in the near future. Knowing French will not only make it easier to go about your daily life, but you'll be more accepted by locals, which will help you assimilate.
Home Hunts are here to help you to find your dream overseas property and we can guide you through the entire process. If you would like to speak to one of the team to discuss your needs or just to have a chat about the market, you can call us on +33 970 44 66 43 or send us a mail to info@home-hunts.com. If you just want to browse through thousands of beautiful French homes, visit our website at www.home-hunts.com or follow us on Facebook or Instagram.