French Property News magazine is the UK's leading publication devoted to Property in France, their latest issue includes a wonderful article called 'Bond with France' where they spy on film locations from the James Bond movies and go house-hunting in those areas.

The article starts with 'James Bond never enjoyed a single happy day in Paris, accoutring the the novelist who created him. The fictional spy believed "the tourists ripped the heart out of the city" wrote Ian Fleming. That may be so but, of course, you don't actually have to be a tourist in the City of Light. With a little help from an agent – of the real estate variety rather than MI6 variety – you could always move to the French capital. Then again, why not seek out a home in one of the other French locations where Bond films are set? Get inspiration from cinema's best-loved secret agent today – and then buy another day!'
The article was released earlier this week, just days before we all learned of the sad passing of arguably the best Bond of all times, Sir Sean Connery. He naturally get several mentions within the feature as, not only did he appear in several James Bond films in France, but he also owned a stunning property in France which is currently for sale, click here to take your own private tour.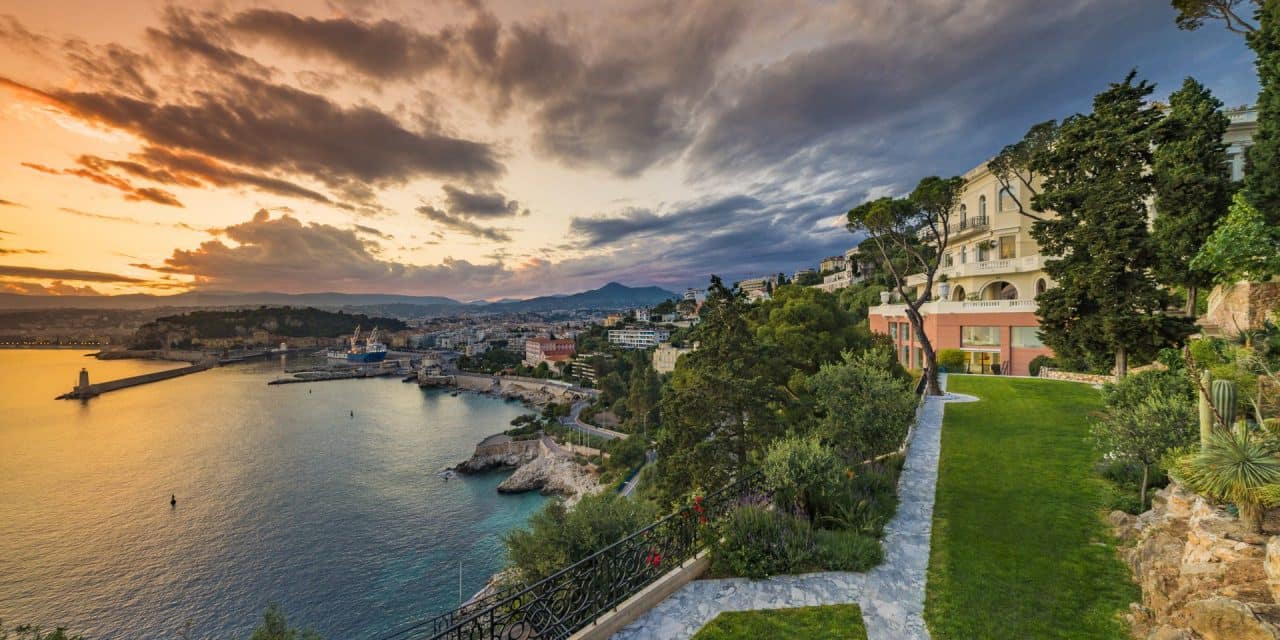 Property in France
The Connery villa is located in Nice on the French Riviera and is one of the most imposing mansions currently for sale in the area and as the photo above shows, the views are incredible. The Riviera is featured in the article, a location which has been in several Bond movies.
As the article reads: 'Do you yearn to go speeding down the French Riviera's corniches in a supercar just like Pierce Brosnan's Bond did in Goldeneye? How about soaking up the Mediterranean sunshine in Villefranche-sur-Mer, as Connery's 007 did in Never Say Never Again? Just don't strangle anyone with their bikini as Bond did in the opening scenes of Diamonds are Forever, filmed on the Cap d'Antibes. "The Riviera offers something for everyone," says Tim Swannie of Home Hunts. "Whether you are looking for the glitz and glamour of Cannes, St-Tropez or Monaco or you want the more sedate way of life if the many villages in the back country, wherever you are you have the sea and the mountains within easy reach. There are not many places in the world where you can have breakfast on the slopes and lunch on the beach"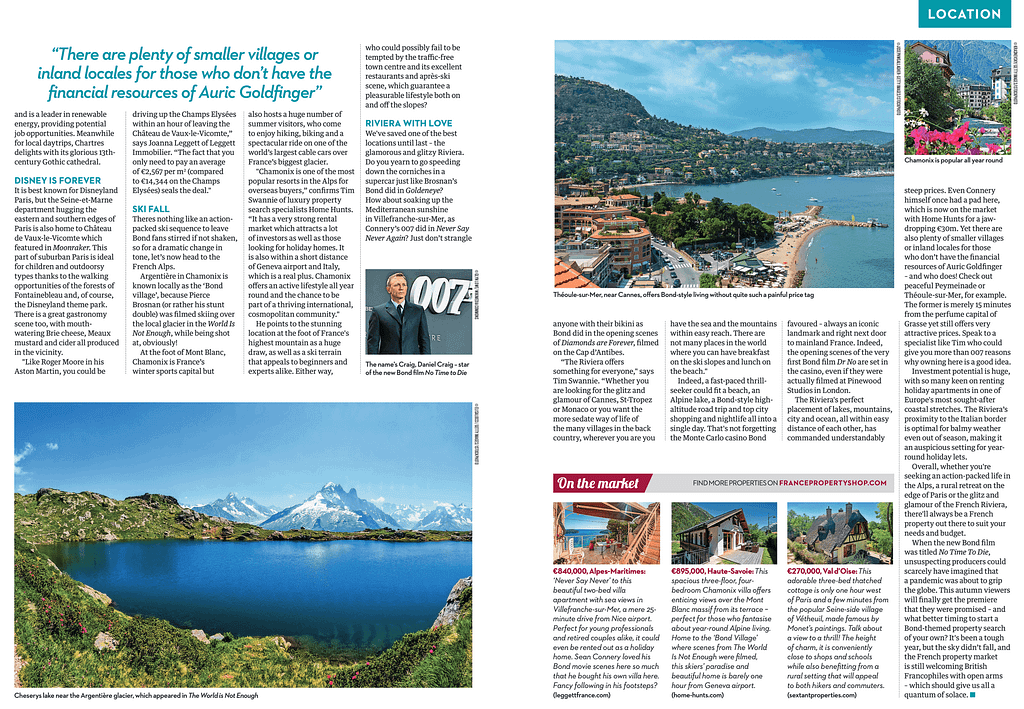 The feature goes on to say of the Riviera ' Indeed, a fast-paced thrill-seeker could fit in a beach, an Alpine lake, a Bond-style high-altitude road trip and a top city shopping and nightlife all into a single day. That's not forgetting the Monte Carlo casino Bond favoured – always an iconic landmark and right next door to mainland France. Indeed the opening scenes of the very first Bond films, Dr. No are set in the casino. The Riviera's perfect placement of lakes, mountains, city and ocean, all within easy distance of each other, has commanded understandably steep prices. Even Connery himself once had a pad here, which is now on the market through Home Hunts'  the journalists then says 'Speak to a specialist like Tim who could give you more an 007 reasons why owning here is a good idea'
If you are considering owning a property in France, this article really does give a great overview of areas, from Paris to the Loire Valley, from the Riviera to the Alps, there are some beautiful photos of the areas, interesting local information and it also includes a large selection of property in France. Click here to read the article in full

On the Alps, they say 'There's nothing like an action-packed ski sequence to leave Bond fans stirred if not shaken, so for a dramatic change in tone, let's now heard to the French Alps. Argentiere is Chamonix is known locally as the 'Bond village' because Pierce Brosnan (or rather his stunt double) was filmed skiing over the local glacier in the World Is Not Enough, while being shot at, obviously! At the foot of Mont Blanc, Chamonix is France's winter sports capital but also hosts a huge number of summer visitors.
"Chamonix is one of the most popular resorts in the Alps for overseas buyers," confirms Tim Swannie of luxury property search specialists Home Hunts. "It has a very strong rental market which attracts a lot of investors as well as those looking for holiday homes. It is also within a short distance of Geneva airport and Italy, which is a real plus. Chamonix offers an active lifestyle all year round an the chance to be part of a thriving international, cosmpolitan community" He points to the stunning location at the foot of France's highest mountain as a huge draw, as well as a ski terrain that appeals to beginners and experts alike.'
If you are considering owning a property in France, we would love to help you with your journey through the French property market and beyond. Find out more about our service here. Have a look at the Home Hunts website or contact us for a chat about your plans.